Tuesday, March 13, 2018
1+1 Lecture Hong Kong: Frameworks for Building and Sustaining Competitive Advantage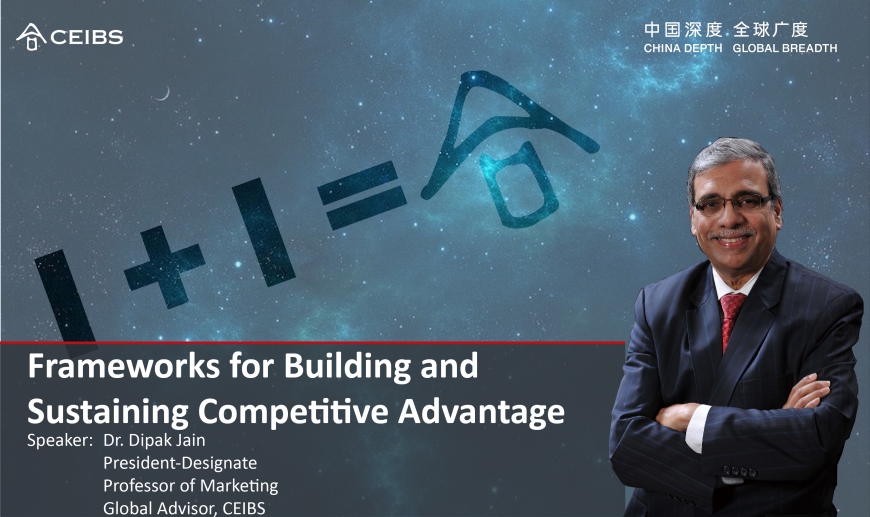 We cordially invite you to attend our exclusive 1+1 Lecture Frameworks​ for Building and Sustaining Competitive Advantage in Hong Kong on March 13, 2018.
In an economic environment that has entered the 'hyper-competition' stage, CEIBS President-Designate, Professor Dipak Jain will present a framework for how companies can compete effectively in today's market in the face of:
Intense competition coming from multiple sources;
Boundaries of competition becoming more blurred;
Technological breakthroughs appearing at rapid speed;
Demographic shifts creating profound impacts;
Social media changing market landscapes.
Using case-studies from major global players and examining various industries such as automotive, pharmaceuticals, aviation, and global logistics, Prof. Jain will explore how companies can create value for their customers and crucially, how they can capture that value to ensure their sustainable competitive advantage.

About the speaker
Dr. Dipak C. Jain is President-Designate, Professor of Marketing and Global Advisor at CEIBS. As a former Dean of both INSEAD and Kellogg School of Management, he is a globally-recognized marketing and innovation expert whose insights have inspired a generation of business leaders to pursue success with significance.
Dr. Jain's influential career spans nearly four decades as an educator, a senior business school administrator, and a consultant to corporations and governments. An award-winning scholar in his own right, Dr. Jain's areas of research expertise include the marketing of high-tech products; market segmentation and competitive market structure analysis; cross-cultural issues in global product diffusion; new product innovation; and forecasting models.
Among the many distinctions for his teaching and service, Dr. Jain received the Pravasi Bharatiya Divas from the Prime Minister of India, an award that recognizes exceptional leadership contributions of overseas Indians.
Who should attend?
Friends of CEIBS, alumni and professionals who are interested in enrolling in our MBA, Global EMBA or EMBA programmes
Date: March 13, 2018 7:00pm to 9:15pm
Location: Sheraton Hong Kong, Ching Room, 4/F
20 Nathan Road, Kowloon, Hong Kong
Language: English
Agenda:
19.00-19.30 Registration & Networking
19.30-19.45 Welcome & Alumni Sharing
19.45-21.15 Exclusive 1+1 Lecture by Dr. Dipak Jain
Registration: Please email Marcel Austin Martin amarcel@ceibs.edu to register or for any enquiries.
What is 1+1?
CEIBS launched the 1+1 Project, a series of lectures hosted by leading faculty across continents, in 2017. The audience for these invitation-only lectures comprises our alumni and friends of CEIBS. Each participant is encouraged to bring with them a 'plus one' who is also a qualified prospect for our MBA or Global EMBA programmes.
The core objectives of the 1+1 series are to further strengthen engagement with our international alumni and also provide attendees with the opportunity to play their part in helping to shape the future student bodies at CEIBS.