Tuesday, May 11, 2021
Executive Forum: The Employment Market Outlook and Maximising Your Career Potential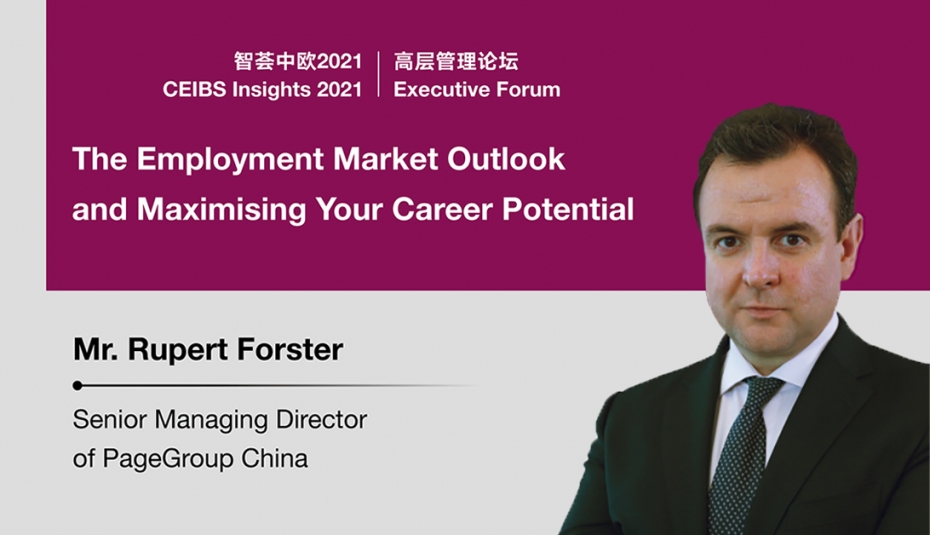 Please join us for our upcoming CEIBS Executive Forum on May 11, 2021, with Mr. Rupert Forster, Senior Managing Director of PageGroup China, a leading international specialist recruitment group with a market capitalisation in excess of £1 billion (GBP), who will give a lecture on The Employment Market Outlook and Maximising Your Career Potential.
Undoubtedly, China has led the global rebound from COVID-19, with economic indicators returning to, and even exceeding, pre-pandemic levels, including those in the hiring market. As a result, many sectors, including healthcare and technology, are increasing hiring to meet demand.
What hiring trends can we expect in the Greater China region and globally for the rest of 2021 and beyond? As a professional, how can you take full advantage of the opportunities available? And, how can you actively manage your career through this constantly changing environment, in order to maximise your potential in the long term?
During this event, Rupert will share his observations and suggestions.
About the speaker
Rupert is the Senior Managing Director for Michael Page's North and East China business. He is also responsible for the Page Executive, Page Personnel and Page Contracting business lines across Mainland China. Rupert has 20 years' experience in executive recruitment at PageGroup.
After graduating in Civil & Environmental Engineering, Rupert spent five years in technical and commercial positions in the industrial sector. Rupert joined PageGroup in the UK in 2001; setting up several disciplines including Supply Chain, Manufacturing, Logistics and Property.
In 2011, Rupert relocated to Shanghai to scale Michael Page's Eastern China. In April 2013, he relocated to Beijing to lead PageGroup's North China market; in August 2017, Rupert relocated back to Shanghai to take up his latest appointment.
We look forward to seeing you at this much-anticipated event.
Date: May 11, 2021
Time: 18:30-20:00
Language: English
Venue: Online (livestreamed via Zoom)
Note: Limited offline seating is open for CEIBS alumni and current students. Please select 'offline participation' in the registration link below if you qualify.
Agenda:
18:30-18:35 Opening
18:35-19:30 Speech by Mr. Rupert Forster, Senior Managing Director of PageGroup China
19:30-20:00 Q&A session
Contact: Please RSVP via the link below or contact Ms. Tracy Kong at execforum@ceibs.edu or +86-21-2890-5415.