Thursday, April 29, 2021
Executive Forum: Leadership in a Changing World: Innovation, Inclusion and Diversity, and Being a Good Corporate Citizen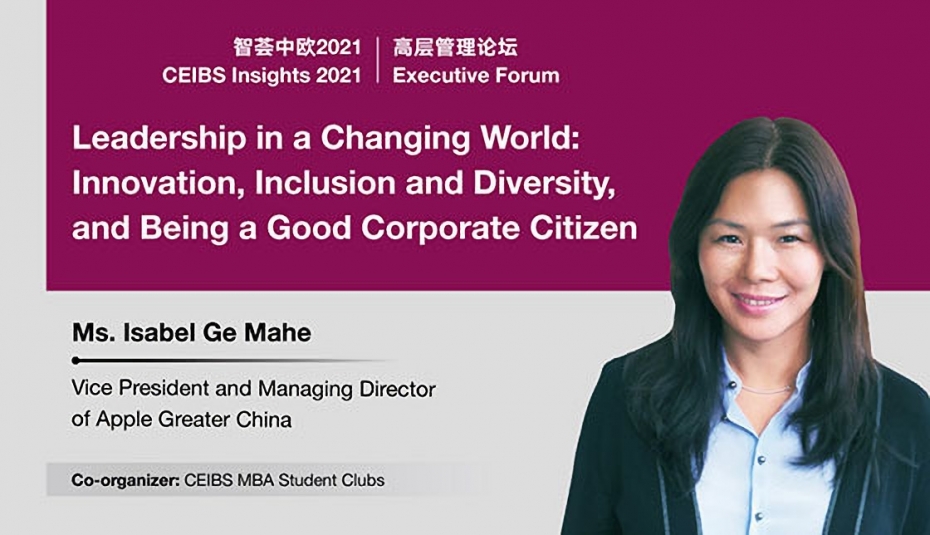 Please join us for our upcoming CEIBS Executive Forum on April 29, 2021, with Isabel Ge Mahe, Vice President and Managing Director of Apple Greater China, who will participate in a fireside chat with participants moderated by CEIBS Associate Dean and MBA Programme Director Shameen Prashantham on the theme of Leadership in a Changing World: Innovation, Inclusion and Diversity, and Being a Good Corporate Citizen.
Isabel will share insights of her personal journey from China to Canada to the US and back to China again. Come hear inspiring stories of building and leading the entire Wireless team at Apple to changing the course of her career to lead the 14,000 employees at Apple Greater China and the stories in between. Learn how Isabel finds and create purpose in her job. She will also share how she sees things in a post-COVID world and how to face the challenges and difficult decision that are to come.
Please join us on April 29 for this special CEIBS Executive Forum with Isabel Ge Mahe.
About the speaker
Isabel is Apple's Vice President and Managing Director of Greater China, reporting to CEO Tim Cook and COO Jeff Williams. Isabel provides leadership and coordination across Apple's 52 direct retail stores, 42,000+ wholesale points of sale, 21 corporate offices and 13,000 employees in Greater China.
Her bold leadership, innovative spirit and product design savvy impact the lives of millions of people around the world on a daily basis. Recruited personally by Steve Jobs, the electrical engineer joined Apple in 2008 as Vice President of wireless technologies, charged with developing wireless capabilities of the new iPhone and nearly every other Apple product.
In Cupertino, Isabel oversaw the development of cellular, Wi-Fi, Bluetooth, NFC, location and motion technologies. She also spearheaded the creation and execution for Apple Pay, Apple HomeKit, Apple CarPlay, as well as in-house wireless chipset divisions. She created and led the carrier technology organization and managed carrier relationships around the world, and was responsible for getting iPhone, iPad and Watch products certified and approved by 495 carriers. Prior to assuming her role as the Managing Director of Greater China, Isabel was also the resident expert on China, and was instrumental in driving product features for the Greater China market, and in creating and leading the wireless engineering organization in China.
As she builds a world-class team in region, Isabel has rallied and inspired Greater China leaders around a shared vision, and has instilled Apple's mission of leaving the world a better place and delivering the best products in the world. Isabel's leadership is helping Apple navigate through unsteady US-China relations. She supports programs such as the China Development Research Forum rural education programs and Apple's own 智惠计划programs, which provide opportunities for those who otherwise may not have them through our Apps Contest, Train the Trainers, Today at Apple workshops at the 52 Apple retail stores in the region and Apple employee volunteer programs at migrant schools.
Isabel was appointed as an independent director of Starbucks board on September 2019. She joins the company Nominating and Corporate Governance Committee. Prior to Apple, Isabel was Vice President of wireless software engineering at Palm Inc. and held key technical and managerial positions at other wireless companies. Isabel believes in giving back to her community, and serves as an industry advisor for the electrical engineering/computing science department at the University of California, Berkeley. She also served as an advisor to the Silicon Valley-China Wireless Association for more than 15 years.
Isabel holds Bachelor of Applied Science and Master of Engineering from Simon Fraser University in British Columbia — where she was recognized as Outstanding Alumni in 2019, and where she established the Peng Tu Ge Scholarship for Women in Engineering or Computing Science in honour of her father. Isabel also holds an MBA from the University of California, Berkeley.
Her talent has caught the media's attention. In 2018, she was named by Fortune Magazine as the 10th most powerful woman in international business; Fast Company placed her sixth on its list of the Most Creative People in Business of 2017.
Isabel loves traveling, running, and exploring the world as a certified diver. She cherishes time spent with her husband and her four children.
We look forward to seeing you at this much anticipated event.
Date: April 29, 2021
Time: 18:30-20:00
Language: English
Venue: Online (livestreamed via Zoom)
Note: Limited offline seating is open for CEIBS alumni and current students. Please select 'offline participation' in the registration link below if you qualify.
Agenda:
18:30-18:35 Opening, Welcome and MBA Club Leaders Introduction
18:35-19:30 Fireside Chat with Isabel Ge Mahe, Vice President and Managing Director of Apple Greater China moderated by CEIBS Associate Dean and MBA Programme Director Shameen Prashantham
19:30-20:00 Q&A session
Contact: Please RSVP via the link below or contact Ms. Tracy Kong at ktracy@ceibs.edu or +86-21-2890-5415.