Thursday, April 15, 2021
Webinar: The Africa Continental Free Trade Agreement and Opportunities for Businesses in Africa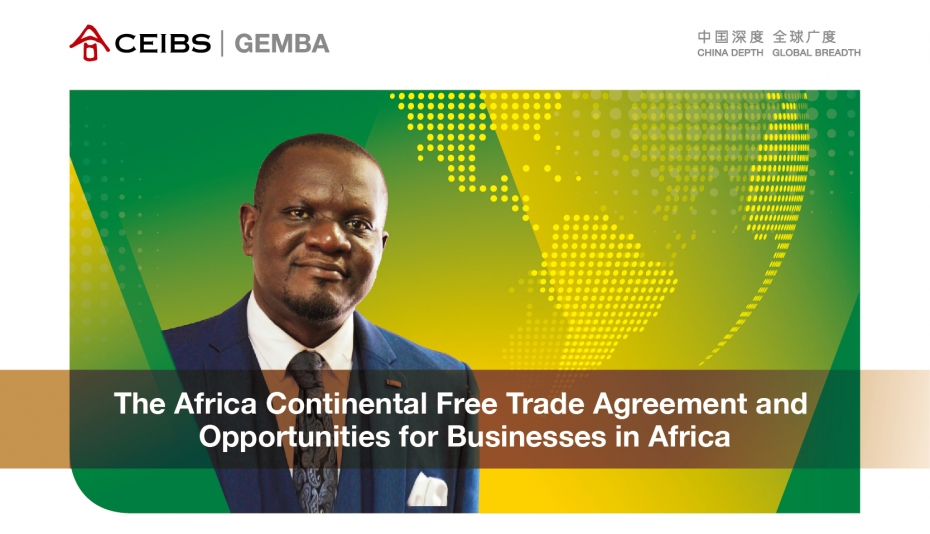 Please join us on April 15, 2021 for this special webinar with Louis Yaw Afful on The Africa Continental Free Trade Agreement and Opportunities for Businesses in Africa.
About the Webinar
The Africa Continental Free Trade Agreement (AfCFTA) was established in 2018 in order to create a single market for goods and services, facilitated by the movement of people to deepen the economic integration of the African continent. Subsequently on 1st January, 2021, African countries opened their markets under the continental free trade agreement and duty-free trading of goods and services across borders is now ongoing. But what does AfCTA mean for African businesses? In this webinar, Louis Yaw Afful will share his views on the opportunities that AfCTA presents to businesses in Africa.
Our Speaker
Louis Yaw Afful
Executive Director
Afcfta Policy Network
Louis Yaw Afful is Group Executive Director for Afcfta Policy Network and Chairman of the Executive Council APN Women of Africa Network. Career Former finance director of a multi-million retail firm in Ghana. He was a country director of M.I.P, a management and knowledge exchange program establishment. In the public sector, Louis was the first district coordinator and acting deputy regional coordinator of the then Ministry of Women and Children, Ghana.
Louis Yaw Afful has featured at several international conferences, talkshows, and interviews including the BBC, CGTN, eNCAnews, DWRadio, and almost all media networks in Ghana. He has set up the largest international membership network of professionals focused on African continental free trade. He has written articles published widely on the implementation of the African continental free trade area.
He contributed immensely to the consultative process of the African continental free trade agreement. Louis was given recognition by the Chief Technical Advisor of African continental free trade unit of African union as championing the course of Afcfta on the continent.
Event Details
Date: April 15, 2021
Time: 16:00pm (Accra time); 18:00 (Zurich); 20:00 (Dubai time); 00:00 (Beijing time);
Language: English
Cost: Free, but please register in advance
Agenda
16:00-16:10 Introduction
16:10-17:00 The Africa Continental Free Trade Agreement and Opportunities for Businesses in Africa
17:00-17:20 Questions from viewers
Contact: For any questions about the webinar, please contact Sam Ocloo-Dzaba (osamuel@ceibs.edu)