Wednesday, September 20, 2023
1+1 Lecture Lagos: Managing Leadership Transitions Successfully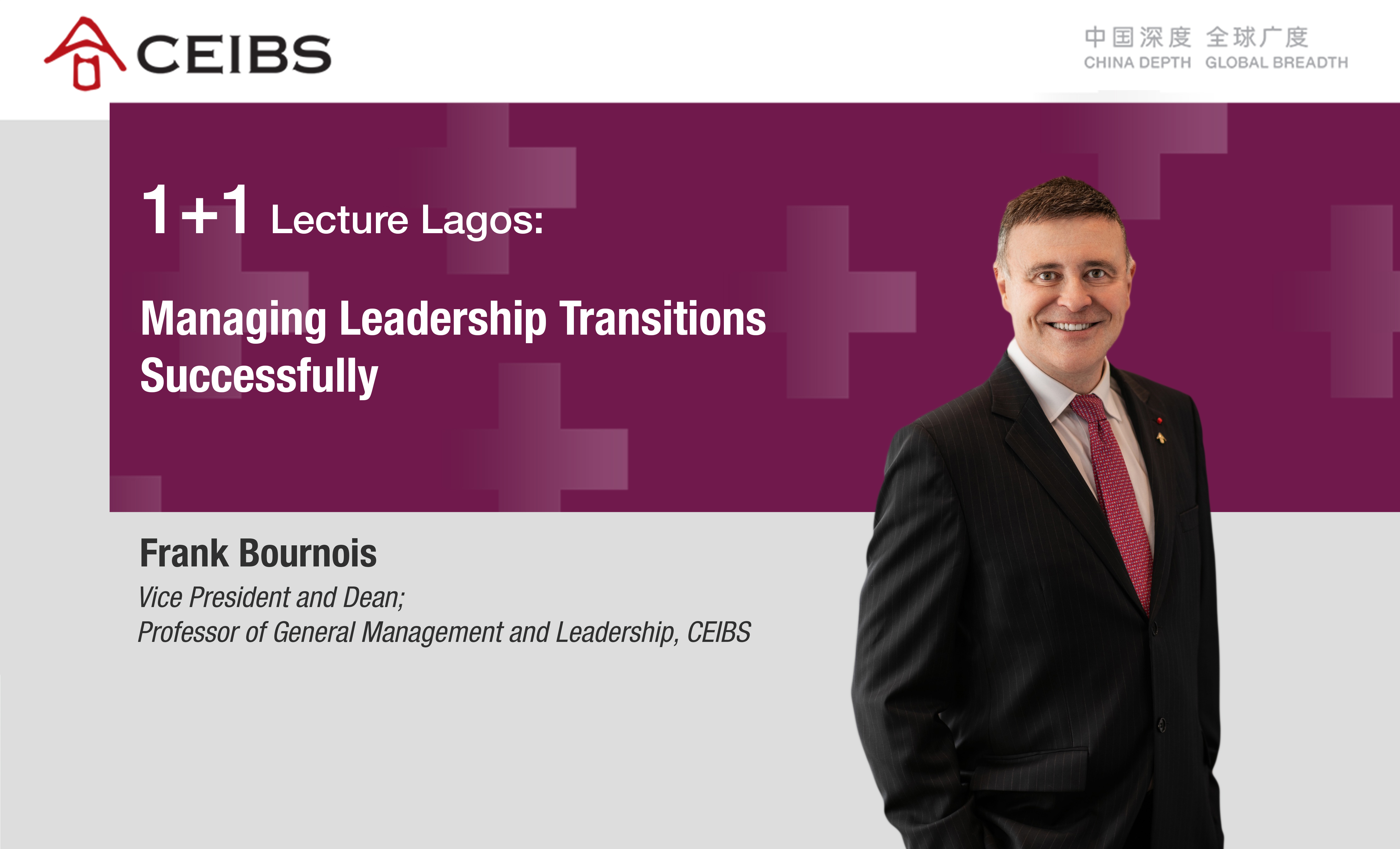 We cordially invite you to attend our exclusive 1+1 Lecture on "Managing Leadership Transitions Successfully" in Lagos on September 20, 2023. Join CEIBS Vice President and Dean/Professor of General Management and Leadership, Frank Bournois as he addresses the topic.
About the Event
Leadership is about exposing oneself to critical organisational and individual challenges. The lecture will take the participants into a series of seven key leadership lessons and tips:
Aligning subsystems successfully
Behaviours companies like to see
How to get prepared towards great leadership
The importance of Team Roles
Being aware of one's career anchors
Being aware of one's conflict-handling style and
Preventing derailment
About the Speaker
Bournois, Frank
Vice President and Dean;
Professor of General Management and Leadership, CEIBS
Prof. Frank Bournois is Vice President and Dean of China Europe International Business School (CEIBS). He joined CEIBS in April 2023. Beginning in 2014, Prof. Bournois served as Executive President and Dean of ESCP Business School, the oldest and one of the most international business schools in the world with campuses in Berlin (Germany), London (UK), Madrid (Spain), Paris (France), Turin (Italy) and Warsaw (Poland). He was a full Professor of General Management and Cross-Cultural Leadership at Paris Panthéon-Assas University from 1997 to 2014, and he has supervised more than 70 doctoral students. He also served as Chairman of the National Committee for the Evaluation and Accreditation of Business Schools at the Ministries of Industry and Higher Education from 2009 to 2013.
Prof. Frank Bournois is a FRSA-Fellow of the Royal Society of Arts (UK), and holds a Ph.D. in Business Strategy from the University of Lyon (France), an MBA from Aston University (UK), a Master in Management from EM Lyon (France) and DSc from City University of London (UK).
Prof. Bournois specialises in corporate governance and the study of how large European firms identify, manage and develop their future leaders. He has provided consulting services for companies such as Airbus, Bouygues, EDF, L'Oréal and Safran. Since 2019, he has served as a Member of the Global Supervisory Board of Mazars, a leading audit and advisory firm where he also chairs the Audit Committee.
Prof. Bournois is the author or co-author of 20 books, including The Handbook of Top Management Teams (Palgrave, 2010). He is an Officer in the Legion of Honour and a Commander in the Order of Merit (France), and has been awarded the Gold Medal for Education (Lebanon).
Who should attend?
Friends of CEIBS, alumni and professionals who are interested in enroling in our MBA, Global EMBA or EMBA programmes.
Event Details
Date: September 20, 2023
Time: 17:00
Location: Lagos Continental Hotel
Language: English
Agenda
17:00-18:00 Registration
18:00-19:00 Exclusive 1+1 Lecture by Prof. Frank Burnois
19:00-19:30 Q&A
19:30 Networking
What is 1+1?
CEIBS launched the 1+1 Project, a series of lectures hosted by leading faculty across continents, in 2017. The audience for these invitation-only lectures comprises our alumni and friends of CEIBS. Each participant is encouraged to bring a 'plus one' who is also a qualified prospect for our MBA or Global EMBA programmes.
The core objectives of the 1+1 series are to further strengthen engagement with our international alumni and also provide attendees with the opportunity to play their part in helping to shape the future student bodies at CEIBS.