Friday, August 25, 2023
Masterclass Seoul: Decoupling or De-risking: Implication for Korean Companies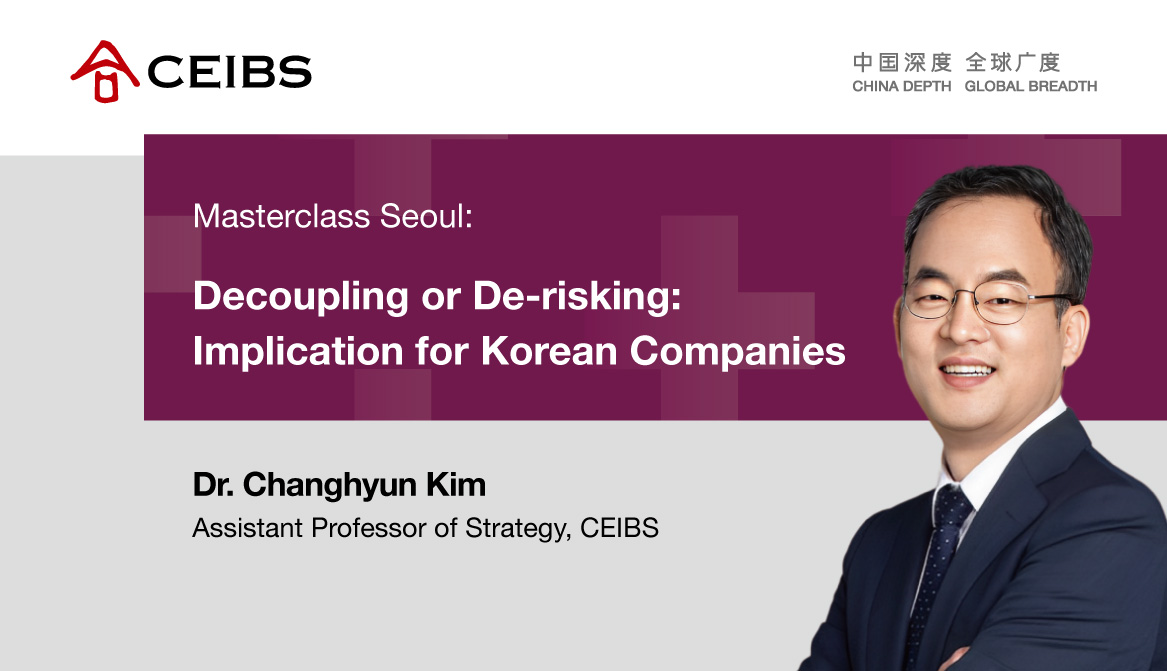 Join us on August 25, 2023, for a special Masterclass Seoul with CEIBS Assistant Professor of Strategy Changhyun Kim on the topic of Decoupling or De-risking: Implication for Korean Companies.
Prof. Kim will also be joined by CEIBS President (European) and Professor of Marketing Dominique Turpin.
What is Masterclass?
The CEIBS Masterclass series features talks by CEIBS faculty at locations around the world. The audience for these invitation-only lectures includes alumni and friends of CEIBS. Participants have the opportunity to meet with our faculty, admissions team, and local alumni. Furthermore, by attending the lecture, participants can deepen their understanding of CEIBS' China-focused content. The Masterclass series is aimed at strengthening our connection with our international community and engaging our alumni post-graduation and beyond.
About the lecture
Tensions between China and US have continued to escalate. The US government has added more specific sanctions against China. However, the trading volume between the two countries has increased more than before. At the same time, the US government began to use the term of 'de-risking' rather than 'decoupling'. What have the economic costs incurred due to tensions between these countries been so far? Which countries are paying these costs? And what are the implications for global companies?
Our speakers
Dr. Dominique Turpin
President (European) and Professor of Marketing, CEIBS
Dr. Dominique Turpin is President (European) and Professor of Marketing at CEIBS. He joined CEIBS in September 2022. Prof. Turpin is a marketing expert and Japan specialist. He was IMD's Dentsu Chaired Professor of Marketing and the Dean of External Relations until 2022 and served as IMD President, Dean and Nestlé Professor from 2010 to 2016. Before joining IMD in 1986, he spent several years in Tokyo as a representative of a French firm in Japan. He earned a doctorate in economics from Sophia University in Tokyo, after receiving a master's degree in marketing from French business school ESSCA.
For his outstanding accomplishments in executive education, Prof. Turpin was awarded life-long membership of the International Academy of Management. Prof. Turpin is a board member of EFMD. He is also on the International Advisory Board of prestigious institutions such as the Stockholm School of Economics (SSE), Waseda Business School (Japan) and others. He has been a member of CEIBS Academic Council since the very beginning.
Prof. Turpin has extensive teaching, consulting, and research experience in the fields of marketing and international strategy in Europe, Latin America, and Asia, particularly in the areas of brand management, customer orientation, and communications strategy.
He remains active in the writing of case studies, and is working on two books-one with Goutam Challagalla on digital transformation in marketing, and another containing the many quotations from business leaders that he has gathered over his long career.
Prof. Turpin taught on IMD's flagship Orchestrating Winning Performance (OWP) program and was previously Director of the school's MBA program and its Program for Executive Development Diploma (PED). He has also directed customized programs for companies such as KAO, Mondelez, Groupe SEB, Panasonic and Japan Tobacco International, and he has worked as a consultant and management educator with a large number of international companies including Coca Cola, CPW, Danone, DSM, Jardine Matheson, Nestlé, Novo Nordisk, Philips and Uponor.
Prof. Turpin is the author of more than 100 books, articles and case studies. He has had articles published in the Financial Times, European Business Forum, and MIT Sloan Management Review, and has been a regular contributor to the Nihon Sangyo Shimbun, one of the leading business dailies in Japan. He is an editorial advisor for the Singapore Management Review.
Prof. Turpin's case studies have won several awards. His cases on Toyota and Kineer were recognized in the 2022 John Molson MBA International Case Writing Competition awards, and his case Sam100: Will construction robotics disrupt the US bricklaying industry? won an EFMD Case Writing Competition Award in 2020. He was also included on The Case Centre's list of the top 40 best-selling case authors both in 2015/16 and 2018/19. Prof. Turpin is Chairman of DAA Capital Partners, a Geneva-based private equity firm investing in impactful trends, and serves on the boards of several listed and unlisted companies and educational institutions.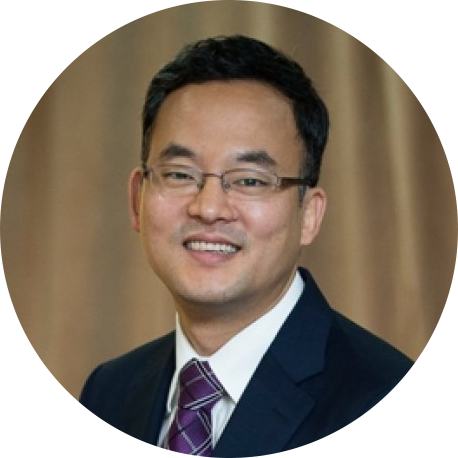 Dr. Changhyun Kim
Assistant Professor of Strategy, CEIBS
Dr. Chang Hyun Kim is an Assistant Professor of Strategy at CEIBS. Prior to joining CEIBS, Dr. Kim was an Assistant Professor of Strategic Management of Lee Kong Chian School of Business at Singapore Management University.
Dr. Chang Hyun Kim received his Ph.D. and Master in Business Administration at University of North Carolina Chapel Hill in 2014 and 2009 respectively. He also holds a Master and Bachelor degree in B.A from Yonsei University. His research interests mainly concentrate on corporate governance, innovation and knowledge management. Dr. Kim's teaching interests focus on strategic management, corporate strategy, and global strategy. In addition, Dr. Kim also has substantial working experience as a consultant and senior managers at LG Economic Research Institute and LG Corporation, respectively.
Dr. Chang Hyun Kim serves as the editorial review board member at Strategic Management Journal. He published papers in Strategic Management Journal, Strategic Entrepreneurship Journal and Corporate Governance: An International Review.
Dr. Chang Hyun Kim was also awarded the First Prize in the 3rd Shanghai MBA Case Teaching Competition held in 2019.
Panelists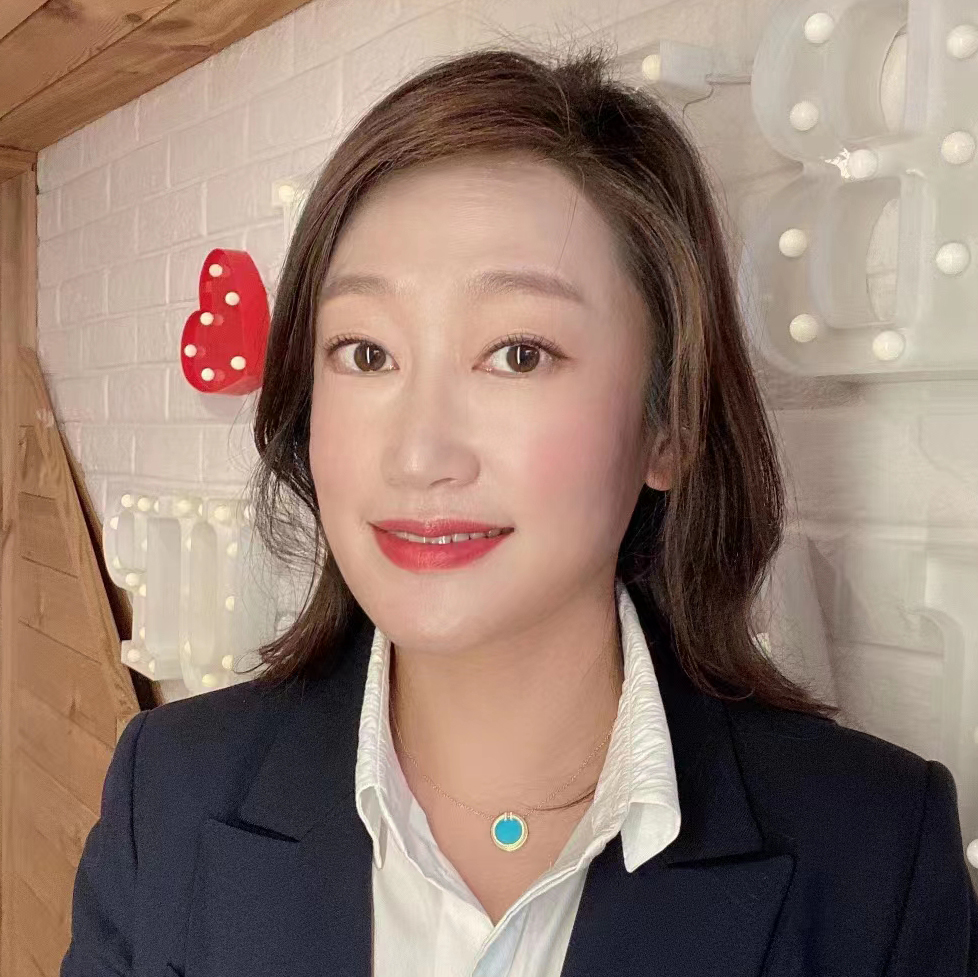 Jennifer Han, Partner, PwC Shanghai


Yoonsoo Shin, CEO, Vision Equity Partners

Thomas Robert, General Manager Korea, Regional Head Industry APAC, Sika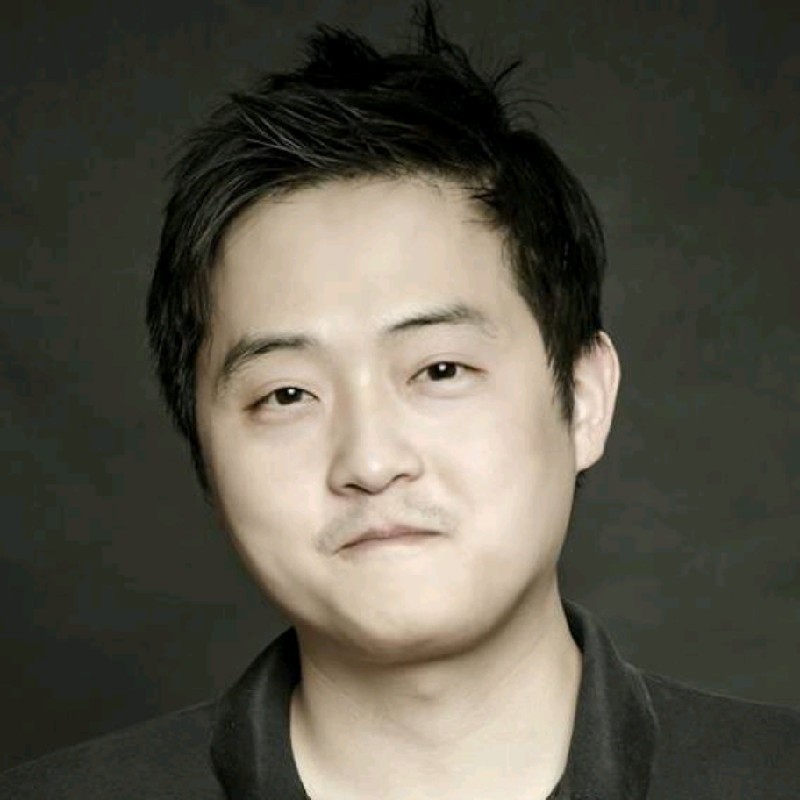 Min Baek, CEO & Founder, Exprive
Event Details
Date: August 25, 2023 @ 6:30pm
Venue: GRAND INTERCONTINENTAL SEOUL PARNAS – Rose Hall (5F), 521, Teheran-ro, Gangnam-gu, Seoul
Language: English
Agenda
18.30-19.00 Registration
19.00-19.10 Welcome by Prof. Dominique Turpin
19.10-21.00 Our exclusive Masterclass "Decoupling or De-risking: Implication for Korean Companies" & Panel Discussion
21.00-22.00 Networking
Registration: Please email Christina Mou mchristina@ceibs.edu to register or for any enquiries.