Monday, June 12, 2023
Executive Forum: Global Economic Trends, the Role of the US and How to Compete in an Economic Downturn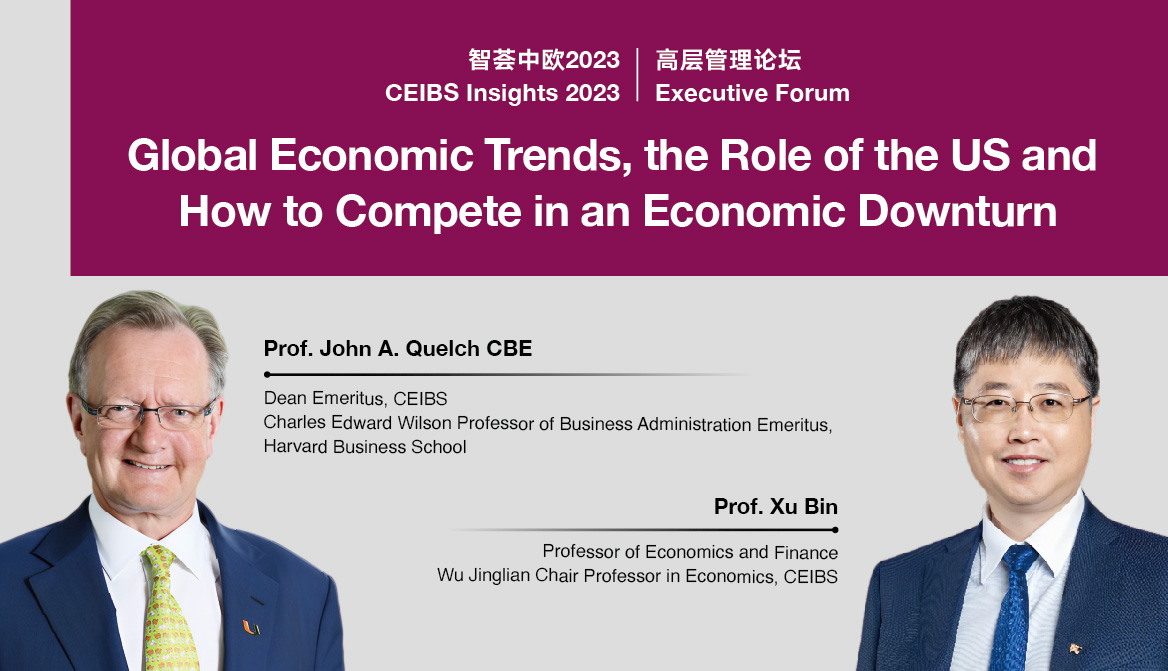 Please join us for our upcoming CEIBS Executive Forum on June 12, 2023, for an exclusive fireside chat featuring CEIBS Dean Emeritus and Harvard Professor John Quelch and CEIBS Professor of Economics and Finance Xu Bin on the theme of Global Economic Trends, the Role of the US and How to Compete in an Economic Downturn.
About this event
During this event, Prof. Quelch and Prof. Xu will delve into the global economic landscape, discuss the role of the US and share strategies for thriving in economic downturns. Don't miss this rare opportunity to discover the secrets of global economic trends and expand your understanding of the US' role in the world economy. Reserve your spot now for an engaging and enlightening fireside chat that will empower you with valuable knowledge and perspectives.
Our speakers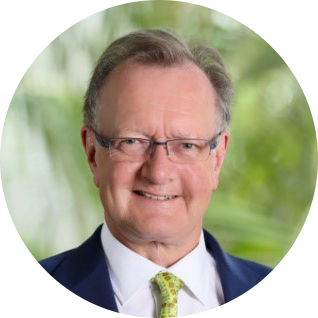 Prof. John A. Quelch CBE
Dean Emeritus, CEIBS
Charles Edward Wilson Professor of Business Administration Emeritus, Harvard Business School
John A. Quelch is the Charles Edward Wilson Professor of Business Administration Emeritus at Harvard Business School. Between 2017 and 2022, he was the Leonard M. Miller University Chair and Vice Provost of the University of Miami, and Dean of the Miami Herbert Business School. Before 2017, he was both Professor of Business Administration at Harvard Business School and Professor of Health Policy and Management at Harvard T.H. Chan School of Public Health.
Professor Quelch has substantial experience as a non-executive director. In the US, he has served on the boards of Alere, Aramark, Gentiva Health Services, Pepsi Bottling Group and Reebok International. He has also served as a board member of three pre-IPO data analytics companies, Datalogix and Vitrue (both sold to Oracle) and Affinnova (sold to A.C. Nielsen). He is currently advising several startup companies and serves on the board of Amerant Bancorp.
In the UK, Professor Quelch served on the board of WPP, the world's leading marketing services company, for 25 years (including seven years as chair of the audit committee). In the UK, he has also been a director of Blue Circle Industries, easyJet and Pentland Group.
Professor Quelch has significant experience as a board chairman. He was appointed pro bono chairman of the Massachusetts Port Authority following the 9/11 terrorist attacks and served three Massachusetts governors, both Republican and Democrat, during his eight year tenure. He also served pro bono for thirteen years as Honorary Consul General in New England for the Kingdom of Morocco and three years as Chairman of the British American Business Council of New England.
Professor Quelch's executive experience includes service as dean of three business schools: London Business School (1998-2001), CEIBS (2011-2013) and Miami Herbert Business School (2017-2022). He is one of only three persons to have served as dean of three leading business schools on three continents.
Professor Quelch is an expert on corporate strategy, global brand-building, and customer behaviour. His books include Choice Matters: How Healthcare Consumers Make Decisions (Oxford University Press, 2018), Consumers, Corporations and Public Health (Oxford University Press, 2016), and All Business is Local: Why Place Matters More Than Ever in a Global, Virtual World (Penguin Portfolio, 2012). He is (co)author of seventeen Harvard Business Review articles, including a landmark paper on corporate governance entitled "Bringing Customers into the Boardroom."
Professor Quelch was educated at Oxford University (BA and MA), the University of Pennsylvania (MBA), and Harvard University (SM and DBA). He was awarded the CBE (Commander of the Order of the British Empire) for services to British business in 2011 and the Ellis Island Medal of Honor in 2020. He is a member of the Council on Foreign Relations, the Trilateral Commission, and the American Academy of Arts and Sciences.
Prof. Xu Bin
Professor of Economics and Finance
Wu Jinglian Chair Professor in Economics, CEIBS
Prof. Bin Xu is Professor of Economics and Finance and Wu Jinglian Chair Professor in Economics at CEIBS. He received his bachelor's and master's degrees from Fudan University in 1986 and 1989, and his Ph.D. in economics from Columbia University in 1995. Before joining CEIBS, Prof. Xu was a tenured faculty member at Warrington College of Business, University of Florida. He also taught as a visiting professor at Darden School of Business, University of Virginia, and worked as a consultant for the International Monetary Fund (IMF) and the World Bank.
Prof. Xu's current research focuses on the global and Chinese economies, multinational enterprises in China, and trade and finance issues of emerging markets. He has published extensively in both international and Chinese journals, and was named to the 2021 List of Highly-Cited Chinese Researchers released by Elsevier Publishing Group. Prof. Xu is the author of two books, International Trade and Applying Macroeconomics, and served as the founding editor-in-chief of CEIBS Frontier Views Book Series.
Prof. Bin Xu has taught courses on macroeconomics, China and the global economy, and international finance at CEIBS, and was invited to give speeches on the global economy and the Chinese economy for executives of multinational companies and Chinese companies. Prof. Xu has won the CEIBS Teaching Excellence Award four times, and in 2019 won the CEIBS Medal for Teaching Excellence, the highest teaching award of CEIBS.
Event details
Date: June 12, 2023
Time: 15:00-16:45
Language: English
Venue: AC2-104, CEIBS Shanghai Campus, 699 Hongfeng Road, Pudong, Shanghai
Event Format: Offline
Agenda:
15:00-15:30 Registration
15:30-16:15 Opening Remarks by Professor Zhang Weijiong, Vice President and Co-Dean, CEIBS and Fireside Chat with Professor John Quelch and Professor Xu Bin
16:15-16:45 Audience Q&A
16:45 Reception
Contact/Registration: Click the link below to register or contact Mr. Lawrence Xue at execforum@ceibs.edu / +86-21-2890-5581 for more information.