Monday, May 22, 2023
Executive Forum: Beyond Charity Series: Realizing ESG through Payment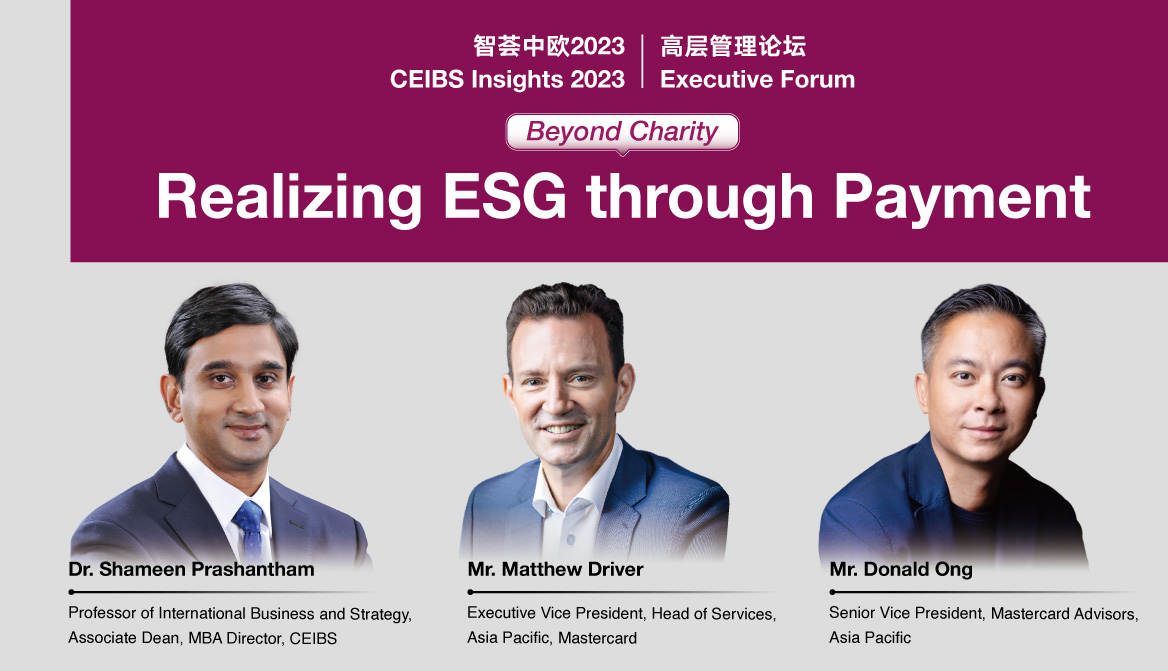 Please join us for our upcoming CEIBS Executive Forum on May 22, 2023, with Mr. Matthew Driver, Executive Vice President, Head of Services, Asia Pacific, Mastercard, and Mr. Donald Ong, Senior Vice President, Mastercard Advisors, Asia Pacific, who discuss Realizing ESG through Payment – The Most Common Business Activity.
About this event
ESG goes beyond value, an ideology, or even a form of charity. ESG is one of the most important parts of the business agenda in our and potentially future generations. 83% of consumers think companies should be actively shaping ESG best practices; 61% of investors had already invested in sustainable assets as of 2021; 91% of business leaders believe their company has a responsibility to act on ESG issues; and 86% of employees prefer to support or work for companies that care about the same issues they do. With consumers, investors, business partners, and employees all valuing ESG, it should surely be a top priority for businesses.
During this session, we will learn how Mastercard views ESG in modern business practice, and how it builds its products to make it easier for customers to contribute to ESG through payment – Make positive social and business impact together.
Our speakers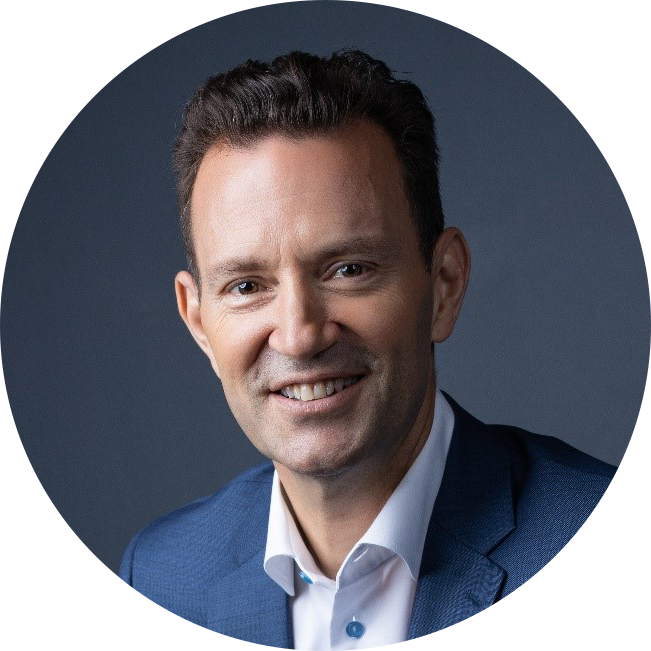 Mr. Matthew Driver
Executive Vice President, Head of Services, Asia Pacific, Mastercard
Before Mastercard, Matthew enjoyed a career in consulting, financial services and analytics working at Edengene, American Express, operating companies within WPP plc and Westpac Banking Corporation.
Matthew is a former male champion of the Singapore Financial Women's Association and was the UN HeForShe executive leader of the year for Singapore in 2016. He was also a recipient of a Global Pioneer Award from NTUC Singapore as part of their U Future Leaders programme in 2017.
Matthew was previously vice chairman of the Financial Services Committee of the US ASEAN Business Council, an advisory board member of the Singapore Management University's Lee Kong Chiang School of Business and of MercyCorps Asia Pacific.
New Zealand born, Matthew is a Singaporean citizen. His wife is Patricia and they have five grown up children.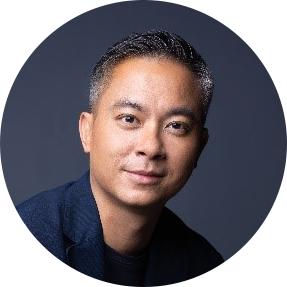 Mr. Donald Ong
Senior Vice President, Mastercard Advisors, Asia Pacific
Donald Ong is Senior Vice President, Mastercard Advisors, Asia Pacific. Mastercard Advisors is focused on driving value beyond the transaction, leveraging its unparalleled data, technology and world-class consulting experts to deliver smarter decisions and better outcomes for governments, banks and merchants. Prior to this role, Donald led Mastercard as Country Manager, Thailand & Myanmar, working with public and private partners to grow the cashless ecosystem, enable the digital economy and drive financial inclusion.
Prior to joining Mastercard, Donald spent more than 15 years in Singapore, Vietnam and Malaysia in a variety of roles in retail banking functions at global banks ANZ and HSBC, including finance and planning, branch management, product management and product leadership.
Dr. Shameen Prashantham
Professor of International Business and Strategy, Associate Dean, MBA Director, CEIBS
Dr. Shameen Prashantham is a Professor of International Business and Strategy and Associate Dean (MBA) at China Europe International Business School (CEIBS). Prior to joining CEIBS, he taught at Nottingham University Business School (NUBS) China and the University of Glasgow. He pursued doctoral and post-doctoral research at Strathclyde University in Glasgow, Scotland.
Dr. Prashantham is best known for his work on partnering between large corporations and startups – which he refers to as "dancing with gorillas." This focus evolved from his extensive research on new venture internationalization. He is also interested in strategy-as-practice and is currently focused on partnerships that contribute to the UN Sustainable Development Goals (SDGs).
His latest book, Gorillas Can Dance: Lessons from Microsoft and Other Corporations on Partnering with Startups, offers managers in large corporations a proven guide to partnering and collaborating with startups to improve innovation by delivering the "where," "why," and "how" of corporation-startup partnerships. His academic research has also been published in journals such as Entrepreneurship Theory & Practice, Journal of Business Venturing, Journal of International Business Studies, Journal of Management Studies and Organization Studies.
Event details
Date: May 22, 2023
Time: 18:30-20:00
Language: English
Venue: AC2-104, CEIBS Shanghai Campus, 699 Hongfeng Road, Pudong
Event Format: Offline/Online
Agenda:
18:30-18:35 Forum Opening and Introduction
18:35-19:15 Fireside Chat with CEIBS Professor Shameen Prashantham and Mr. Matthew Driver, Executive Vice President, Head of Services, Asia Pacific, and Mr. Donald Ong, Senior Vice President, Mastercard Advisors, Asia Pacific
19:15-19:45 Q&A Session
19:45-20:00 Networking
Contact/Registration: Click the link below to register or contact Mr. Lawrence Xue at execforum@ceibs.edu / +86-21-2890-5581 for more information.