Tuesday, May 23, 2023
CEIBS Global EMBA Master Class in Shenzhen - From Chatbots to ChatGPT: How AI and Humans are Reshaping Marketing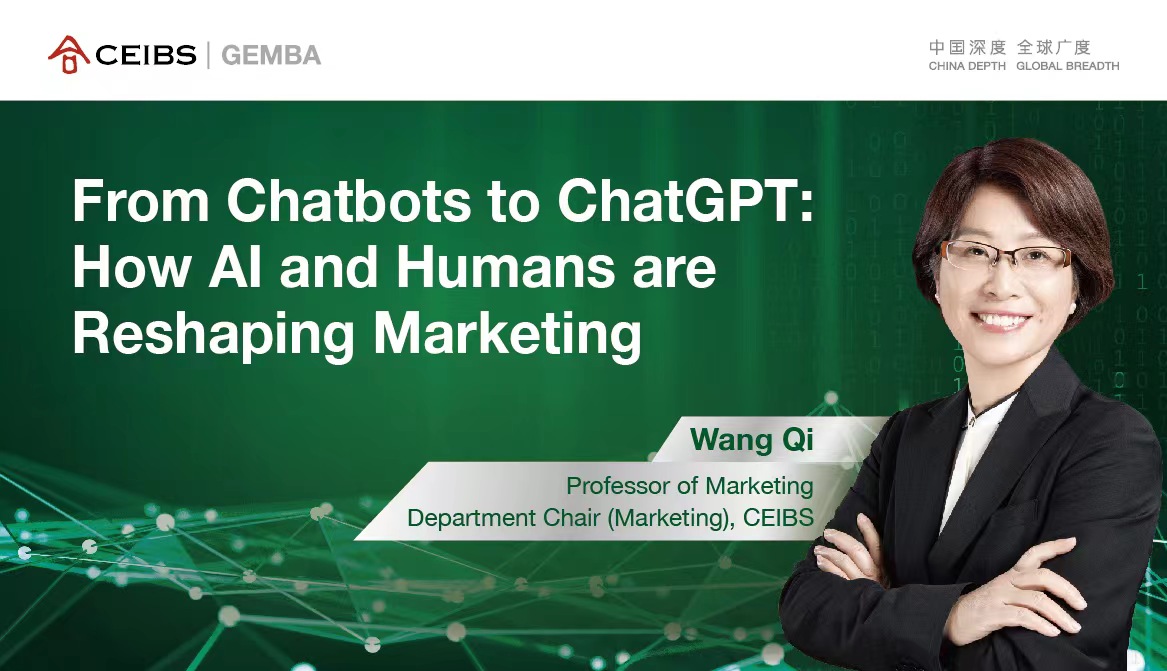 Please join us on May 23, 2023 for this Master Class in Shenzhen with CEIBS Professor Wang Qi on From Chatbots to ChatGPT: How AI and Humans are Reshaping Marketing.
About the event
Many companies have invested heavily in developing artificial intelligence (AI) applications in the marketing field, including AI-enabled chatbots and personalised recommendation systems, AI-powered dynamic pricing, marketing automations, and ChatGPT-powered advertising, content marketing and product design. With AI increasingly being deployed in marketing functions, however, it has also created fears and challenges for humans. Many questions remain for AI-driven marketing: What roles do marketers play in AI applications? How do consumers respond to AI applications when they interact with AI machines? How should marketers collaborate with AI?
During this event, CEIBS Professor of Marketing Wang Qi will review some recent developments in AI from the field of marketing, including ChatGPT-powered marketing. Prof. Wang will also examine recent research findings regarding:
The benefits/challenges of AI applications in marketing
The relationship between humans and AI and the future of AI in marketing
About our speaker
Dr. Wang Qi is a Professor of Marketing at China Europe International Business School (CEIBS). Prior to joining CEIBS, she served as an Associate Professor of Marketing at State University of New York at Binghamton where she taught since 2005. Dr. Wang was also appointed as a Visiting Associate Professor at the City University of Hong Kong Department of Marketing in 2016. Prof. Wang received a Ph.D. degree in Marketing from University of Florida, a M.S in Econometrics from Sun Yat-Sen (Zhongshan) University, and B.S in Applied Mathematics from Zhengzhou University.
For more than 12 years, Prof. Wang has taught International Marketing and New Product Management at both undergraduate and graduate levels as well as Empirical Marketing Models and Methods at the doctoral level. She is a past recipient of the Corning Award for Excellence in Research, and was a finalist for both the Journal of Marketing Research's (JMR) 2016 William F. O'Dell Award and 2010 Marketing Science Institute (MSI) H. Paul Root Award. In addition, she was on Dean's Honor Roll for Excellence in Teaching in Spring 2009, Spring 2013, Fall 2013, Spring 2014, Spring 2015 and Fall 2016.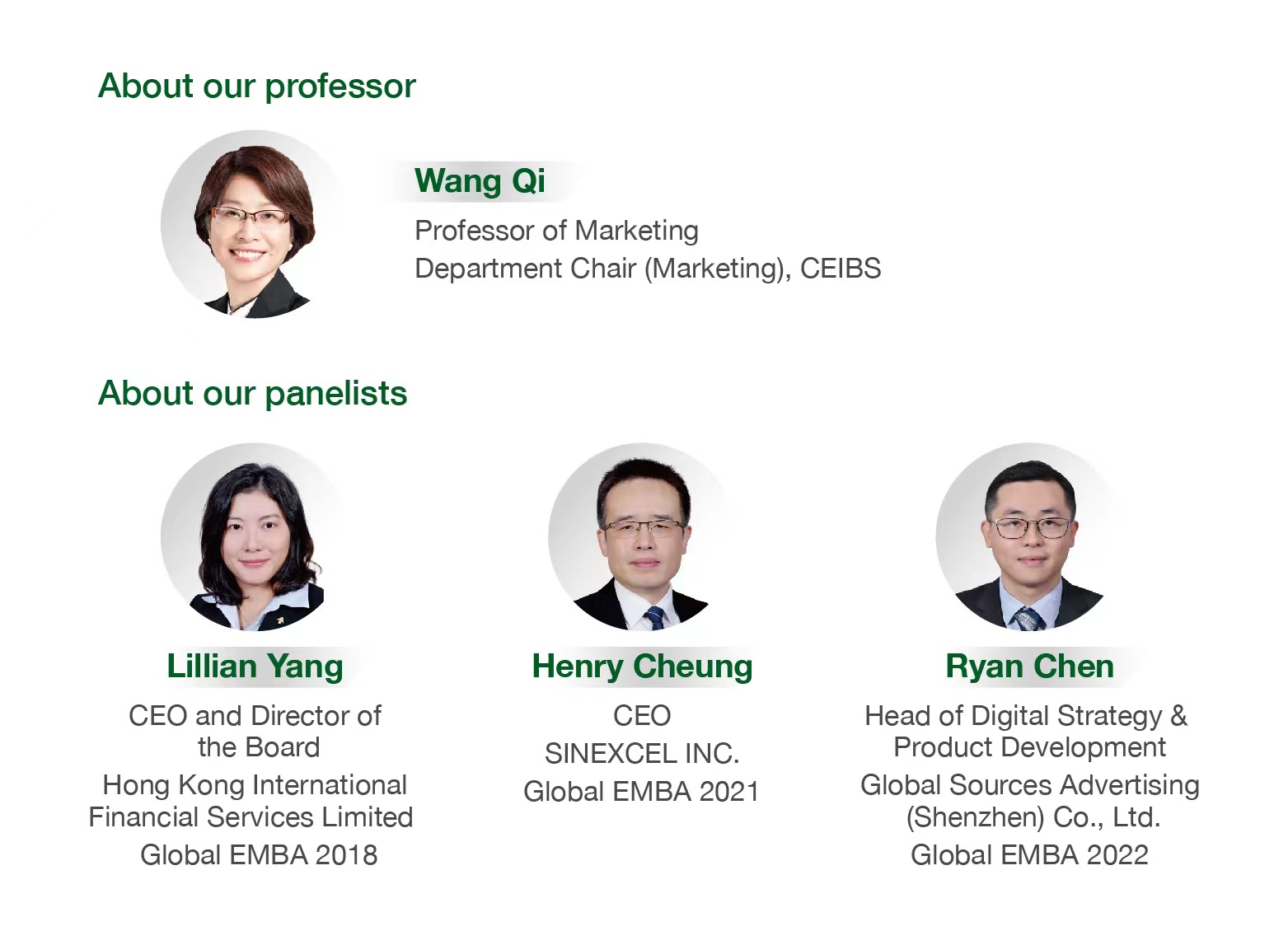 Event details
Date: May 23, 2023
Time: 19:00-20:50
Venue: Four Seasons Hotel Shenzhen, 138 Fuhua No. 3 Road, Futian District, Shenzhen (深圳四季酒店,深圳市福田区福华三路138号)
Language: English
Agenda
6:15pm-7:00pm Registration & networking
7:00pm-7:15pm Introduction to the CEIBS Global EMBA programme by Alex Chen, Recruiting Manager
7:15pm-8:05pm Lecture on From Chatbots to ChatGPT: How AI and Humans are Reshaping Marketing by Prof. Wang Qi
8:05pm-8:50pm Panel discussion with Global EMBA alumni
8:50pm-onward Networking
Contact: Please contact Alex Chen at calex@ceibs.edu with any enquiries.