Friday, September 02, 2022
CEIBS European Alumni Reunion 2022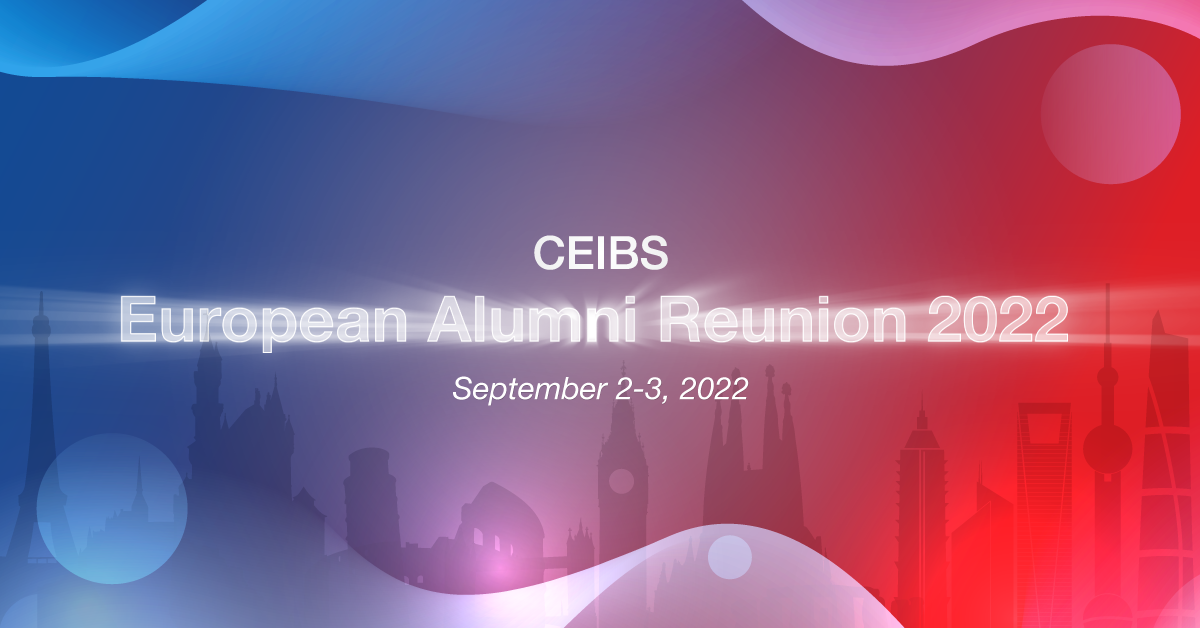 After a three year break, the CEIBS European Alumni Reunion is back! Join us in Zurich on September 2 and 3, 2022!
Note: Not able to join us in person? No problem! You can still register for the online portion of this event (scroll to the bottom for registration link).
About this event
Hosted by Dean Yuan Ding at the CEIBS Zurich campus on the shores of Lake Zurich, we will be joined by CEIBS faculty and industry speakers for two days of learning, networking, and of course, fun.
The programme includes thought-provoking talks on topics such as Web3, the future of work, and engaging workshops on innovation and building high-performing teams. There are lunches and networking breaks throughout the course of the two days, and after day one, participants will join speakers, CEIBS faculty and staff for a networking dinner at a traditional Swiss Zuntfhaus (guildhall) in downtown Zurich.
For those who cannot join the event in person, the event will also be streamed online exclusively to CEIBS alumni. To register for the online event, sign up via the link below.
Our speakers
Prof. Gianfranco Siciliano, Assistant Professor of Accounting, CEIBS
Ursula Schwarzenbart, General Manager, Daimler AG
Sandra Souto, ESG Procurement, Dow
Prof. Katherine Xin, Associate Dean (Europe); Professor of Management, CEIBS
Prof. Jeff Sampler, Professor of Management Practice in Strategy, CEIBS
Isla Munro-Hochmayr, Founding Member, FTW DAO
Kadine James, Founder and CEO, Immersive KIND
Prof. Renxuan Wang, Assistant Professor of Finance, CEIBS
Prof. Oliver Rui, Professor of Finance and Accounting, CEIBS
Dr. Marta Ra, Co-Founder of Women in Sustainable Finance (WISF)
Anne Marion-Bouchacourt, Chief Country & Chief Executive Officer, Societe Generale
Ivan Gonzalez, CEO Reinsurance China & Country President, Swiss Re
Sara Pieters, Innovation Expert
Dr. Robert Straw, CEO of CEIBS Zurich Campus
More speakers will be announced in due course.
Agenda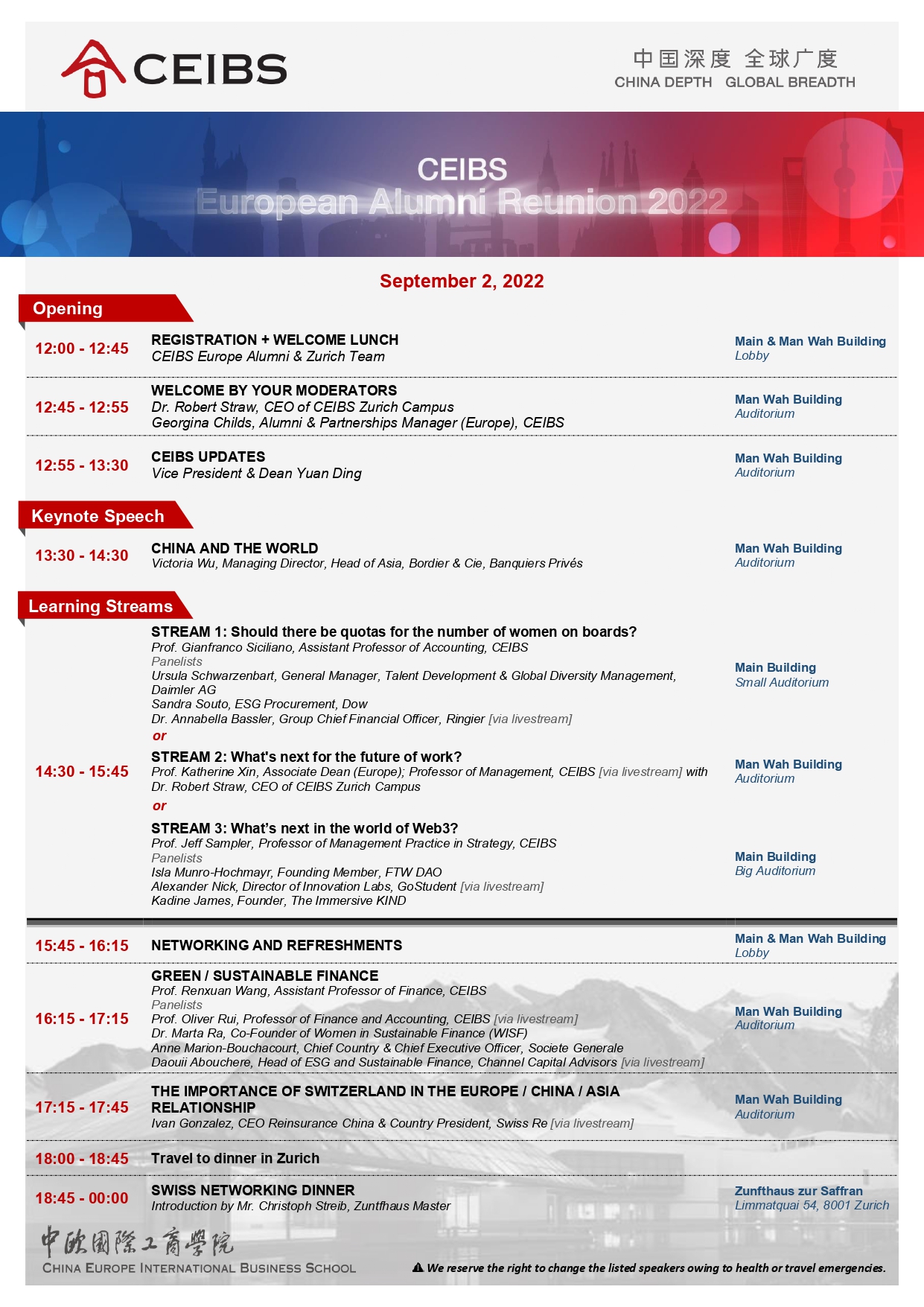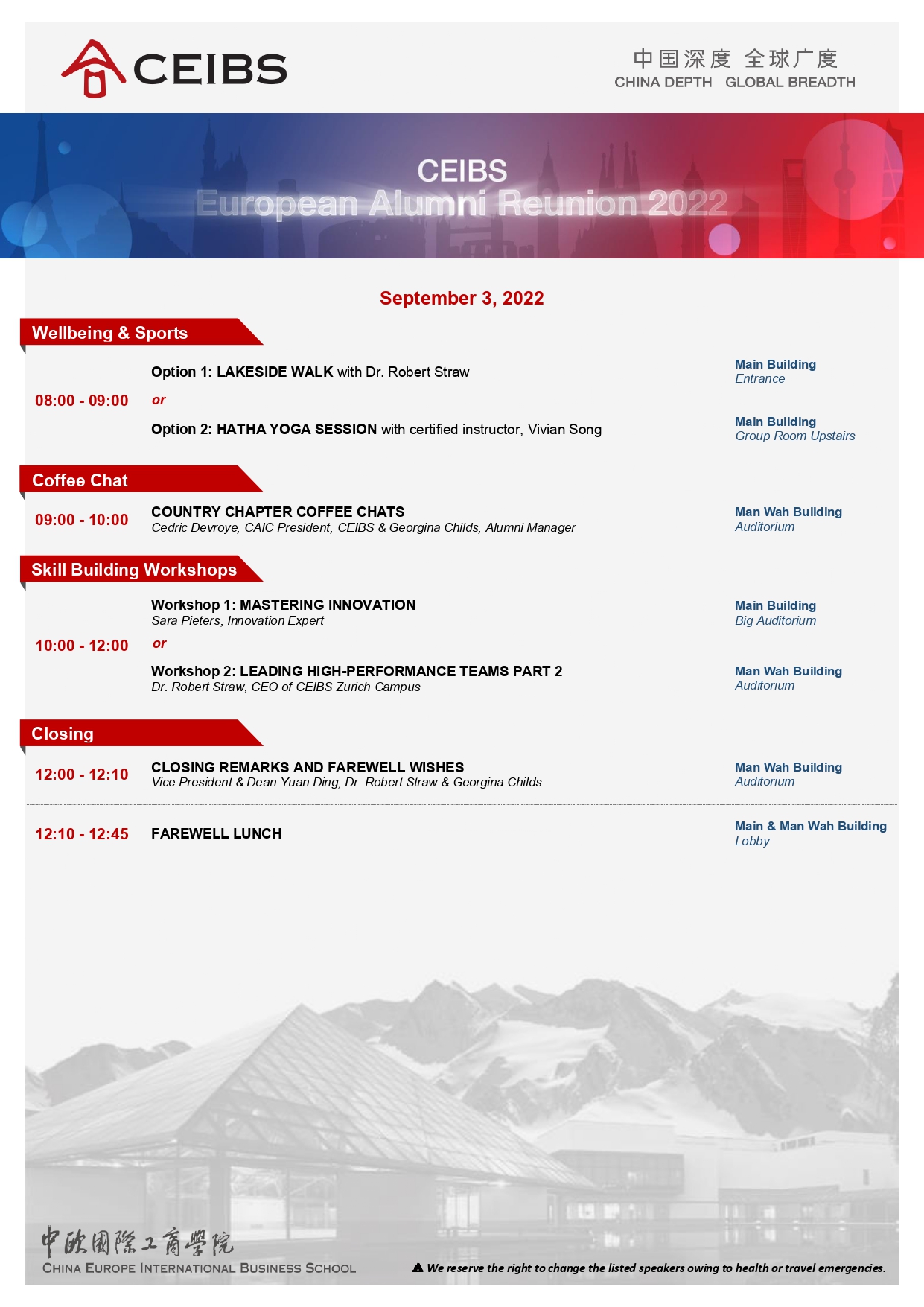 Details
Date: Friday, September 2 and Saturday, September 3, 2022
Address: CEIBS Zurich Campus, Hirsackerstrasse 46, 8810 Horgen, Switzerland
Registration (for offline event): This event is exclusively open to CEIBS alumni. To attend, please register your details before August 30 here.
Registration (for online event): To register for the online portion of this event, please click here.
Contact: If you have any questions about the event, please contact Alumni & Partnerships Manager for Europe, Georgina Childs on cgeorgina@ceibs.edu