Thursday, September 08, 2022
CEIBS Insights | The 8th Europe Forum 2022 · Paris
Chinese Post-COVID Economy: Major Changes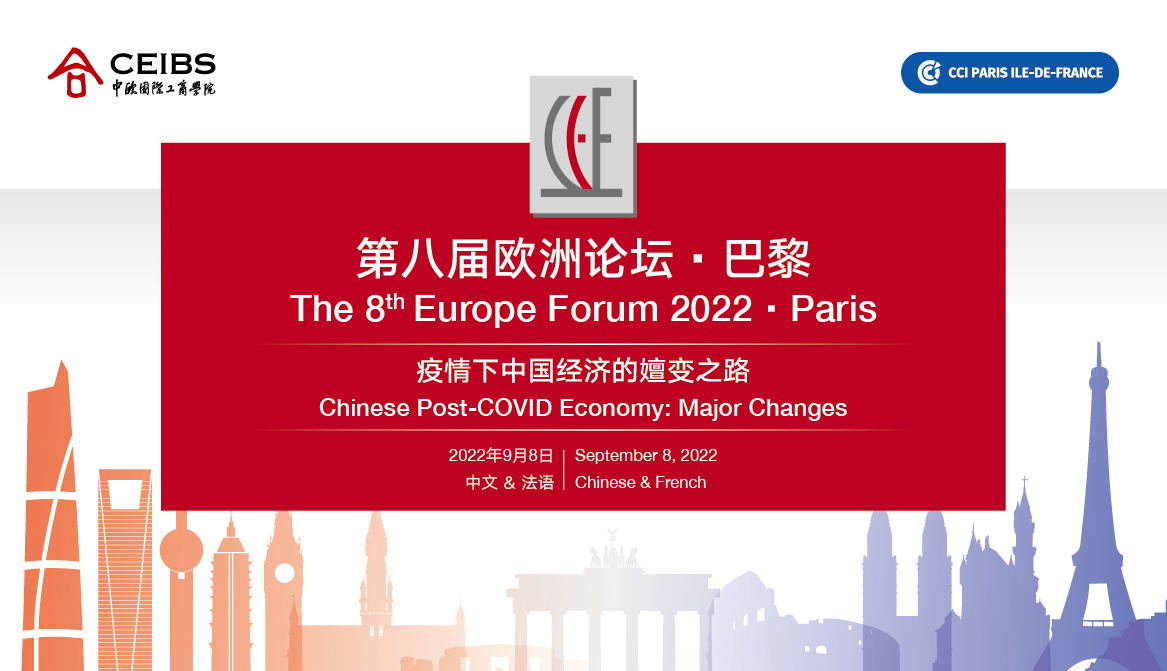 Join us on September 8, 2022, in Paris for the CEIBS Insights 8th Europe Forum on the theme of Chinese Post-COVID Economy: Major Changes.
Introduction
2022 marks the beginning of the post-COVID era in the world, but international landscape is undergoing profound changes. The Russia-Ukraine conflict, impact of prolonged closures of Chinese cities on supply chains, climate change, and post-pandemic inflation are key challenges.
As the bedrock of the new Chinese economy, new technologies have proven to provide many solutions amidst the pandemic. Boosted by increasingly urgent needs, innovative companies have gained ground. Signs of reopening are visible, but the substantial recovery of the global economy is not yet assured. A healthy revitalisation, which also answers the challenges of global warming, will require dialogue and exchange. What do Chinese business leaders expect? How can French companies continue to work with China? This new edition of the China-France Investment Dialogue Forum will analyse the obstacles and opportunities of this new era.
Co-organised by CEIBS and CCI Paris Île-de-France, the 8th Europe Forum (Paris) will feature leading figures from China and France, gathered to share their visions on major changes in the Chinese post-COVID economy.
Event Details
Date: Thursday, September 8, 2022
Time: 15:30-17:30 (Beijing Time)
Venue: Shanghai (details to be provided upon registration)
Language: French and Chinese (with simultaneous translation)
Contact: For more information, please contact Carrie XIE at xcarrie@ceibs.edu.
Agenda
Introduction and Welcome Address

16:00-16:10

Host:

Mr. Alain EYGRETEAU, Elected Member, Paris Ile-de-France Chamber of Commerce and Industry

Welcome Address

Prof. WANG Hong, President and Professor of Management, CEIBS
Ms. Marie-Christine OGHLY, Vice-President in charge of International Affairs at the CCI Paris Ile-de-France

Opening Address

16:10-16:30

Prof. Jean-Pierre RAFFARIN, Distinguished Professor, CEIBS; Former Prime Minister of France
Amb. LU Shaye, Chinese Ambassador to France

Panel Discussion

16:30-17:25

Moderator:

Prof. DING Yuan, Vice President and Dean and Cathay Capital Chair in Accounting, CEIBS

Panelists:

Ms. Laetitia ALBERTINI, CEO, H&H Group; CEIBS International Advisory Board Member
Mr. LI Ping, Co-Founder and Vice Chairman, CATL; CEIBS Alumni
Mr. Grégoire OLIVIER, Chief Operating Officer, Stellantis China
Mr. François MARION, Group Communications Senior Vice President, Valeo

Closing Remarks

17:25-17:30

Mr. Pierre MOUSSY, Economic Consul, Delegate of the Head of the Regional Economic Department, Consulate General of France in Shanghai