Tuesday, August 16, 2022
Behind the Idol Economy in China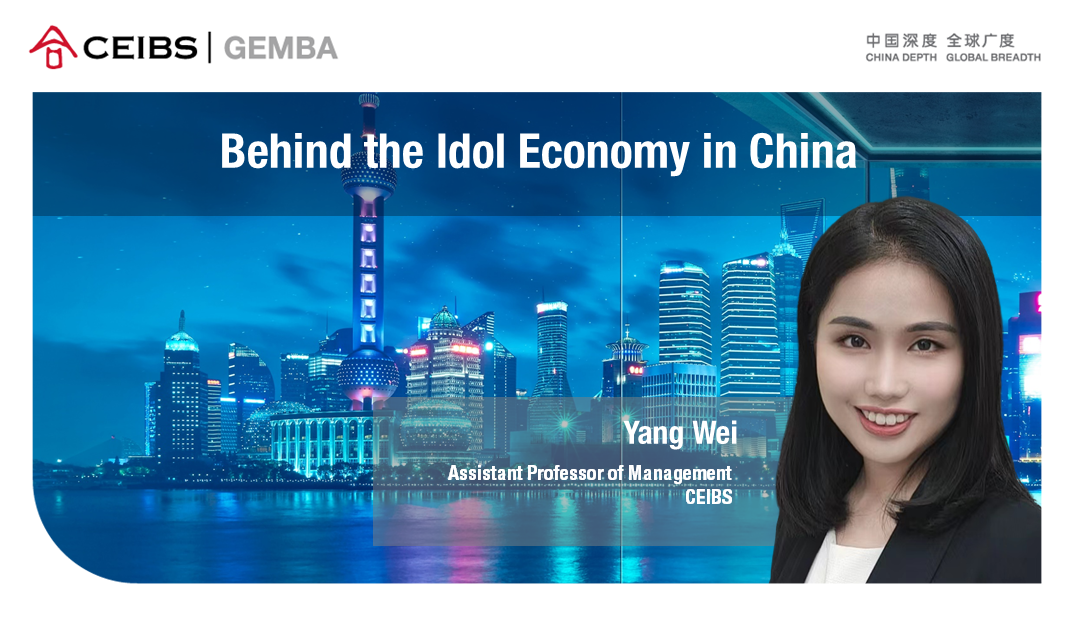 The CEIBS Global EMBA programme (ranked #2 in the world by the Financial Times), invites you to attend a special online lecture about Behind the Idol Economy in China on August 16, 2022.
About the Webinar
During this webinar, we will explore the strategic implications behind the idol economy in China and how the idol economy reflects a shift in competition triggered by the emergence and popularity of digital technologies and platforms.
About the Speaker
Yang Wei is an Assistant Professor of Management of CEIBS. Prior to joining CEIBS, She was an Assistant Professor of Management at the School of Business, George Mason University. She received her Ph.D. and M.A. in Management from the University of Texas at Austin, M.S of Finance from HKU, and M.S. in Management from Peking University.
Prof. Yang's research focuses on corporate strategies and entrepreneurship in high technology settings. She is particularly interested in how firms' strategies of innovation and knowledge creation are shaped by their surrounding industrial and social contexts, especially by their interactions with rivals, external collaborators, users, investors and the media. In her dissertation, she has studied how firms innovate and compete on multi-sided digital platforms, where she leveraged massive data on software development technologies and advanced empirical techniques including cloud computing and machine learning to derive causal inferences.
Event details
Date: Tuesday, August 16, 2022 @ 12:00-13:30 (CEST/Zurich) / 18:00-19:30 (CST/Shanghai)
Venue: Online
Language: English
Contact: Please contact wmarianne@ceibs.edu with any enquiries.
About CEIBS GEMBA
CEIBS Global EMBA, ranked 2nd globally by Financial Times, is the premium part-time Executive MBA programme based in Shanghai. CEIBS Global EMBA allows you to learn with and from high-achieving executive classmates, without having to interrupt your career.