Wednesday, July 20, 2022
CEIBS Global EMBA Info-session and Virtual Campus Tour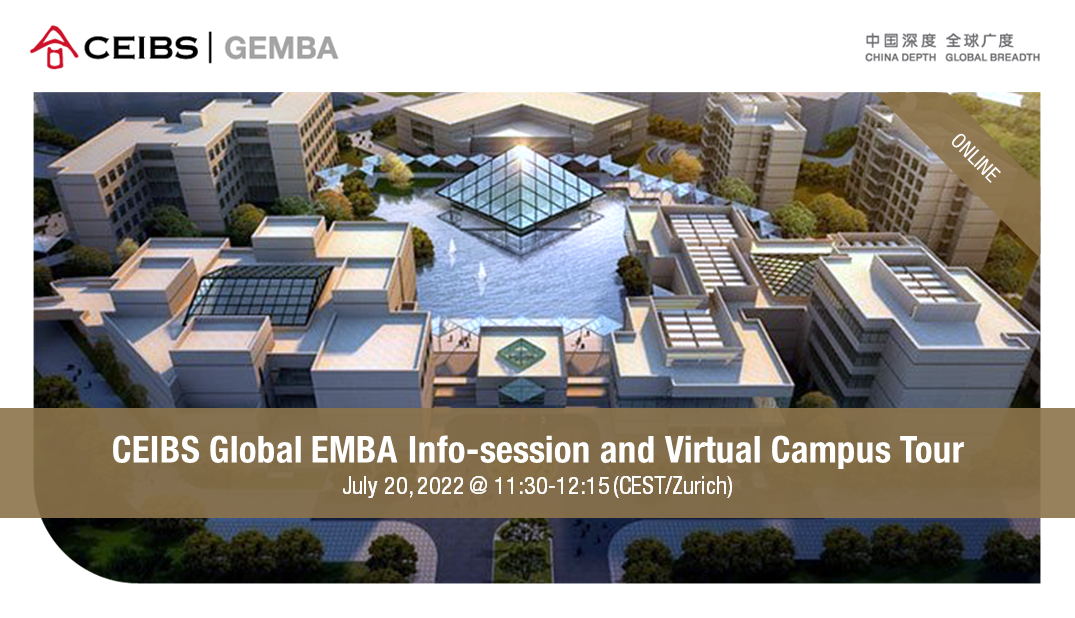 The CEIBS Global EMBA programme (ranked #2 in the world by the Financial Times) invites you to attend an online information session and virtual campus tour on July 20, 2022.
About the webinar
During this event, members of our admissions team in Zurich will provide an introduction about our Global EMBA programme, what you can expect from the application journey and a first look at student life at our Shanghai and Zurich campuses.
Event details
Date: July 20, 2022
Time: 11:30-12:15 (CEST/Zurich) / 17:30-18:15 (CST/Shanghai)
Venue: Online
Language: English
Contact: Please contact wmarianne@ceibs.edu with any enquiries.
About CEIBS GEMBA
CEIBS Global EMBA, ranked 2nd globally by Financial Times, is the premium part-time Executive MBA programme based in Shanghai. CEIBS Global EMBA allows you to learn with and from high-achieving executive classmates, without having to interrupt your career.