Thursday, June 02, 2022
'Meat' the future: Where will your next lunch come from?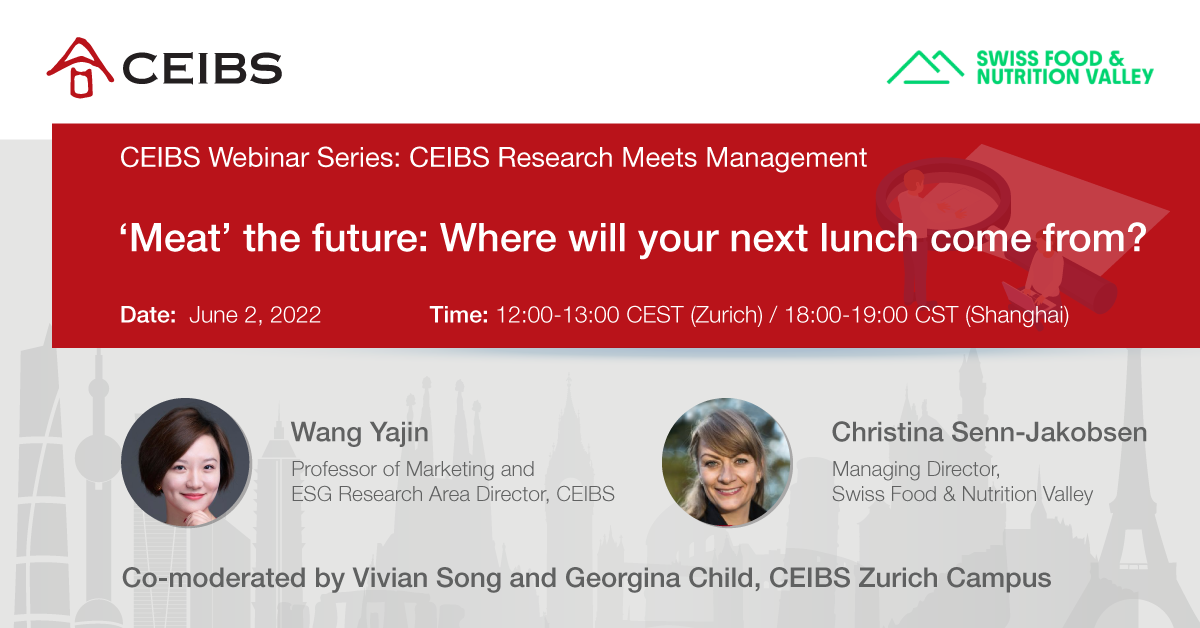 Please join us on June 2, 2022 for this special webinar on the theme of 'Meat' the future: Where will your next lunch come from?
About the webinar
Global meat consumption is enormous. It is also potentially very problematic due to its impact on the environment. In response, food innovation companies are now looking for new recipes and turning to scientific knowledge to help bring lab-grown meat to the marketplace. But what do consumers really think of lab-grown meat? Are people ready to eat lab-grown foods, or do they already have too much on their plates?
In this webinar, CEIBS Professor Wang Yajin will share her most recent research on consumer acceptance towards different types of lab-grown foods. Prof. Wang will be joined by Ms. Senn-Jakobsen who will explain Swiss Food & Nutrition Valley's current initiative to develop, strengthen and promote food innovation in Switzerland and beyond. Ms. Jakobsen will explain how Swiss Food & Nutrition Valley addresses major challenges in food, agriculture, and nutrition by leveraging cutting-edge science and technology for a more sustainable future. She will also share a case study of a start-up company tackling the challenges of sustainable and alternative food solutions.
About our speaker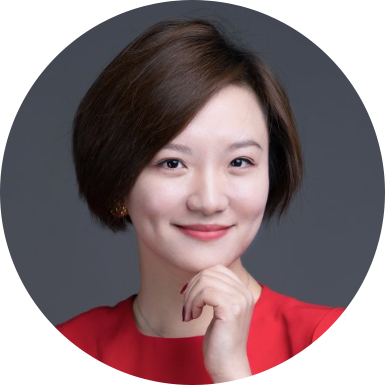 Wang Yajin
Professor of Marketing and ESG Research Area Director, CEIBS
Wang Yajin is a Professor of Marketing at CEIBS. Prior to joining CEIBS, she served as a faculty member at Robert H. Smith School of Business at the University of Maryland. Prof. Wang holds a Ph.D. in Marketing from the University of Minnesota and B.A. in Journalism and Law & Sociology from Peking University. Prof. Wang is a marketing expert, with specialisations in consumer behaviour and branding strategy. Her research work has been published on top international academic journals.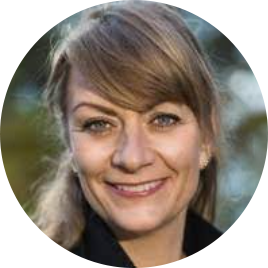 Christina Senn-Jakobsen
Managing Director, Swiss Food & Nutrition Valley
As a food innovation passionista, Christina aims to help solve some of the most pressing global issues related to food. With a core focus on food science and nutrition, Christina believes collaboration between sectors is fundamental to better and faster innovation and aims to put Switzerland firmly on the map as a leading nation in sustainable food & nutrition. Christina holds a Master's in Food Science & Technology from the University of Copenhagen and a Master's in European Food Studies from Wageningen University. She spent the first 12 years of her career at Mondelez in roles spanning R&D, innovation management, marketing, and strategy before she moved on to working with entrepreneurs and startup collaborations. In January 2021, she joined Swiss Food & Nutrition Valley as Managing Director.
This event will be co-moderated by Vivian Song and Georgina Child from CEIBS Zurich Campus.
Event Details
Date: June 2, 2022
Time: 12:00-13:00 CEST (Zurich) / 18:00-19:00 CST (Shanghai)
Venue: Online
Language: English
Contact: Please contact Vivian Song at svivian@ceibs.edu with any enquiries.