Thursday, June 09, 2022
CEIBS Alumni Workshop Series (Zurich): Leading High-Performance Teams and Cultures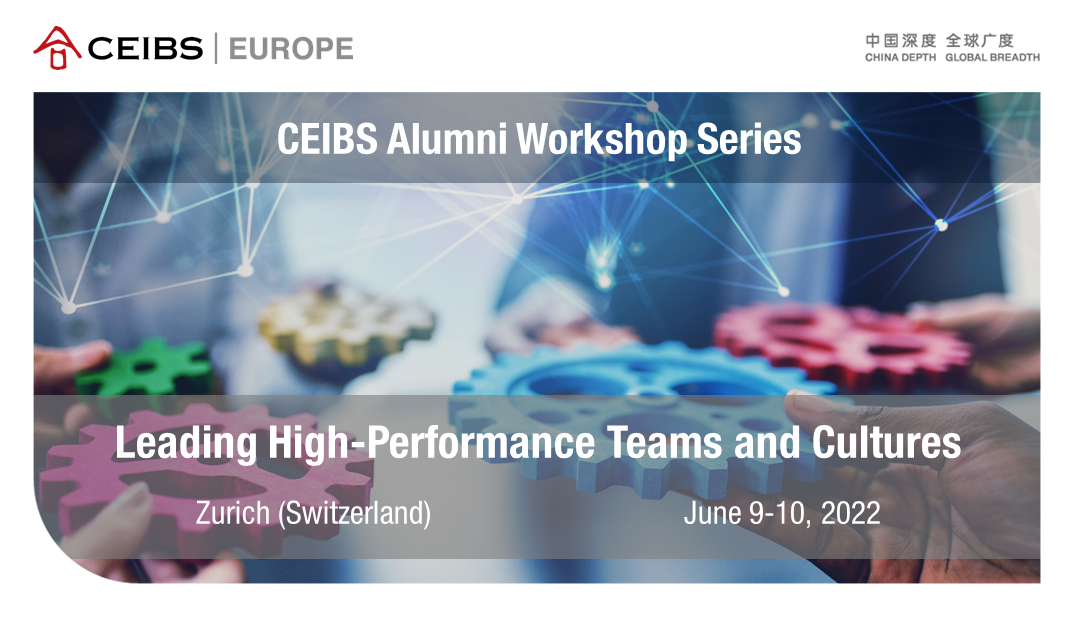 Join us in Zurich, Switzerland on June 9-10, 2022 for this exclusive workshop on Leading High-Performance Teams and Cultures hosted by CEIBS Zurich Campus CEO Dr. Robert Straw and Lisa Bevill, Director of the Center for Health, Well-Being and Happiness at IE in Madrid.
About the workshop
Join us for this special skills-based workshop, as well as a chance to catch up and network with other professionals in person. Leading High-Performance Teams and Cultures is designed for CEIBS alumni to continue their learning journey after graduation. Leading teams and organisations is challenging, not all teams are "high-performance" ones, nor do all organisational cultures focus on high performance. This workshop offers a series of well-crafted exercises, discussions and mini-workshops to help you develop high-performance teams and cultures in your organisations. This interactive session will teach you how to foster teamwork through assessments for self-awareness and appreciation of diversity in communication styles, focus on your personal development through learning more about your strengths, spot strengths in your teams and peers, and recognise how each person in your professional and private ecosystem contributes to the collective culture.
Note: This workshop is part of a series of workshops which will take place at locations across Europe between April and October 2022. For information about other workshops in your area, please visit our events page here.
About our workshop leaders
Dr. Robert Straw, CEO, CEIBS Zurich Campus
Dr. Robert Straw coaches global executives how to create and lead high-performing teams and improve their personal leadership skills. Having spent 35 years in academia, financial services and industry, Dr. Straw now serves as CEO of CEIBS Zurich Campus and its European operations. Previously, he was the Head of Talent Management and Leadership Development for Europe at Oerlikon.
Lisa Bevill, Director of Center for Health, Well-Being & Happiness at IE
Lisa Bevill is a Learning Facilitator and Executive Coach, passionate about people, leadership development and professional/personal growth. Her focus is on facilitating greater self-awareness, honing strengths, fostering communication and leveraging diversity to drive connection, innovation, positive outcomes and high-performance.
Organiser
CEIBS Alumni Europe
Workshop details
Date & Time: June 9 @ 9am-5pm and June 10 @ 9am-4pm
Location: Zurich, Switzerland
Language: English
Contact: Please contact cgeorgina@ceibs.edu with any enquiries.
Registration: Click here or scan the QR code below to register.