Saturday, March 05, 2022
The Chinese Economy: Current Status and Future Outlook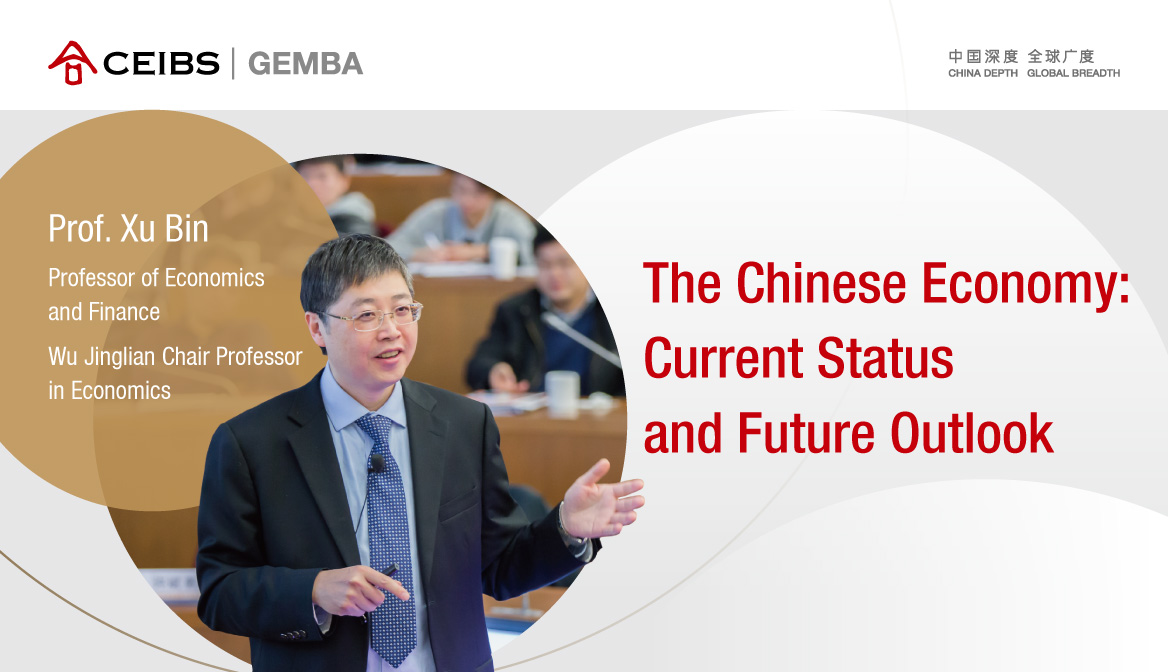 We invite you to attend our Global EMBA Master Class on The Chinese Economy: Current Status and Future Outlook on March 5, 2022. We have reached our capacity for offline registrations, so we are now only accepting registrations to watch online through livestream.
About this event
China has bid farewell to the old era of "efficiency first" and entered a new era of "efficiency and equity rebalancing." Accurately assessing China's current economic prospects starts with a recognition of the government's determination to rebalance efficiency and equity on a national level. While various external factors are working against China, the profit-driven nature of Western companies and their dependence on the Chinese market has limited the negative impact of these factors on China's overall economic prospects. China's long-term economic development will largely depend on whether the Chinese people are able to use their talents to the fullest. Seizing opportunities regarding the ongoing digital intelligence revolution will also be crucial.
During this Master Class, CEIBS Professor of Economics and Finance Xu Bin will showcase and explore China's current economic situation and prospects. The lecture will address the following key questions:
Why has the economic recovery from the COVID-19 pandemic been "strong in the North and weak in the South"?
Why did China's economy perform below expectations in 2021?
How should we view the shift in policy tone from "focusing on efficiency" to "rebalancing efficiency and equity"?
Why is the long-term development of China's economy mainly determined by internal factors rather than external ones?
About our speaker
Xu Bin
Professor of Economics and Finance, CEIBS
Dr. Xu Bin is a Professor of Economics and Finance and the Wu Jinglian Chair Professor in Economics at CEIBS. He received his B.A. (1986) and M.A. (1989) from Fudan University, and Ph.D. in Economics (1995) from Columbia University. Before joining CEIBS, Dr. Xu was a tenured professor at Warrington College of Business, University of Florida. He has also taught as a visiting professor at Darden School of Business, University of Virginia, and worked as a consultant for the International Monetary Fund (IMF) and the World Bank.
Dr. Xu's current research focuses on the global and Chinese economies, multinational enterprises in China, and trade and finance issues of emerging markets. He has published extensively in both international and Chinese journals, and is author of two books, International Trade (2009) and Applying Macroeconomics (2019). He is also the founding editor-in-chief of the CEIBS Frontier View Book Series.
Dr. Xu teaches macroeconomics, Chinese and global economy, and international finance at CEIBS. He has been invited to give speeches to executives of multinational enterprises and Chinese companies on issues related to the global and Chinese economies. He is also a four-time recipient of the CEIBS Teaching Excellence Award (2009, 2010, 2014, and 2016) and recipient of the CEIBS Medal for Teaching Excellence (2019).
Event details
Date & Time: Saturday, March 5, 2022 at 14:00-16:15
Venue: Offline registration is full. Now only accepting registrations to watch online.
Language: English
Contact: Click the link below to register or contact Nicole Chen at cnicole@ceibs.edu or call 021-2890 5496 for more information.
Agenda
13:30-14:00 Registration and networking
14:00-14:15 Welcome and Global EMBA programme introduction
14:15-15:15 Lecture by CEIBS Professor of Economics and Finance Xu Bin
15:15-15:30 Q & A
15:30-16:15 Panel discussion with senior Global EMBA alumni about China's economic outlook
16:15 onwards Networking