Thursday, November 18, 2021
Executive Forum: Integrating ESG into Business Strategy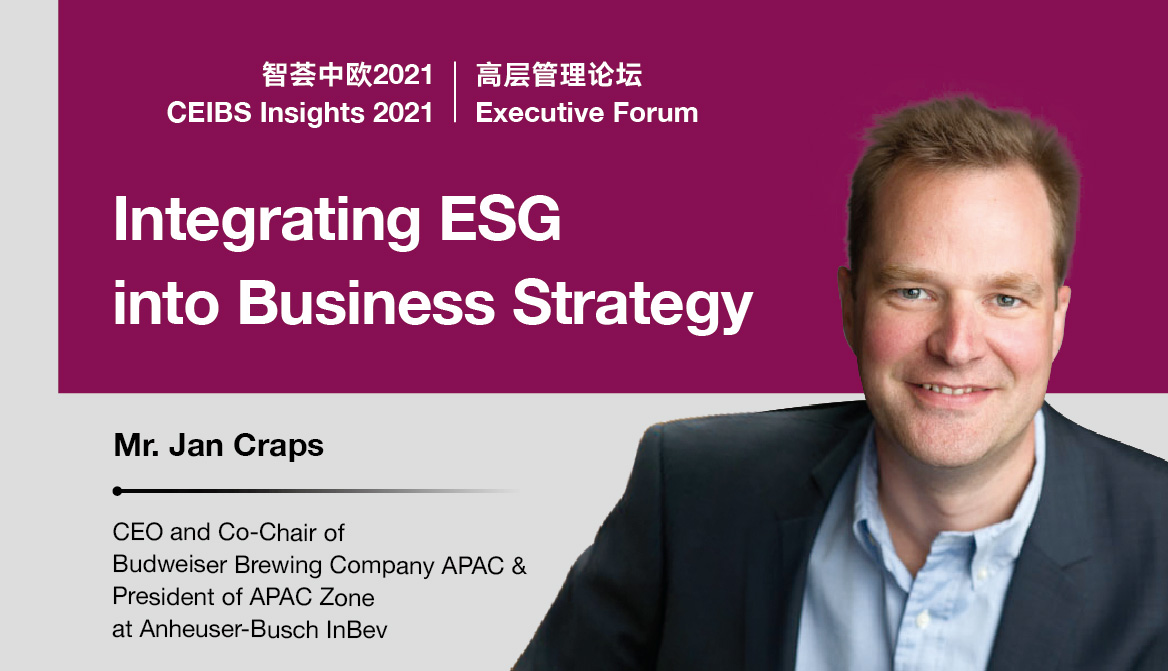 Please join us on November 18, 2021, for our CEIBS Executive Forum with Jan Craps, CEO and Co-Chair of Budweiser Brewing Company APAC & President of APAC Zone at Anheuser-Busch InBev, who will give a lecture entitled Integrating ESG into Business Strategy.
ESG (Environment, Social, and Governance) has become a hot topic amongst policymakers, business leaders, and the public as we become increasingly aware of the impact of production and consumption on the environment. Moreover, companies are now recognising the need to act on sustainability for long-term value creation.
Budweiser APAC started its sustainability journey more than a decade ago, determined to build a lasting company and create a better world for all stakeholders. As the largest beer company in Asia-Pacific, Budweiser APAC supports the United Nations Sustainable Development Goals (SDGs), with a focus on smart agriculture, water stewardship, circular packaging and climate action. The company has integrated sustainability into the financial aspects of its business. In July 2021, the company signed $500 million (USD) in sustainability-linked loan revolving credit facilities with a bank consortium, one of the largest of its kind amongst publicly listed consumer goods companies in Asia Pacific.
During this event, Mr. Craps will share how the company's senior management team develops strategy, defines clear responsibilities and engages value chain partners to ensure sustainability is embedded into the business across all divisions. He will also share insights on building a robust ecosystem, leveraging innovation empowerment to address today's most pressing challenges.
About the speaker
Born in 1977, Mr. Craps is a Belgian citizen. He earned a degree in Business Engineering from KU Brussels and a Master's in Business Engineering from KU Leuven, Belgium. He has also completed post-graduate programmes in Marketing and Strategy at INSEAD, Kellogg School of Management, and Wharton Business School. Mr. Craps worked as an associate consultant with McKinsey & Company before joining AB InBev in 2002. He has acquired a range of international experience serving in numerous senior and executive marketing, sales, and logistics positions.
In 2011, Mr. Craps relocated to Canada, where he was appointed Head of Sales for Canada, followed by appointment as President & CEO of Labatt Breweries of Canada in 2014. He then relocated to Melbourne, Australia, where he led the successful integration of AB InBev and SAB Miller in Australia, India and Southeast Asia.
Mr. Craps is a member of AB InBev's Senior Leadership Team. He is presently CEO and Co-Chair of Budweiser Brewing Company APAC, which covers the company's operations in Greater China, East Asia, South Asia, South East Asia, and New Zealand, overseeing more than 25,000 employees.
Mr. Craps received the "Shanghai Silver Magnolia Award" from the Shanghai Municipal Government in 2021. First launched in 1989, this award is dedicated to foreign citizens who have contributed to the city's economic and social development.
We look forward to seeing you at this much-anticipated event.
Date: November 18, 2021
Time: 18:30-21:00
Language: English
Venue: Offline and online (livestreamed via Zoom)
Note: Limited offline seating is open for CEIBS alumni and current students. Please select 'offline participation' in the registration link below if you qualify.
Agenda:
18:30-18:35   Opening address & introduction by CEIBS Vice President & Dean Ding Yuan
18:35-19:15   Lecture by Mr. Jan Craps, CEO and Co-Chair of Budweiser Brewing Company APAC & President of APAC Zone at Anheuser-Busch InBev
19:15-19:30   Q&A
19:30-19:40   Global MBA Programme (GMBA) introduction
19:40-20:00   GMBA experience sharing
20:00-21:00   Beer chat
Contact: Please RSVP via the link below or contact Ms. Joey JIN at jjoey@ceibs.edu or +86-21-2890-5441.