Wednesday, December 15, 2021
Online Lecture: China's Competitive Context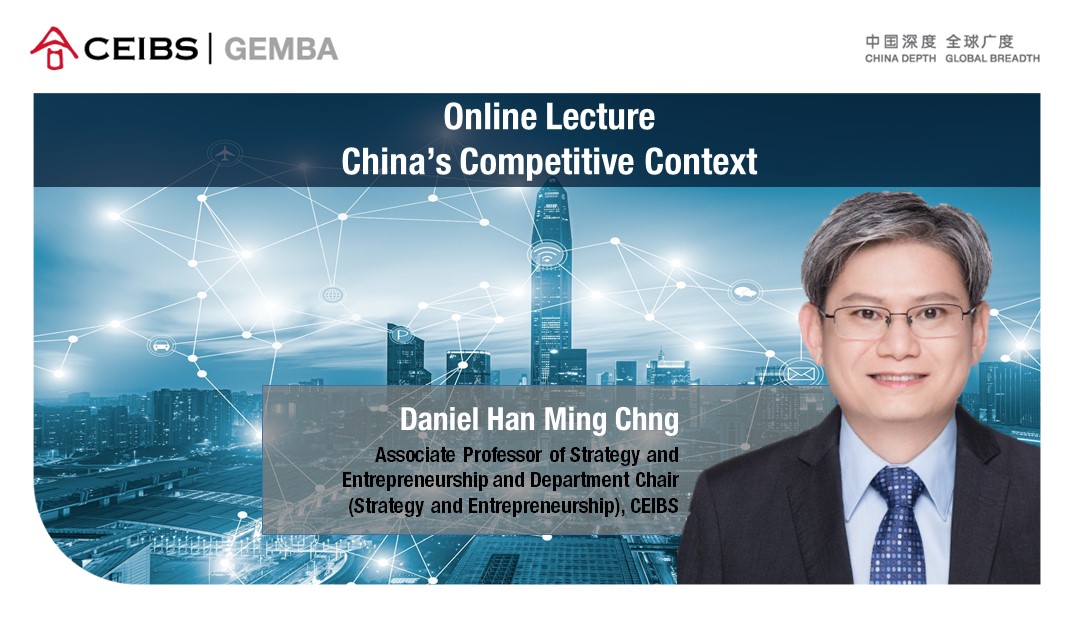 The CEIBS Global EMBA programme, ranked #2 in the world by the Financial Times, invites you to attend an exclusive online lecture with CEIBS Associate Professor of Strategy and Entrepreneurship Daniel Han Ming Chng on China's Competitive Context on December 15, 2021.
About the Webinar
A comprehensive understanding of the local competitive context is necessary as a foundation for doing business in China. During this online lecture, we will focus on the competitive dynamics of the Chinese market. We will also explore how companies exploit local market opportunities to grow and the strategic challenges they often face in this rapidly changing economy.
About the Speaker
Daniel Chng is an Associate Professor of Strategy and Entrepreneurship and the Chair of Strategy and Entrepreneurship Department at CEIBS. He teaches strategic management, organisational turnaround, global strategy, organisational theory and design, managerial decision making, and strategic consulting to MBA students as well as to managers and top executives of multinational firms and government agencies in China, South Korea, and Singapore.
Dr. Chng's research interests focuses on organisational and managerial strategic behaviours during situations adversity. His research is an on-going attempt to advance our understanding of how organisations and their managers respond to the challenges of organisational failure or the threat of failure. In particular, he studies managers' strategic decision-making approaches and behaviours during organisational decline, the ability of organisations to learn from failures and entrepreneurs' struggles in building new ventures in emerging economies.
Event Details
Time: Wednesday, December 15, 2021 at 18:00-19:30 (Shanghai time) / 11:00-12:30 CET (Zurich time)
Venue: Online (via Zoom)
Language: English
Contact: Please contact Marianne Wiesli wmarianne@ceibs.edu with any enquiries.
About CEIBS Global EMBA
CEIBS Global EMBA, ranked #2 in the world by the Financial Times, is a premium part-time Executive MBA programme based in Shanghai. CEIBS Global EMBA allows you to learn with and from high-achieving executive classmates, without having to interrupt your career.