Wednesday, October 13, 2021
Executive Forum: Green and Sustainable Finance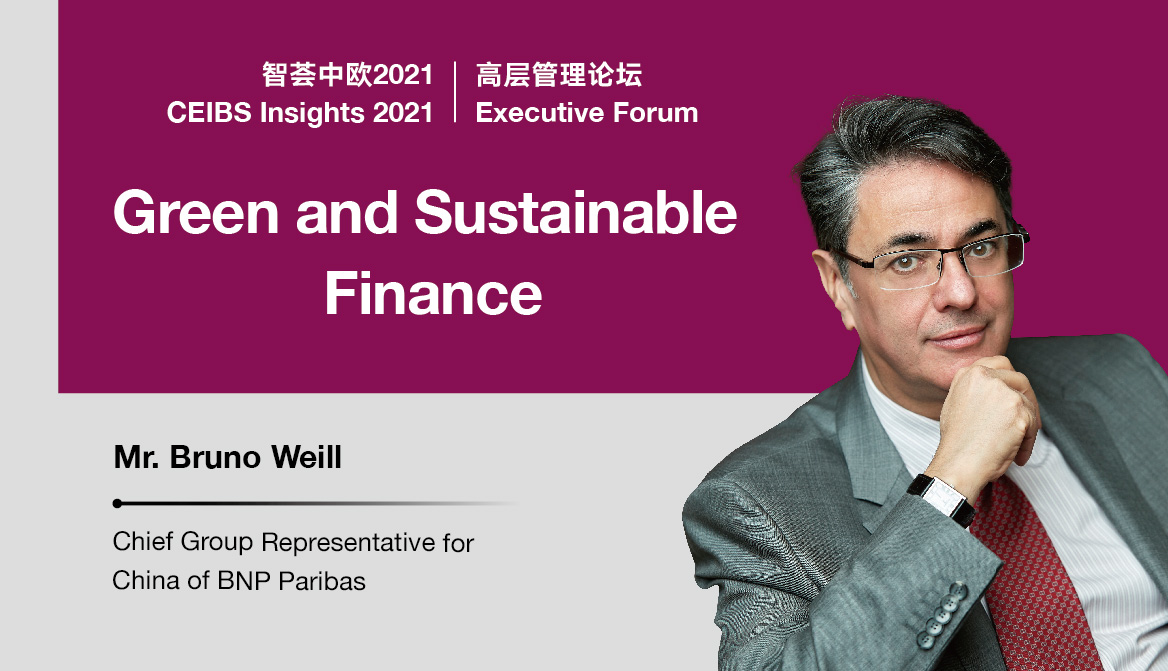 Please join us for our upcoming CEIBS Executive Forum on October 13, 2021, with Mr. Bruno Weill, Chief Group Representative for China of BNP Paribas, who will give a lecture on Green and Sustainable Finance.
BNP Paribas is a leading European bank with an international reach and a committed China market partner. With a presence in 68 markets around the world and about 193,000 employees, it is leveraging its full-fledged banking platform and international network to help Chinese clients realise their ambitions, while assisting global investors with their development in the China market.
The company is part of a growing consensus on sustainability for the future and is convinced that this year's United Nations Climate Change Conference (COP26) will be a significant milestone as countries will have to disclose their targets, intentions and how they plan to meet their set targets.
At the same time, a greater convergence of taxonomy and shared values around financing these transitions are essential. On a global level, the joint efforts of China and Europe are spearheading the standardisation of green taxonomy as both sides are close to convergence on green bond taxonomy and will eventually align on other financing tools.
During this event, Bruno will share his observations and suggestions.
About the speaker
Since November 2014, Bruno Weill has served as the Chief Group Representative for China at BNP Paribas. He contributes to the definition of the group's strategy and coordinates all its activities in China. He represents the group as a director or supervisor on the board of most of BNP Paribas' wholly owned legal entities and joint ventures in China. He is also the group executive sponsor for a few Chinese and international strategic clients in China.
After completing his baccalaureate in Spain, Bruno completed a master's degree in physics before graduating from the French Engineering École des Mines de Paris. He started his career in the mining industry in South Africa, before shifting to applied petroleum research in Belgium and consulting in France and the US. Since he joined BNP Paribas Group in 1989, Bruno Weill has dedicated his professional career to the banking industry.
He started his banking career in Paris at Inspection Generale and then joined Project Finance before been promoted to Project Finance Head of South East Asia and then Deputy Head Asia in Singapore. In 1999, Bruno returned to Paris and was appointed as Global Senior Relationship Manager of some large multinational companies. In 2004, he was named Head of Financial Institutions Group for Asia in Hong Kong and managed teams of investment bankers in seven APAC countries.
In 2009, Bruno moved to Nanjing as Executive Vice President of the Bank of Nanjing. He led the transformation of the partnership based on business complementarities (particularly in the areas of consumer finance, corporate banking, financial markets, etc.).
Born in 1962, Bruno Weill is also National Vice President of the Executive Committee of the EU Chamber of Commerce, a member of the French Foreign Trade Advisers and the board of the French Chamber of Commerce in China.
Date: October 13, 2021
Time: 18:30-20:00
Language: English
Venue: Offline and online (livestreamed via Zoom)
Note: Limited offline seating is open for CEIBS alumni and current students. Please select 'offline participation' in the registration link below if you qualify.
Agenda:
18:30-18:35   Opening
18:35-19:30   Speech by Mr. Bruno Weill, Chief Group Representative for China at BNP Paribas
19:30-20:00   Q&A session
Contact: Please RSVP via the link below or contact Ms. Joey JIN at jjoey@ceibs.edu or +86-21-2890-5441.