Saturday, September 25, 2021
CEIBS MBA Coffee Chat and Alumni Sharing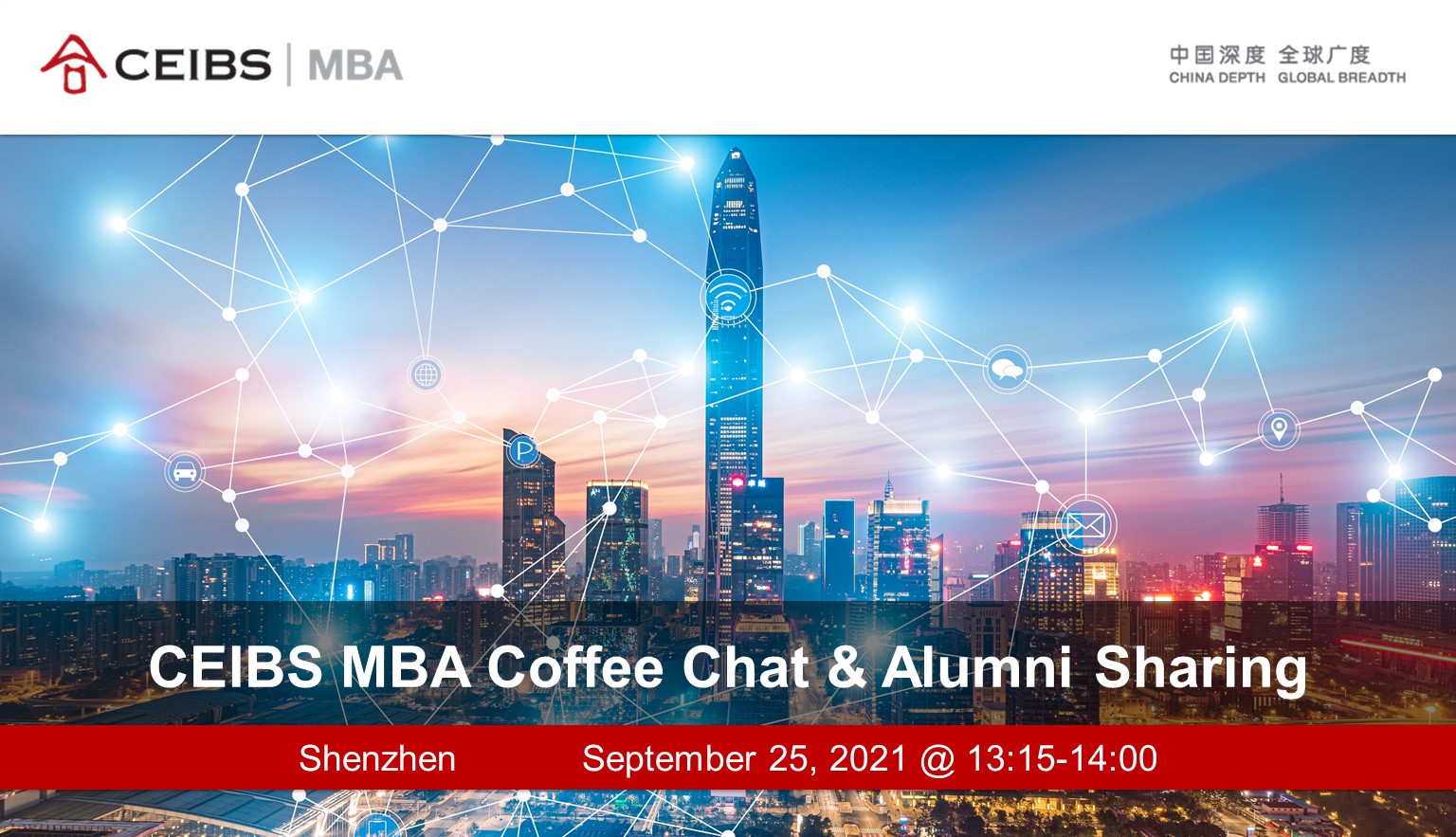 Have a coffee, on us, in Shenzhen and speak with CEIBS MBA admissions officers and MBA alumni about the full-time English-language MBA programme offered at China Europe International Business School. Tell us about your MBA plans and how you intend to leverage the experience to venture into a changing world. Get all of your questions answered, including:​
How CEIBS MBA graduates can successfully switch careers after graduation​
How obtaining an MBA rooted in 'China Depth & Global Breadth' can positively impact the immediate and longer-term development of your career​
How ROI and living costs in Shanghai compare with other top-tier schools in the US and Europe​
Why the Financial Times ranks CEIBS as the #1 MBA in Asia and top 10 globally for four consecutive years​
On the same day, you will also have the opportunity to participate in the MBA alumni forum.​
Event 1: MBA Coffee Chat and Alumni Sharing​
Date & Time: Saturday, September 25 at 13:15-14:00​
Agenda:
13:15-13:30  MBA Introduction​
13:30-14:00  MBA Alumni Sharing & Panel​
Event 2: MBA Forum: How To Be An Outstanding Enterprise In the Era of Big Data — From Theory to Practice​
Enterprise transformation in the era of big data is a universal challenge facing all managers. So how can companies formulate strategies and execution plans whilst avoiding the hidden traps?​
We cordially invite you to listen to the strategic analysis and insights from industry leaders and senior MBA alumni. Participants can expect to gain an understanding of the transition from theory to practice – How to build an outstanding enterprise in the era of big data.​
Date & Time: Saturday, September 25 at 14:05-16:05​
Agenda:​
14:05-16:05  Keynote speech​
16:05-16:30  Tea Break​
16:30-17:30  Alumni Panel​
* Due to limited seating at the forum, your place will ONLY be confirmed upon receipt of the confirmation email sent by MBA Admissions.​
Venue: Suite 10A, Taihua Wutong Industrial Park, Gushu Development Zone, Hangcheng sub-district, To be confirmed via phone call or email upon registration​
Language: Chinese/English​
Contact: For more information, please contact MBA Admissions Office Ms. Esther @021-28905110, gesther@ceibs.edu​
Registration: You can choose to attend the MBA coffee chat or forum, or both events. However, the seats of the forum are limited. ​