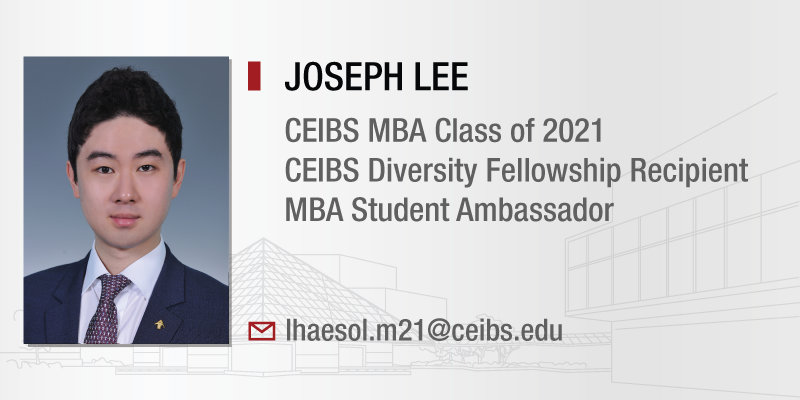 In choosing an MBA, I only considered China-based programmes. This eventually led me to pursue an MBA at CEIBS, and I believe this was one of the best decisions that I made in 2019. Looking back, it seems that there were probably two reasons why I was confident in my choice.
China dream
My China dream started in high school. Attending a foreign language high school, I had a chance to study with students from a high school affiliate of Renmin University. I was impressed by the students' intelligence, diligence and passion for success. After a few weeks of studying, I was convinced about the growth potential of the Chinese market. This led me to expand my exposure to China in any way that I could, through travel, exchange programmes or attending government sponsored events.
Taking on challenges
Working as an investment banker at Samsung Securities, I learned to enjoy taking on challenges. During hard times, when many senior managers and associates left the firm, I took on a leadership role and ensured the successful delivery of complex executions, such as cross-border IPOs. My biggest take-away from the experience was that a person could effectively develop one's skill-set by taking on difficult challenges.
As a result, when it came to considering an MBA programme, I felt that a China-based programme would challenge me in different ways and further differentiate my skill-set (despite many of my seniors advising me to apply to US or European programmes). After nine months of studying at CEIBS, I believe that I made the right choice. The programme has helped me to gain a differentiated experience, understand myself better and enjoy invaluable friendships.
Differentiated experiences
As a Chinese healthcare and financial hub, Shanghai is a great place to get experiences which I could not have gotten in my home country. I am involved in the preparation of CHIP (China Healthcare Innovation Platform), participating in evaluation of medical IT and healthcare industry-related innovation cases. As the only foreigner in the working group, I am enjoying not only the deep dive into the industry, but also the fast evolving nature of Chinese businesses.
In addition to extracurricular activities, I am also assisting a Chinese healthcare investment bank's Korean operations. I consider this a good example of why we purse an MBA. I can leverage my previous experiences in investment banking, develop my skills and network in diverse industries through various events and friends at CEIBS.
Understanding oneself
CEIBS has also been a perfect place to reflect on myself. Taking a step away from my previous everyday environment, I was able to grasp more deeply my strengths and weaknesses. The professors and mentors here often encourage students to seek out their distinctive strengths and further develop them. I still remember a key take-away from my first case study at CEIBS was to 'be the first, different and unique'. The lesson was quite new to me, as I was educated under Confucian values, which encourage individuals to become well-rounded people and to not stand out from their peers. My fellow students have been so tolerant with my shortcomings and supportive in managing such weak points. Thanks to my friends, I have learned to better manage my feelings and personal conflicts. If I am a good team member and a leader in the future, I believe it will be mostly because of those experiences and learnings at CEIBS.
Friendship
Lastly, the most vital factor for a satisfactory MBA experience is friendship. The make-up of the MBA programme student body is diverse, making it an excellent place to learn about other perspectives. Despite the epidemic situation which has prevented us from meeting face-to-face, we are still connected and taking care of each other. I especially want to thank Dong SUO and Nathan LI who have been close friends and also trustworthy team members from the very early days of the MBA. Despite my limited Mandarin proficiency, they have been friendly throughout the whole MBA experience and have even helped when I needed to discuss my career development in China.
Challenges ahead
Three months have passed since I was last on campus. I still cannot return to campus to meet friends and if the current situation continues, the job hunting will also become a serious problem. Nevertheless, I believe that these challenges will eventually lead me and all my other friends in the CEIBS MBA programme to become better leaders, capable of managing organisations under challenging conditions. In the meantime, I am waiting for those days when we can joyfully talk about these experiences to come.