China Deep Dive in Chengdu
Getting out of the classroom is a fundamental part of the Global EMBA experience. The practical, hands-on exploration of current business practices being used in the real world is continuously paired with more theoretical, reflective elements discussed in class. This gives students a holistic view of how business is conducted locally, regionally and globally, providing useful contrast and plenty of inspiration to take back to their own organisations.
This is the focus of the Global EMBA programme's China Deep Dive (CDD) approach, which has prompted the creation of new and exciting elective modules which explore how China's business landscape is evolving. This October, 27 Global EMBA students and alumni visited Sichuan's provincial capital of Chengdu under the guidance and leadership of CEIBS Professor of Management Han Jian. Joined by three students from the Hospitality EMBA (HEMBA) programme and ten students from our Chinese-language EMBA programme, the event gave everyone the chance to forge cross-programme links and share trade insights.
The module was designed to give students a real-life learning experience and help them better understand the deep connections between a given business' strategy, its strategic implementation and its OTM (Organisation and Talent Management) practices. This was achieved by visiting and analysing three major companies in Chengdu. To discuss the reception of the Chengdu CDD module, and its overall impact on their learning, we spoke with two of the participants.
Jaivardhan Sharma is the National Sales Head at Synthite Industries, the world's largest producer of value-added spices. He happens to live in Chengdu and is a fluent Mandarin speaker. He is also an active member of the CEIBS alumni community, and was a member of the 2017 Global EMBA class.
Effie Jiang is the founder of Shanghai MapleGree Technology & Singapore Food Corporation, a "one-stop e-commerce solutions expert" that provides strategy consultancy, operations services and product distribution for over 50 brands in China and Southeast Asia. She is also a highly active alum, acting as a class ambassador.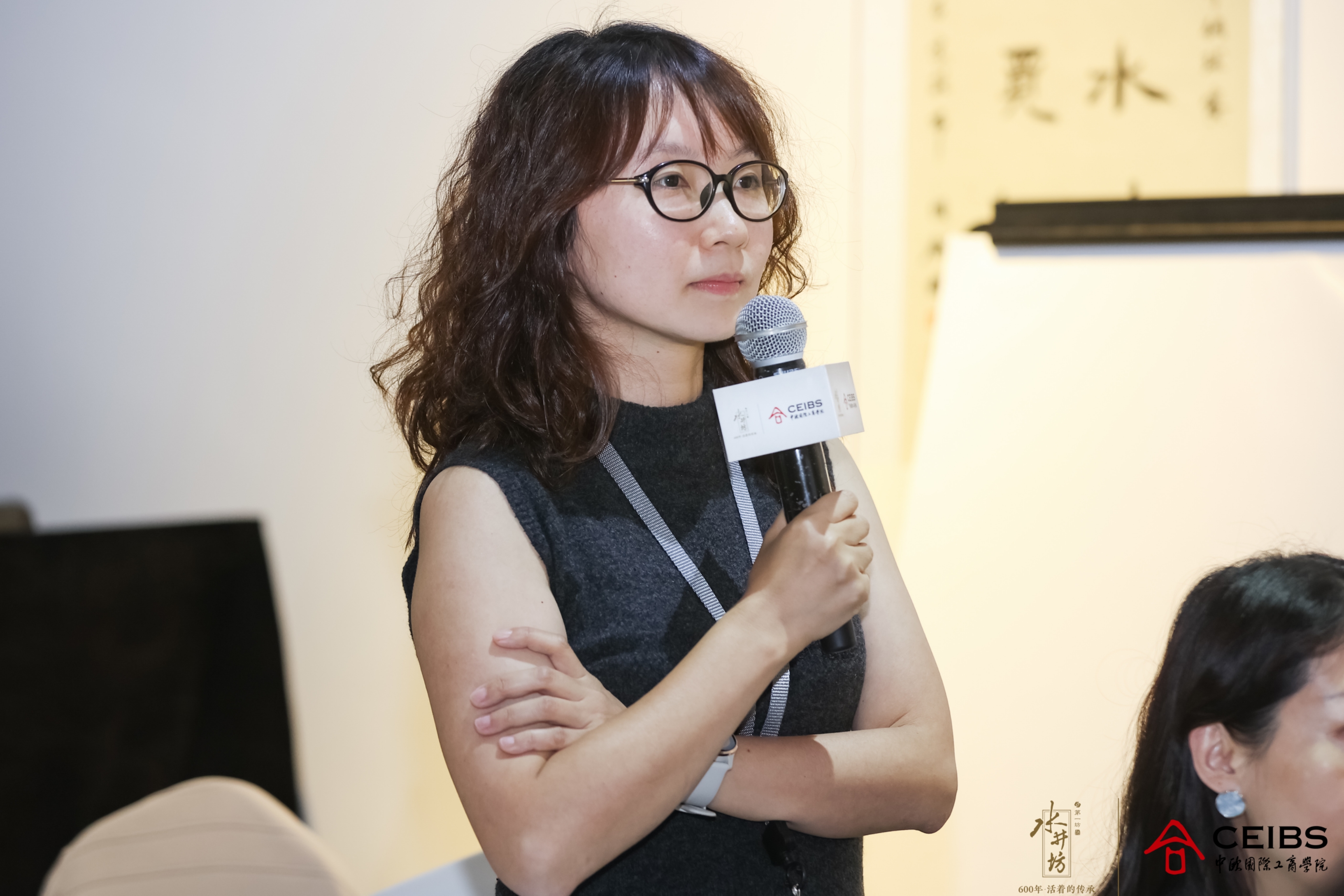 The China Deep Dive approach – pairing theories with real-life case studies
The China Deep Dive (CDD) module is a new initiative introduced this year by CEIBS Associate Dean and Global EMBA Director Bala Ramasamy. The rationale behind the module is to provide opportunities for immersive learning, where Global EMBA students are able to 'touch' different industries and dive into the current business practices in China by examining private Chinese companies as well as multinationals. The module, led and guided by CEIBS professors, is highly practical and a great example of how the programme pairs theory with real-life case studies. Global EMBA students can better understand exactly how business is evolving in China, and what it means for the rest of the world.
"In line with the understanding that the GEMBA programme acts as a bridge connecting China and the rest of the world, the purpose of introducing the China Deep Dive series is to provide our students with a hands-on comparative analysis of the strategies pursued by Chinese companies and foreign multinationals operating in China. Much like our global elective courses, I hope that by visiting and learning from, and about, these companies, our students can better reflect on their own role in their organisations, and how they can add greater value to their businesses and community," Global EMBA Director, Professor Bala Ramasamy says.
The importance of comparison
The three company visits on the Chengdu CDD module spanned three different levels of Chinese ownership. Firstly, though Swellfun is a China-based company mainly engaged in the manufacture and sales of alcoholic products such as baiju, it is majority-owned by a foreign interest – London-based Diageo. The second, New Hope Dairy, a leading large-scale dairy supplier in China, is solely funded by Chinese. The last company visited was Volvo, the multinational, Swedish-based automotive giant that was bought by Chinese automaker Geely in 2010.
In each case, students found that the companies' business strategies and OTM challenges – and subsequent solutions to those challenges – were markedly different. Not only has each company found its own preferred strategies to tackle issues specific to its industry, the different levels of international contact, ownership and collaboration also played an important role.
"As any organisation grows, it becomes more complex and diverse. From the beginning, the module emphasised the importance of continually assessing organisational behaviour in any business," Jaivardhan says. "Seeing this process addressed from three totally different perspectives was very useful for understanding the common pain points and opportunities, as well as the specifics of each case. This made it easier to think about how we could take these learnings back to our own companies and best apply them."
Specific examples of the HR on-boarding processes, mentor/mentee initiatives, career development strategies and other OTM approaches of the three different companies were provided in the form of executive sharing sessions, active panel discussions involving the CEIBS attendees, and site walkthroughs with explanations from key company representatives.
In addition to providing comparisons at the industry and ownership levels, the module also presents students a side of Chinese business wholly different to that of Shanghai and Beijing.
"Given that the Chinese market is so large and diverse, it's important to get out of Shanghai and see what's happening elsewhere. For anyone thinking of expanding their business to western China, getting the lay of the land is always important," Effie says. "With broader strategies from leadership members of the three companies, we gained feedback from people on the ground, the ones implementing those strategies and policies. They know the brands, the local conditions, what works, what sells, and how to manage their teams effectively in this context."
Into the heartlands, to gain greater China depth
Summarising the overall impact of the module, and its relevance to their own business operations, our two alumni noted the importance of exploring Chinese business practices through a wider lens. Both Jaivardhan and Effie felt that their understanding of how China is learning and adapting to key organisational behaviour challenges was substantially improved by seeing the examples of the three Chengdu-based companies by themselves.
"There's huge demand in the Chinese market, that's no secret. But it's a reality which propels companies to change their focuses. Today, we need to be strategic about how we create brands that will resonate with the domestic market and have international appeal," Effie says. "That's why it's important to examine what is happening in China more closely. With modules like this, we're not looking at case studies from many years ago, we're actively exploring what's happening in Chinese business community right now."
"The Global EMBA programme promotes 'China Depth, Global Breadth', which is essential today, whether you are in China or not," Jaivardhan says. "To get real China depth, we need to be visiting places like Chengdu, Chongqing, and so on, because the west of China is rapidly assuming greater importance as a market and a logistical hub. With all the different ideas and perspectives available to explore here, it is vital for students of China's business practices to come here and see it in action."
The thoughts of both alumni cut to the heart of the China Deep Dive vision. Central to the design and delivery of each new CDD module is the understanding that the evolution of China's business landscape is too fast to rely on studying a limited number of past examples. That is why the theoretical examination of wider business strategies and practices must be informed by active explorations of exactly how and why specific companies in China are thriving today, whether they are in Shanghai, Chengdu, or anywhere else across the country.
The Global EMBA programme has two further China Deep Dive modules coming up, one in Shenyang where students will look at (Dis)continuous Innovations in the Digital Age for the Automotive Industry, and another in Suzhou which will look at China biopharma innovation in the global context.
Writer | Tom Murray
Editors | Marcel Austin-Martin, Michael Thede and Effy He