CEIBS pair shine on Global EMBA world stage
We are proud to announce that two CEIBS Global EMBA alumni have been named on Poets & Quants' prestigious list of the Best and Brightest Executive MBAs for 2021. P&Q is the largest media outlet in the world specialising in MBA and EMBA news coverage.
CEIBS Global EMBA alums Jessie Zhang and Charles-Henri Sneessens join around 100 executives across the globe in being honoured by P&Q this year for their "contributions to their EMBA class, academic performance, extracurricular involvement, personal intangibles, and unique personal stories."
Now in their eighth year, the Best and Brightest EMBA awards feature recent graduates from more than 50 of the world's top EMBA programmes whose inherent qualities and contributions stand out from the invariably impressive array of submissions. Previous winners include top executives from globally recognisable and respected companies and business institutions.
This year's Best and Brightest have excelled during a particularly turbulent year, and Jessie and Charles-Henri join a group whose knowledge, dedication and resourcefulness have been put to the test amidst the ongoing global pandemic.
This year has proven to be a uniquely challenging one for businesses. While COVID-19's spread in 2020 sent business leaders scrambling to adapt to a radically different global business landscape, leaders are now under pressure to incorporate the lessons they learned during lockdown into viable long-term business strategies.
Jessie Zhang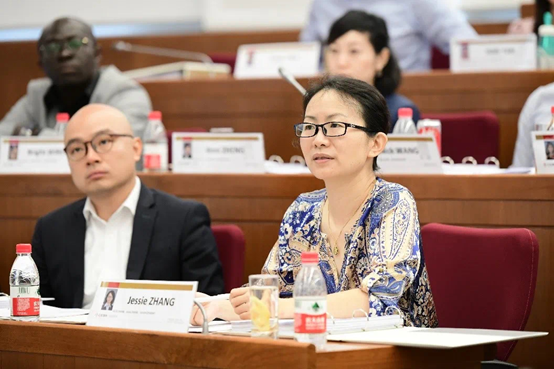 "Being selected has given me a great sense of recognition. The two-year CEIBS learning journey not only enhanced my academic knowledge, but equally importantly offered me a great networking platform to connect with, and learn from, outstanding business people and influential platforms like P&Q."
– Jessie Zhang, China GM for Vehicle Group and eMobility, Eaton
Jessie enjoyed 20+ years of experience as a professional finance leader before transitioning into a business leader position at Eaton, a world-leading power management technologies and services company. Since assuming the role of China GM for Eaton's Vehicle Group and eMobility section in March this year, Jessie has wasted no time in embracing the spirit of transformation called for in the current times. Currently, she is busy leading this $400 million revenue-making organisation into its next phase of growth and market consolidation.
Every nominee for the P&Q's Best and Brightest awards requires a recommendation given by a faculty member from their programme. This year, CEIBS Global EMBA Director Bala Ramasamy made the recommendations for both winners from CEIBS.
In this recommendation, Prof. Ramasamy highlighted many of the personal qualities that make Jessie such an effective leader, as well as the positive CSR outcomes that her leadership has created over the past year.
"Jessie is natural leadership material – a quality that she exhibited from the moment she joined us at CEIBS. Highly ambitious yet thoroughly personable, she absorbed everything that our programme has to offer. She was a great influence on her classmates; she routinely inspired them to first reflect on their innate talents and shortcomings, and then harness the former while overcoming the latter. During the COVID-19 outbreak, Jessie was instrumental in galvanising CEIBS' donation activities in the form of procuring masks and other life-saving medical PPE for Wuhan. Since then, she has continued to develop CSR projects within her own organisation designed to deliver tangible assistance to underprivileged children. Her sparkling personality and admirable drive to use her personal business platform for good are what made her such an asset to her Global EMBA class."
 – CEIBS Associate Dean and Global EMBA Director Bala Ramasamy
Charles-Henri Sneessens
"It is an honour to be nominated by Poets and Quants, one of the best-known information providers about business education. The CEIBS Global EMBA was a great and challenging journey for me, and I met many fantastic people. Bringing together China depth with an international footprint during the programme has really helped me accelerate my personal development."
– Charles-Henri Sneessens, Head of Global Programmes APAC, Capgemini Engineering
A true adherent to the idea of learning from a 'Global Breadth, China Depth' perspective, Charles-Henri has a professional and academic footprint that extends across Europe, Asia Pacific and (soon) the US. During 12 years with Altran (now Capgemini Engineering), he has expanded his horizons and capabilities substantially, starting from a technical background in electromechanical engineering before taking on progressively larger and more complex managerial roles within different pillars of the organisation.
Charles-Henri has spent the past four-and-half years in Shanghai as the Director of the China Programme Office for Capgemini Engineering and graduated from CEIBS in 2020. During this time, one of his proudest achievements is his concurrent development of two key teams, one based in an engineering centre in Xi'an, and the other consisting of global project managers.
Furthermore, he says that leading disruptive change in an organisation with significantly different cultural differences and expectations has been a career-altering source of personal development. His drive to seek out and overcome new challenges has led him to make another big change this year, as he heads to Capgemini Engineering's New York office to take up a new senior executive role.
In his recommendation, Prof. Ramasamy emphasised the unwavering energy that Charles-Henri brings to both his studies and his professional duties – a factor that continues to serve him well in the post-pandemic era.
"Charles-Henri quickly became an influential and valued voice within his Global EMBA class. Central to this effect he had on others was his energetic yet focused demeanour – he was always extremely eager to place himself at the forefront of any activity or debate within the programme. He also managed to temper this high-energy approach to his studies with an admirable level of dedication. Successfully completing an EMBA and graduating during 2020 was no mean feat, due to the multiple obstacles and complications caused by the global COVID-19 pandemic. I'm gratified but not surprised to see that since graduating from CEIBS, Charles-Henri has been rapidly promoted to a senior executive position within his organisation. With his drive, diligence and dedication, I am eager to see what great things he can achieve when he takes up his new role in the US next year."
– CEIBS Associate Dean and Global EMBA Director Bala Ramasamy
Congratulations once again to Jessie and Charles-Henri!