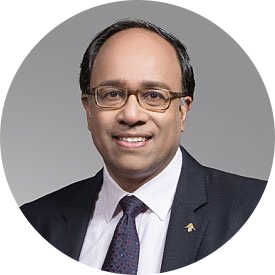 Rama Velamuri
Professor of Entrepreneurship,
Chengwei Ventures Chair in Entrepreneurship,
Department Chair (Strategy and Entrepreneurship), CEIBS
I first heard about CEIBS in 2003 when I joined the faculty at IESE. My colleagues there, Prof. Pedro Nueno and Prof. Alfredo Pastor, were the President and Dean of CEIBS, respectively, and they spoke highly about China's economic development and how CEIBS was serving the country's growing demand for well-educated business leaders. In 2006, after being appointed Academic Director of IESE's Global EMBA, I visited CEIBS with a group of students for a two-week study module. During my stay, I met several members of CEIBS' faculty, including Vice President and Dean Rolf Cremer, to whom I expressed my interest in short term teaching assignments in China. That December, to my surprise, I received an email from him asking if I was interested in a three-year full-time position. I asked my wife (who had never been to China) and she responded, "How exciting! Let's go!"
Prior to joining CEIBS, I had studied and worked in a number of very established institutions and organisations, such as the University of Madras (established in 1840), the University of Navarra (1952), the University of Virginia (1819) and Grupo Tudor, a Spanish listed company (1897). In contrast, when I came to CEIBS in 2007, the school was only 13 years old and was brimming with entrepreneurial energy. The external environment in China at that time was also very dynamic, with GDP growth rates of around 10%, and the internal environment at CEIBS matched this dynamism.
Throughout my time here, CEIBS has consistently attracted highly qualified participants to its programmes and interacting with them during and after their studies has enriched my understanding of entrepreneurship and management. At the same time, I have greatly benefitted from having the opportunity to collaborate with my many highly successful faculty colleagues. We have the best support staff in the world – including programme administrators, research assistants and general administrative staff – and they have significantly enhanced my productivity in teaching and research. CEIBS has also provided me with generous research funding to attend conferences, hire research assistants and purchase data when needed.
My most enduring CEIBS memory, however, is that of the security guards and cleaning staff who greet us every morning, each with genuine smiles. Along with our team of drivers and catering staff, they keep our school ticking along nicely. These are the "unsung heroes" of CEIBS who should also receive credit for the remarkable success of our school and I am deeply touched by the conscientiousness and professionalism with which they perform their duties.
Looking ahead, CEIBS should remain cognisant of the factors that have brought it success and strive to preserve them. As the school gains greater international recognition, there will be ever increasing pressure to conform to the model that most business schools in the West follow. The problem with this is that the western business school model is proving difficult to sustain – for, in emphasising high quality research, it has neglected teaching. While I strongly believe in the importance of rigorous research and fully support the school's increasing emphasis on high quality research to screen faculty applicants and to promote incumbent faculty, we should continue to nurture high quality teachers as well.
Ultimately, CEIBS is a very well managed institution that has continuously scaled new heights – our position in the full-time MBA and Global EMBA rankings bear testimony to this – and it has been wonderful to be part of this winning team.
Sita Ramakrishna (Rama) Velamuri is a Professor of Entrepreneurship, the Chengwei Ventures Chair in Entrepreneurship and the Department Chair of Strategy and Entrepreneurship at CEIBS. His main areas of research are the relationship between the ethical behaviours of entrepreneurs and their ability to mobilize stakeholder support, and the relationship between business model innovations and firm growth.