CEIBS Alumni
---
Join the largest, most influential b-school network in China: over 25,000 business leaders, and growing.
Overseas Forums Get Underway in Boston & Zurich
Volume 2, 2019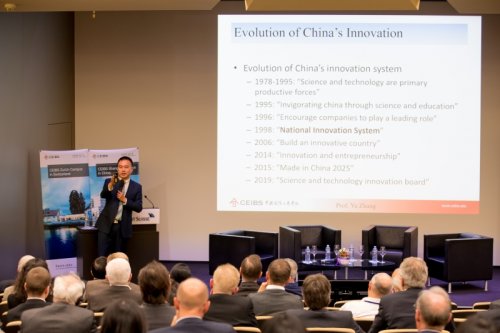 Two of the five major overseas forums planned as part  of CEIBS 25th Anniversary Celebration were successfully held in May.
On the 15th, about 80 high-level Chinese business executives and entrepreneurs joined scholars from the U.S. and China in Boston for a discussion on how both sides can work together to break new ground in today's digital economy. They gathered as part of a wider audience of about 200 people for a half-day event co-hosted by CEIBS and Z-Park Innovation Center. 
"The enthusiasm and openness with which participants shared their views during today's event is an indicator of how important it is for us to keep engaging with each other. There is still a very strong interest in doing business with, and in, each other's markets. This is why we were able to bring with us a team of high-level Chinese business executives who are eager to engage with the local business community in Boston," CEIBS Assistant President Dr Snow Zhou said on the sidelines of the forum. "We hosted today's event to provide a platform for knowledge exchange on both sides, which we hope will be useful as we move forward."
Two days later, on May 17, a comparison of Switzerland's long history of innovation and China's emerging global recognition as a major player in innovative processes and products provided the framework for spirited discussions during the Zurich leg of CEIBS Insights 5th Europe Forum 2019. The event, which also explored ways in which both countries can work together, was co-organised by CEIBS and Credit Suisse. It brought together thought leaders, innovators, and business minds from Europe and China to look at China's evolution from copycat culture to leading innovator as well as how Switzerland has developed its own unique ecosystem for innovation. During the event, speakers and panellists explored a range of real life examples from areas such as AI, drones, automotive, hospitality and healthcare, and offered ways in which China and Europe can collaborate to develop new high tech fields, innovations, and business models.