The CEIBS 8th Prestige Brands Forum 2016
The CEIBS 8th Prestige Brands Forum 2016
Luxury: the Power of Experience
Contact
Post:
Ms. Singer Jiang 699 Hongfeng Road, Shanghai 201206, PRC
The global environment of luxury brands is changing rapidly and the question is whether they are ready to face the challenges linked to this changing environment. Two such challenges are directly linked to their customers and their growing sophistication:
• Customers now look for experience. And experience extends beyond personal care. The scope of luxury expands: hotels, travel, home, education, become new markets where sophisticated customers expect top-level service and exceptional products.
• The growing importance of Chinese customers doubles with their growing sophistication. They travel extensively, both for business and leisure, and they expect the same level of service to be delivered worldwide.
How do traditional luxury brands tackle these issues? Is it not an opportunity for new luxury brands to enter the market – some of them from new countries like China? How is the global market for luxury goods and services impacted by these major changes?
These are some of the questions the 8th CEIBS Prestige Brands Forum will try answering with the help of leaders and executives of such brands.
Forum Organisers
  China Europe International Business School
CEIBS is a not-for-profit joint venture established in 1994 with the support of the Chinese government and the European Commission. With a unique positioning of "China Depth, Global Breadth", CEIBS has made outstanding achievements over the past 20 years by adhering to an international and market-oriented approach and maintaining high-quality teaching standards. Premier Wen Jiabao has spoken highly of CEIBS as "an incubator for excellent business leaders". As one of the leading business schools in the world, CEIBS organizes a number of high-level international forums and roundtables each year that offer an open platform for industry leaders, senior government officials, and renowned academics to share their insights on hot issues facing China and the world.
Shanghai Jing'an District Government
Located in the heart of downtown Shanghai, Jing'an District is home to renowned brands from home and abroad. At present, over 1,200 brand names, including more than 800 international ones, congregate along Nanjing Road, Jing'an District. Plaza 66, CITIC Square, and Westgate Mall, the so-called "Golden Triangle", attract the greatest number of famous international brands in Shanghai.
Programme
September 24 (Saturday), 2016

08:30~09:00

Registration

CEIBS SHANGHAI Petrochemical Auditorium

09:00~09:10

Welcome Address

09:10~09:25

Keynote Speech

Prof. Dominique Xardel                             
Professor of Marketing, ESSEC Business School

Session I: New Luxury: Going beyond Personal Goods

Luxury is traditionally defined as concerning personal goods: fashion, accessories, watches, jewelry, beauty… But the luxury customer has evolved and is now looking for experience: they want to live a full rich life, beyond personal goods. Their focus is now on cars they drive, hotels they stay in, home they live in, services they need, all the way to schools they want for their children.

Luxury has changed: it now encompasses new categories like hospitality, mobility, education, home furnishings, travel and leisure. The recent Bain & C° studies show that whereas personal goods growth is slowing down globally, these new categories are booming in the whole world and in China specially. It seems that the whole luxury industry is undergoing a major shift. These new categories come from countries as diverse as Germany (cars, kitchens), UK (education, home appliances), Switzerland (kitchens, hospitality education), Italy (design, home furnishings, yachts, coffee)…

A new potential for Chinese prestige brands is thus open: they are developing fast into new categories at the premium level.

The morning session will be organized as a series of dialogues: a western brand and a Chinese brand in the same category will develop their strategy and explain the issues they are facing.

09:25~09:45

Keynote Speech :

Mr. Bruno Lannes       
Partner, Bain & Company

09:45~10:25

Dialogue :

Mr. Nicholas Speeks, President & CEO, Mercedes-Benz China

Ms. Yan Chen, CEO, Shenzhen BYD-Daimler New Technology Company

Mr. Chen Anning, Chairman, Qoros

10:25~11:00

Coffee Break

11:00~11:50

Dialogue :

Mr. Zhu Ruiming, Vice President of Sales, Hilton Great China and Mongolia

Mr. Grant Horsfield, Founder, Naked Retreats Hotel

11:50~12:20

Dialogue :

Mr. Daegal Ritz, Senior Vice President, BSH Home Appliances (China) Co., Ltd.

Mr. Sun Liming, Vice President, Fotile

12:20~13:20

Luncheon

Professors Session

13:20~13:40

Keynote Speech

Prof. Jane Wang                              
Associate Professor of Marketing, CEIBS

13:40~14:00

Keynote Speech

Prof. Michel Gutsatz                                     
Adjunct Professor of Marketing, CEIBS
Associate Dean, Kedge Business School

14:00~14:20

Keynote Speech

Prof. Michaela Merk             
Associate Professor of International Marketing and Luxury Management, University Paris Dauphine

14:20~14:50

Coffee Break

Session II: Engaging Chinese Customers

Chinese customers are now the No. 1 customers of luxury: according to Bain they represent 29% of global luxury sales. But sales in Mainland China only represent 12% of these sales! This means that Chinese customers buy more than 60% of their luxury products abroad - in Hong Kong, in Macau, in Europe or in the US. Chinese customers will not only buy in any one of these countries but also in their home country when they are back.

Now luxury brands are only now discovering that phenomenon and considering how to tackle it. Huge issues are at stake here: can global customer bases be organized? How does the brand's organization impact this? How can a brand follow its Chinese customers when they travel abroad?

At a time where sales in China are plateauing if not decreasing, all luxury brands know that one of the challenges they face today is to grow their sales both inside and outside China - expanding their local customer base AND getting their current customers to spend more. Relating with Chinese customers globally needs a better understanding of their behaviors and expectations: what do they expect in the store? How do they prepare their trips? How do they use and what is the impact of social media? Do they need specific products that brands have difficulties offering?

In a word: what Experience can the luxury brands deliver to their Chinese customers?

CEIBS will bring together both luxury brands executives, Chinese social media executives and experts to discuss this critical issue at its 2016 Prestige Brand Forum.

14:50~15:05

Keynote Speech

Mr. Andrew Wu                             
President for Greater China, LVMH Group

15:05~15:20

Keynote Speech

Mr. Cao Weiming                           
President, Hermès China

15:20~15:35

Keynote Speech

Ms. Josephine Chien                           
Global Chinese Clients Business Development Director, Cartier

15:35~15:50

Keynote Speech

Ms. Chantal Deng                           
Head of Chinese Practice, Dior Beauty

15:50~16:05

Keynote Speech

Ms. Sophia Ong                        
National Planning General Manager, Marketing & Advertising Department, Tencent East China

16:05~16:55
Panel Discussion

16:55~17:00

Closing Address

Prof. Pedro Nueno
President, Chengwei Capital Chair Professor of Entrepreneurship, CEIBS
Conference Fee
Standard Fee:
RMB 6,800    USD 1100
Early-bird Discount:  Paid by Aug 24, 2016
RMB 6,000    USD 970
Note
If you cancel at any time up to Sep 9, 2016, a prompt refund will be made to you upon receipt of your written notice (faxes are acceptable). A USD110 (or RMB 700) non-refundable registration fee will be deducted from your payment. After that date, no refunds will be made. If, for any reason, this conference is cancelled, we will offer you a 100% refund of the conference fee. CEIBS shall not, however, be held responsible for covering airfares, hotel or other costs incurred by registrants.
The fee includes attendance at all conference sessions and discussions, luncheon, coffee breaks and full documentation. The fee does not include your travel or hotel expenses. Please note that we must receive your payment before the date of the conference.
5 Easy Ways to Register
     • Register Online
     • Tel:        +86-21-28905489
     • Fax:       +86-21-28905273
     • E-mail:    PBforum@ceibs.edu
     • Post:      Ms. Singer Jiang/ 699 Hongfeng Road, Shanghai 201206, PRC
Conference Venue
CEIBS SHANGHAI Petrochemical Auditorium
No. 699 Hongfeng Road, Pudong Shanghai, PRC
Accommodation
The Portman Ritz-Carlton Shanghai
40-minute drive to CEIBS
Add: 1376 Nanjing West Road, Shanghai, China
Tel: +86-21-62798888
Fax: +86-21-62798800
Deluxe Room RMB 1100+15% (one breakfast included) (TBC)
Reservation
Please fill the Booking Request Form and send to the hotel. The discounted rate is effective on or before Aug 24th, 2016. Reservations after this date will be taken on a space and rate availability basis.
Sponsorship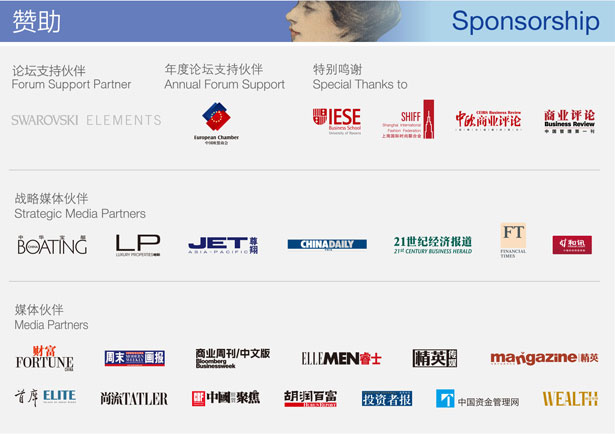 Contact Us
For more details about The 8th Prestige Brands Forum, please contact:
Singer Jiang (For Partnership)
Marketing & Communications Department
Tel: +86-21-28905489 | Fax: +86-21-28905678*5489  |  Email: PBforum@ceibs.edu
Alex Chen (For Registration)
Marketing & Communications Department
Tel: +86-21-28905260/28905505 | Fax: +86-21-28905678*5489  |  Email: PBforum@ceibs.edu
Amy Liang (For Chinese Media)
Marketing & Communications Department
Tel: +86-21-28905494  |  Fax: +86-21-28905678*5494  |  Email: lamy@ceibs.edu
David Yu (For International Media)
Marketing & Communications Department
Tel: +86-21-28905073 | Fax: +86-21-28905678*5073  |  Email: ydavid@ceibs.edu
Address: China Europe International Business School
               699 Hongfeng Road, Pudong, Shanghai 201206 P.R.C.
Tel:         +86-21-28905890
Fax:        +86-21-28905678