Faculty & Research
---
Knowledge creation on China, from proven China experts.

Faculty & Research
---
Knowledge creation on China, from proven China experts.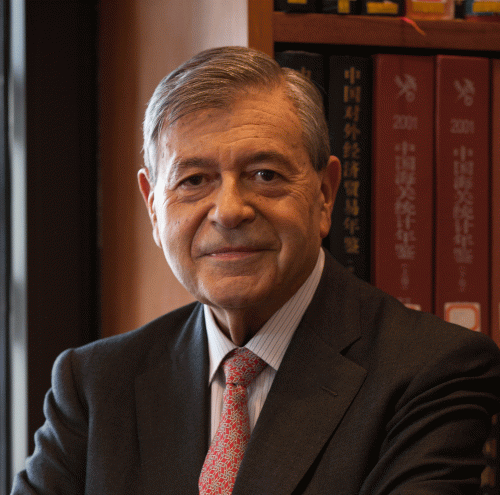 Nueno, Pedro
Honorary President (European), CEIBS
Dr. Pedro Nueno is the Honorary President (European) at CEIBS. He has been a member of the Board of Directors and Chairman of the Academic Council of CEIBS ever since 1994. Dr. Nueno is Bertran Foundation Chair for Entrepreneurial Management at IESE, Spain. He has taught at different universities, such as Harvard University and Michigan University and has been a frequent speaker at numerous international conferences. He is the current Vice-Chancellor (2000-present) and the past Chancellor (1993-2000) of the International Academy of Management. He has been a consultant for international institutions and corporations (World Bank, OECD, Ford, Morgan Stanley). He serves on the board of several companies. In the academic area, Dr. Nueno has been a member of the Advisory Board of many business schools: IESE (Spain), IAE (Argentina), IPADE (Mexico), IIST (Spain), AESE (Portugal), Nyenrode (The Netherlands).

Dr. Nueno received his Doctorate in Business Administration from Harvard University. His research interests are Entrepreneurship, Management of privatisation and turnaround processes, Industrial alliances, joint-ventures and acquisitions, Management of technology and innovation, and Internationalisation processes. He is the author of ten books: Corporate Turnaround (published in the USA, France, The Netherlands and Spain); The Light and the Shadow (UK, Spain, Germany and China); Entrepeneuring, etc.

To recognise Dr. Pedro Nueno's outstanding contributions to business education in China, the Shanghai municipal government awarded him the "Golden Magnolia Award " on September 29, 2007. Also, he received the "China Friendship Award" from PRC State Council on September 29, 2009. His dedication to business was also recognised by the Government of Spain, with the Order of Civil Excellence, and the Government of Catalonia with the Saint Jordi Cross.
1973 Doctor of Business Administration, Graduate School of Business Administration, Harvard University
Industrial Engineer, Barcelona Polytechnic University
Technical Architect, Barcelona Polytechnic University
Entrepreneurship, intrapreneurship and starting new ventures
Management of privatisation and turnaround processes
Industrial alliances, joint-ventures and acquisitions
Management of technology and innovation
Internationalisation processes
Production management and operation management
Starting new business ventures
Management of Technology and Innovation
International Business
Industrial Policy
Turnaround
Entrepreneurship/Intrapreneurship