Faculty & Research
---
Knowledge creation on China, from proven China experts.

Faculty & Research
---
Knowledge creation on China, from proven China experts.
Thursday, March 07, 2019
Right Place, Right Time: An Interview with CEIBS Dean Ding Yuan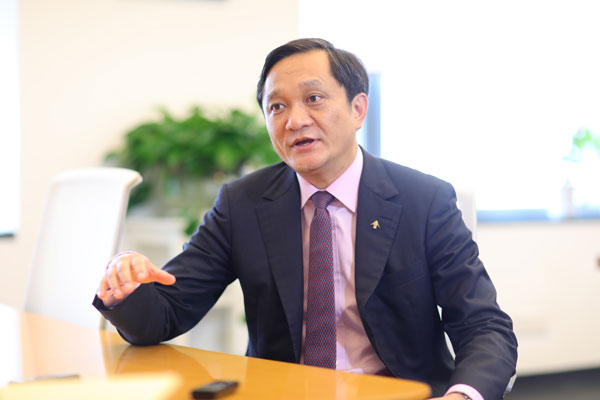 By Li Si
"Our most formidable enemy is our inertia, and the biggest challenge comes from within ourselves. The new challenges facing China's economic development are also new opportunities for us… With such GDP growth and at this stage of development, expanding overseas direct investment (ODI) is an inevitable development path," says Vice President and Dean of China Europe International Business School (CEIBS), Professor of Accounting, Ding Yuan. He was recently sharing his views, with the Economic Observer, on the driving forces behind CEIBS' development and today's macroeconomic trends.
The book cases in Ding Yuan's office are full of Chinese and English works discussing finance, capital, law and corporate case study. Among them, one book titled Confucius and Socrates stood out. It seemed to be the thickest and its subject the most unexpected.
Confucius is a revered Chinese philosopher while Socrates is a great thinker from Ancient Greece, and the two are seen, respectively, as the founder of Oriental and Western philosophy. Despite the differences in their thinking, they share much common ground on many issues.
To some extent, Ding Yuan's office is the embodiment of a "handshake" between Confucius and Socrates, a physical space where Oriental and Western Civilization meet.
Ding Yuan is Vice President and Dean of China Europe International Business School (CEIBS), an institution co-founded by the Chinese government and the European Union.
After only 25 years of development, CEIBS has now become a top-tier business school globally, keeping abreast of many 100-year-old peers. In the most recent Financial Times Ranking (2018) CEIBS' MBA program was ranked No.5 globally.
Both the staff at CEIBS and the public view the school's extraordinary development as being mainly due to the power of circumstances.
CEIBS' takeoff can be attributed to several factors: rapid globalization, China's large talent pool as a result of the nation's passion for education, and support from many big companies that have emerged during China's double-digit growth over the past decades.
When an organization's fate is intertwined with historical trends, it naturally displays an acute sense of these trends.
Without doubt, Ding Yuan is at the frontier of CEIBS, which provides him with an excellent grasp of the overall situation and unique insights into the trends that shape our times.
Prior to his job at CEIBS, Ding Yuan was a tenured professor at Hautes Etudes Commerciales Paris (HEC Paris), one of the most prestigious business schools in Europe. He began delivering courses at CEIBS as a part-time professor in 2003 and officially joined CEIBS full-time in 2006. He once served as Professor and Department Head, and four years ago he became the Vice President and Dean, in charge of planning the school's academic development.
Ding Yuan is a staunch supporter of globalization.
He notes, "Reversing globalization is possible but not feasible at all." The outcomes of Brexit will teach the anti-globalization movement a bitter lesson, he believes.
He also believes that China should take on greater responsibility. "We should welcome criticism from others, because today, China does have an impact on the entire world. Moreover, if China wants to be seen as a world leader, it must shoulder more responsibility."
As for Chinese enterprises' outbound investment, he says this is an unstoppable trend. "With such GDP and at this development stage, expanding ODI is an inevitable development path."
As one of the major decision makers at CEIBS, Ding Yuan is responsible for the school's management. This brings about more responsibility, as he should lead the organization to embark on new adventures under the direction of its Management Committee.
No changes will take place if the organization is always in its comfort zone. However, in order to prepare for the future and secure a head start, it needs to make adjustments as necessary, which is the duty of school leaders such as Ding Yuan.
CEIBS has pursued a clear development path in the past: first, introducing the advanced management expertise of other countries into China; then developing Chinese business cases, and building China's own talent training- and knowledge system; finally, helping Chinese companies go global, which is CEIBS' priority right now.
Transformation can be very painful. "It is hard to overcome one's inertia, so when I first proposed these changes, it was difficult to implement," says Ding Yuan. But he adds that things have now improved a lot.
For instance, Ding Yuan has been encouraging the faculty of CEIBS to become engaged in corporate management, to serve on companies' advisory committees or boards of directors. "If you are the one who writes the case you teach in class, if you are the actor who has experienced it all, then the result will be much better," he explains.
He himself lives up to this requirement. He frequently provides consulting services for many multinationals and Chinese enterprises, and serves as the independent director of several companies. He also launched the Ding Yuan Index Neutral Fund, becoming the first accounting and finance professor in mainland China to run a hedge fund.  
Professors at CEIBS are all equipped with such hands-on experience, which makes them more convincing in class. CEIBS is fully supportive of professors' involvement in corporate management, with only one exception: they must not give "lectures somewhere else".
Apart from strong academic backgrounds and publishing papers in world-class journals, applying research to corporate practice is also a must for professors at CEIBS. Incontestably, this is challenging for many, especially for newcomers. Therefore, they are under considerable pressure even with systemic support from the school's substantial resources.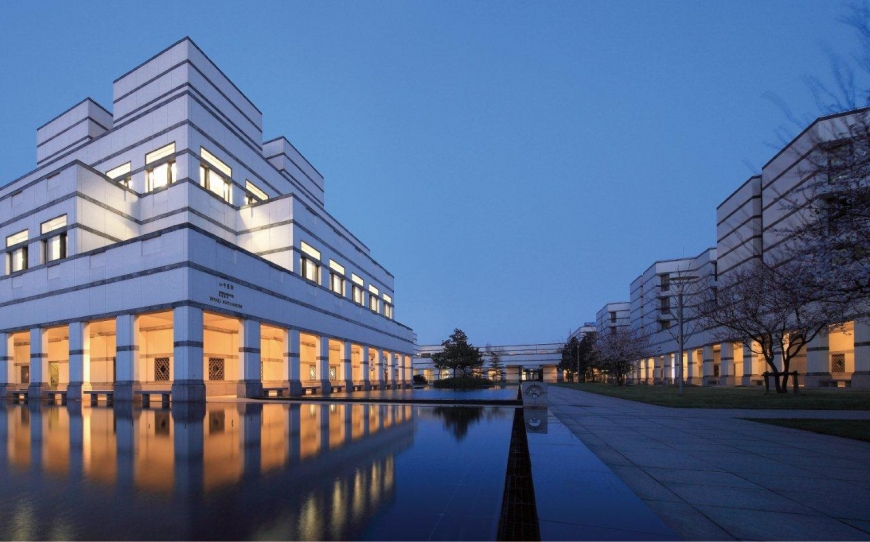 Our interview was conducted in Ding Yuan's office. Items were neatly piled up on his desk, and the seemingly random objects reflected the theme of the book Confucius and Socrates.
In the middle of his desk was a backpack with a luggage tag attached, although he did not have a flight that day. A coffee machine was on the right hand side of the desk, while a small box of Tieguanyin Tea and a delicate purple clay teacup were on the left.
The priority of CEIBS 1.0 was learning from foreign business schools, while the focus of CEIBS 2.0 is enhancing its own faculty's capability. As the school continues to evolve, the focus is now shifting to helping with enterprises' internationalization.  
A high level of internationalization has been CEIBS' distinctive trait. Ding Yuan says the school should "develop new capabilities". It should "be prepared", otherwise when new demand arises, the school will be "left behind" even by the alumni companies with whom you now have the closest ties, he says.
The following is a full transcript of this exclusive interview.
Q: What are the necessary traits for those who run business schools?
My colleagues and I often discuss the differences between the governor of a business school and a corporate CEO.
The ultimate goals of a company are to raise productivity and expand business. Both are very important. This is what we call growth.
But what I repeatedly tell my students and colleagues is that for a business school, size doesn't matter. Scale is not a parameter when evaluating a business school. Top business schools around the world are not necessarily large in size.
When an organization is expanding, its capacity, brand and spirit are stretched thinner. Yet the formation of a school's spirit requires accumulation over time, so there is a contradiction, to which CEIBS has been paying attention in the past few years.
To sum up our experience: first, CEIBS was created in a great place, China. Second, the timing was right. CEIBS was set up in the mid-1990s, so it benefited greatly from China's reform and opening up and economic takeoff. Third, due to our unique management framework, we are able to focus on our mission. CEIBS only focuses on one task. We provide degree and non-degree programs exclusively for middle and top management teams in companies. We provide nothing else and our scale has barely changed.
Our degree programs recruit only 1,000 students a year, and if you compare our growth to that of well-known Chinese companies, we are extremely slow. But with only 25 years of development, we have become a leading business school, not only in China, but also in Asia and even in the whole world.
The reason behind such a remarkable achievement is that we have been building our brand image and accumulating influence, instead of scaling up. This is crucial because a business school is different from a company. The latter must scale up and grow; otherwise it cannot survive the competition.
The mission of a business school, on the other hand, is talent training, not profit making. Apart from this crucial difference, the jobs of a business school's president and a corporate CEO are roughly the same.


Q: CEIBS was born in the best of times. Nowadays, however, the overall situation has been changing as China has undergone a period of rapid economic development. What challenges will this bring to the school?
Our most formidable enemy is our own inertia, and the biggest challenge comes from within ourselves.
We should bear in mind that CEIBS started from scratch. At the very beginning, it did not have its own faculty and campus, yet it thrived and became what it is today.  
We may exert too much pressure on ourselves. In fact, our work in the future will become easier. Though problems will be more complex, we have a better foundation and more advantages to start from.
So I am optimistic, because the new challenges facing China's economic development are also new opportunities for us. In this sense, we are very lucky.
A few years ago, we completed a fast transformation, which was divided into several steps.
Originally, CEIBS concentrated on introducing the latest business models, theories, courses and research into China. We invited foreign professors and translated courses into Chinese. Back then, knowledge and resources were absent and nobody was doing this, so we became the pioneer.
Around 2007 and 2008 there was a turning point. Chinese businessmen were no longer interested in the experiences of other countries, instead what they wanted were lessons from the management and operation of Chinese companies.
At that time, CEIBS has already put together a stable team of professors and begun R&D in case and program. Currently, our faculty has the strongest capability in R&D nationwide.
On the rankings of the most cited researchers in the category of Business, Management and Accounting in mainland China, which was compiled by the British publisher Elsevier, one third of the scholars in the Top 30 are from CEIBS.
Our professors develop over 100 original cases each year, putting CEIBS well ahead of other business schools in case development and case study teaching.
Now CEIBS is in its third stage. In the past few years, we have devoted ourselves to helping Chinese enterprises go global. China has become a net capital exporter since 2014, so as a leading business school, we should think about how we can help Chinese companies compete in the global market.
For instance, we have formed partnerships with the Fosun Group and the H&H Group. After Fosun acquired five major luxury brands, the management of these brands became a new challenge. The CEO and the Head of HR of Fosun Fashion Group are alumni of CEIBS, and they highly appreciate our work, so they approached us for cooperation. We also have a joint program with BIOSTIME. One of our tasks in the future is to explore the best way to help Chinese senior executives see the world from a new perspective, and help them learn and communicate.
Another important task is to introduce China to the rest of the world. As we have seen emerging demand in this regard, we have stepped up our efforts since last year.
Originally, multinationals expanded their business to China as they viewed the country as a large market or a manufacturing base, yet the business was not handled by their headquarters but outsourced to a Chinese team.
Trends are irreversible. China became the biggest consumer market in 2018. Multinationals began placing greater emphasis on China, which surprised me.
Every company realizes that half of its profit comes from China, so no wonder they attach great importance to it, and want to make sure that the new generation of senior executives understands this market.
On the other hand, increasing attention to China means a greater need for our courses.
Lessons about China have become an indispensable part of the EMBA or MBA programs offered by world-renowned business schools.
They want to launch China Immersion Programs, and they are looking for partners in China. CEIBS is the most popular candidate. Nevertheless, our capacity is limited, so this year we will only choose 30 programs. CEIBS will provide a module in the program, which can serve as a window to showcase China in an objective and positive way.


Q: What is the core for the future development of business schools?
All of our clients are from middle or top management teams, which means there is a high bar set for the effectiveness and practicality of our professors' knowledge.
This is exactly why, compared to other universities, we have a higher threshold when recruiting. First, the professor should have a strong academic background, with the ability to publish papers in world-class journals. This is the most basic skill.
On this basis, we hope that our professors can create original business cases, using their own cases in class instead of those written by professors at Harvard.
Still, we go one step further and urge them to serve on the corporate advisory committees or boards of directors, to take part in corporate decision-making, and to share their first-hand experience with students.
The best professors at CEIBS share their own stories with students, instead of teaching business cases.
They are like actors, and what they teach is what they have experienced. Once a professor reaches this level, the effectiveness of the class and students' attitude will be significantly improved.
Take asset optimization as an example. I used to use the case of Gujing Group, as I was the Chair of the company's Audit Committee. So what I taught in class was my personal experience: how the Chairman of the group, Cao Jie, who is also a CEIBS alumnus, and I completed asset stripping and how it affected the company's share prices.
Professor Hwang Yuh-Chang is the independent director of Shanghai Jahwa and Baosteel, and he also serves as the Chair of the Compensation Committee. So naturally students would love to learn from his experience in designing a compensation system.
An increasing number of professors are performing more duties, and the cases they create out of their own experience are far better than those in textbooks.
Therefore, we encourage our professors to get these real-company experiences, with only one exception: giving lectures elsewhere and competing against CEIBS. They report their extra-CEIBS consulting tasks at the end of year.
We are proud of the fact that our professors sit on the advisory boards and the boards of directors of a large number of companies in China. This is how our faculty's capability continues to increase.


Q: What mechanisms do you use to encourage professors to do all these things?
As for seats on advisory boards and boards of directors, our professors are invited by companies, so these opportunities are easy to get.
As the Chinese saying goes, those in a favorable position gain special advantages. Each year thousands of senior executives study at CEIBS. As business leaders, they are always looking for guidance and assistance in their daily practices. If we win their heart in class, they come to us after class.
The major difficulty lies in how to train newcomers, transforming them into world-class experts excelling at academic research and maintaining close contact with the business community at the same time.
We tackle this issue in a systemic way. For one thing, we assign a mentor to each lecturer, assistant professor and newly joined associate professor. For another, we arrange corporate visits for those who are unfamiliar with alumni and companies with which we work.
We have formed strategic partnership with companies that can integrate management theories into their daily operations. They offer content, venue and management experience, while our professors and students develop cases through corporate visits. This also creates opportunity for using the Real Situation Learning Method.
This method generates desirable outcomes, so we encourage new professors to develop their own business cases, giving them opportunities to practice. Then they will be subject to evaluation, and if they fail to meet the criteria, they will be removed from the program. In short, professors at CEIBS enjoy high salary and rich resources but also face considerable pressure.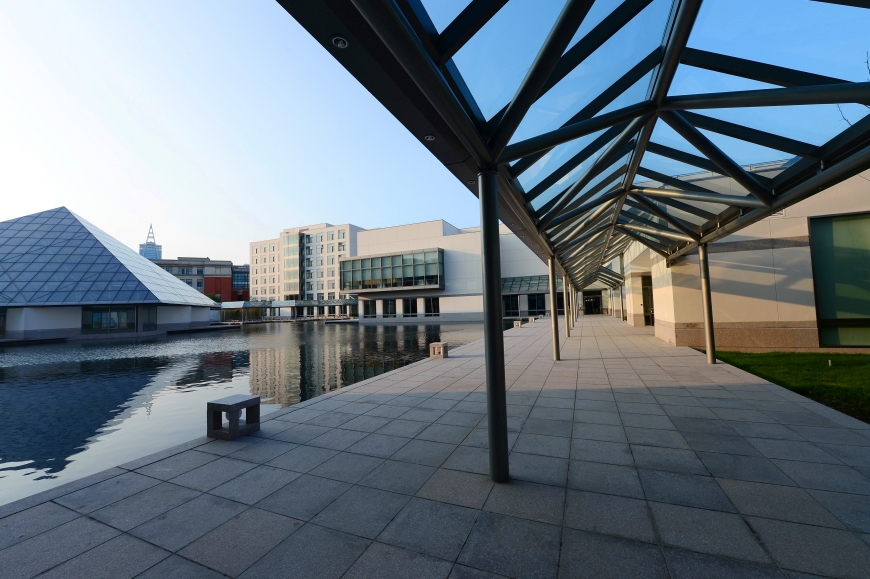 Q: Many business schools in the United States and Europe were established more than 100 years ago. CEIBS, one of the earliest business schools in China, only has 25 years of history. Now Chinese companies already face competition from their foreign counterparts. How can Chinese business schools help Chinese companies win in the global market?
CEIBS succeeded as it got a boost from others. Only Chinese and Indian business schools can make it to the top tier within one or two decades.
What are the reasons behind this?
Chinese and Indians have a strong will to learn. There are many Chinese and Indian elites in business schools around the world. In American business schools, Chinese- and Indian-American professors are the largest minority groups.
Some of these professionals will return to their home countries once good schools and institutions are set up, so domestic schools can become world-leading very soon.
This is why Chinese business schools thrive very quickly. It is somewhat similar to surrogacy. Chinese receive formal education in foreign business schools or research institutes, and then return to China to teach. 
Most of the professors at CEIBS got their PhDs abroad and, moreover, they worked at prestigious business schools abroad for years and even got tenure before returning to China.
This is the main reason why CEIBS has succeeded within only 25 years.
The development of Chinese companies is another driving force. Lei Jun once said, even a pig can fly if it stands at the center of a whirlwind. On the latest list of Fortune 500 Companies, 126 are from the US, and 120 are from China. Chinese companies are on par with their American counterparts in terms of scale, but not in management.
I was glad to hear Jack Ma talk, at the beginning of this year, about the importance of improving a company's internal management. When the market puts more emphasis on efficiency and corporate management, business schools' value increases.
A few years ago, we admitted that building connections with classmates is an important part of the program, but it should never be the main reason why you are here.
We are convinced that the primary role of the school is to spread knowledge, share management experience and ensure good learning outcomes, not to help students socialize with each other.
Socialization is inevitable as men are social animals by nature. Nevertheless, a school is for studying instead of socializing. Jack Ma's words proved our prioritization of studying in the past 25 years to be right.
Helping companies improve corporate management will be increasingly difficult and challenging, but if we effectively tackle this problem, we can get a head start.
CEIBS is a Chinese business school and has developed a strong relationship with our alumni. Many of them received their first formal education in business at CEIBS, so naturally they approach us when they need assistance. Additionally, we are well aware of their situations and the risks they face.


Q: For Chinese companies, is the next few years still a good time to go global and international?
First, according to the data, in 2016 China's ODI peaked at 200 billion USD, which is less than 12.5% of the total value of M&A deals worldwide. Meanwhile, China's GDP accounts for 18% of global GDP.
As these two indexes represent China's economic status in the world, we can draw a conclusion quite easily: China's share of global ODI has not kept up with its share of global GDP.
Second, until 2014, China's ODI was lower than 100 billion USD, and it was almost negligible until 2007.
China's ODI seems to have been growing, but its total overseas investment over the years is still relatively small.
According to different statistical methods and dimensions, France's GDP is only about one-third to one-fourth of China's GDP, but due to its long history in overseas investment, its total amount is five times larger than that of China's.
Considering these two sets of figures, China's ODI will continue to go up until it matches China's share of global GDP.
In the future, an annual growth of 100 to 200 billion USD in China's ODI will not be unusual. Despite resistance from other countries, the increase of China's overseas investment in 2018 will still exceed 100 billion USD.
The expansion of China's ODI is unstoppable, as China has become a huge economy. Even small projects can add up to a considerable sum.
In this sense, Chinese companies' internalization and outbound investment will become a consistent trend.
Source | Bottom-up Designer, a think tank of the Economic Observer Group