Faculty & Research
---
Knowledge creation on China, from proven China experts.

Faculty & Research
---
Knowledge creation on China, from proven China experts.
Monday, March 08, 2021
Five Hurdles Women Need to Clear to Become Great Managers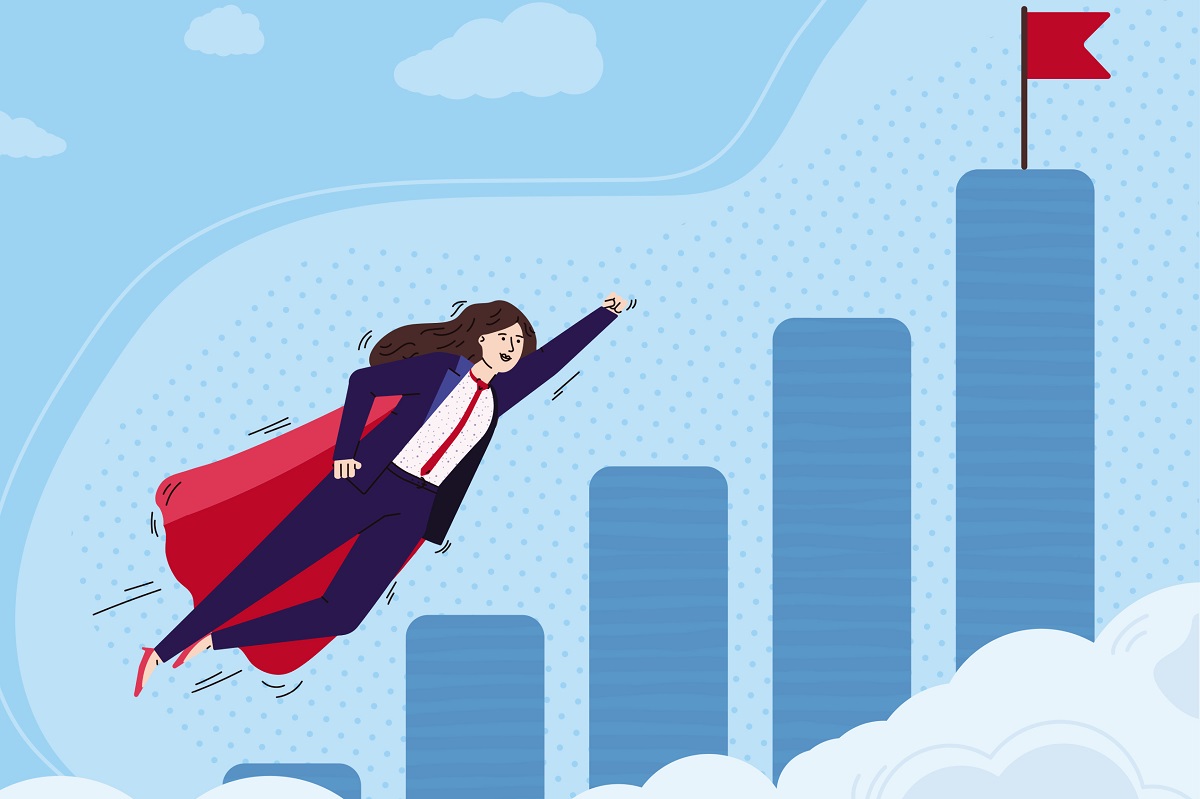 By Jean Lee
Who has the authority to define women? Traditional Asian values assume that women in their 30s are past their prime in the workplace and should shift their focus from work to family. Moreover, in a traditional society, a "great" woman is defined as a good wife and mom.
In my opinion, each woman is Ms. Priceless and deserves a meaningful life. Women in their 30s should seek independence, elegance and self-motivation. Regardless of age, women should maintain grit and grace, instead of clinging to self-restricting beliefs. Although grit and grace seem to be polar opposites, I think women can have an iron fist in a velvet glove.
Grit and grace allow women to diversify their life experiences. If grit reflects a sustained commitment to a long-term goal, then grace shows the path to attaining it. Women with grace can take everything in stride under pressure and command respect with warmth and empathy. In the current era, they need to keep these two feminine traits in balance.
A new role for a new generation of women
In China, the definition of women has evolved over time. Post-1960s women, for example, were witnesses and contributors to China's rapid transition from a planned economy to a market economy. Influenced by Western pop culture, post-70s women are generally regarded as competent, open-minded, innovative and defiant of traditional values. Post-80s and post-90s women, by contrast, are typical experience-oriented consumers, influenced by the internet in their pursuit of freedom and individuality. Freed from the nine-to-five weekday schedule, this new generation of women bask in a technology-enabled modern lifestyle, value social networking and friendship, and dream of becoming CEOs.
A number of trends reflect how social changes have held sway over women over time:
First, the female employment rate is increasing. Statistics from the World Bank revealed that, in 2020, women made up 38.8% of the labour force globally and 46.3% in China.
Second, an increasing number of women hold higher education degrees. According to UNESCO statistics, more women than men hold bachelor's and master's degrees in 93 countries around the world. As of 2019, an average of 51% of young women in Organisation for Economic Co-operation and Development (OECD) member states had pursued tertiary education, as opposed to only 39% for young men.
Third, women have a growing desire to pursue leadership positions. A PwC survey revealed that 53% of millennial female professionals viewed the career ladder as their primary consideration when looking for a job. A survey of 1,400 executives around the world by McKinsey showed that 79% of mid-to-senior-level female managers desired a promotion to a top management position (with 61% saying they were even willing to sacrifice some of their personal lives, if needed). Catalyst 2020 data also revealed that women accounted for 29% of senior management positions globally (the same as 2019).
Fourth, a growing number of women are starting their own businesses as a way to seize opportunities. According to the MasterCard Index of Women Entrepreneurs 2019, Chinese women made up 25.6% of Chinese entrepreneurs (ranking #27 globally). Amongst internet entrepreneurs, the new generation of women has also come to the fore. Alibaba's Research Report on Women's Entrepreneurship and Employment Worldwide released in 2019 showed that women accounted for 49.3% of the entrepreneurs on Alibaba platforms. These women entrepreneurs are 32.6 years old on average (61% were between 18 and 29) and highly educated with a global vision and strong self-awareness. Furthermore, many of them are diversifying away from the lifestyle-related fields women prefer (e.g. fashion, home furnishings, health and education) to industries traditionally dominated by men (such as digital products and technology).
Fifth, more women have become wealth owners. Although it varies across regions, Credit Suisse's Global Wealth Report released in 2018 indicated that women now control about 40% of global wealth. In China, for example, the share of wealth in the hands of women now ranges from 30% to 40%.
Lastly, more women have become wealth managers. A recent Ernst & Young report on women as an emerging market noted that, by 2028, women will command 75% of discretionary spending worldwide, and more women will hold the purse strings. The women-targeted consumer market has also fuelled the "she economy" and women are now entering the investment field. Amongst 459 active companies in the CrunchBase database in 2017, women accounted for 25% of VPs or senior executives on investment teams.
How can women gain an advantage in the "she era"?
The above trends indicate that women are in the ascendant in many respects (a fact which has led scholars termed the current times the "she era").
Along with the emergence of the internet, especially the mobile internet, the pyramid-shaped centralised management model of the industrial age has unravelled and given way to flatter management structures. At the same time, leaders must now fully authorise front-line teams to reach out to customers so that they can respond flexibly to market changes.
In an age which encourages the expression of personality, the trend for flexible management gives women additional latitude to harness female traits and advantages. A 2017 McKinsey study, for example, revealed that, compared with male leaders, female leaders typically focus more on employee development, expectations and awards, benchmarking and participatory decision-making. Moreover, these leadership behaviours were considered by a majority of executives to be amongst the most effective measures against future challenges.
A recent CEIBS study has also indicated that female leaders hold pronounced advantages in terms of integrity, responsibility and self-management, impose higher moral standards on themselves and adhere to them even under pressure. Instead of making empty promises, they are good at drawing lessons from personal errors and holding themselves accountable. This trait is consistent with female mentality.
The mother instinct also makes women more selfless. When women bring this spirit to their leadership work, they demonstrate a sharper sense of responsibility and a scrupulous work style. In addition, women's strong sense of honour and disgrace prompts them to handle their work more cautiously and constantly improve themselves.
Women also typically score higher than men in terms of "team leadership" and "change and innovation." This means that female leaders can organise teamwork more efficiently, motivate different types of team members, and provide subordinates with reasonable feedback and guidance. In addition, female leaders are often more willing to explore new working methods, and good at enlisting support and eliminating confrontations amidst changes. We attribute this advantage to their flexible leadership style, which allows them to pay more attention to employee development, show greater empathy, create a sound atmosphere by playing the role of glue that holds the team together, and open their minds to different and novel points of view. While pressing ahead with change, female leaders can also communicate with opponents more patiently to gain their support.
Successful female leaders need to clear five hurdles
In 2019, Lean In China's Women, Work and Happiness White Paper showed that 60.4% of women hoped for a promotion to a higher position and 33.3% expected to work their way up to top management.
While entering a larger arena in the she era, career women find themselves under enormous stress and work-life balance is still a big obstacle to promotion. To become a great manager, women in China need to brave five hurdles:
First, traditional Chinese values emphasise women's subservience to male authority. Traditional Chinese values define men as breadwinners and women as homemakers. As a result, women often choose not to advance their career, but to give it up for their families. Social expectations also prompt women in their 30s to return to domestic life, precluding them from bringing their female advantages into full play.
Second, men and women differ in terms of their criteria for success. The success of a man is measured by his career path and leadership style. Woman, however, face one more success criterion: they must first be good moms and wives before becoming successful executive.
Third, behind every successful woman, there stands not only a man. An ancient Chinese saying goes that, behind every successful man, there stands an excellent woman. However, behind every successful woman, there stands a tribe of women, including her mother, mother-in-law, aunt and sister, as well as a husband who tolerates and supports her. Without the backing of their families, women are often weighed down by conflicting roles.
Fourth, successful women can be neither too manly nor too feminine. In the industrial age, the "think leader, think male" gender norm associated leadership with masculinity. As a result, female leaders appeared like iron ladies, who were keenly aware that they would go nowhere in the workplace without asserting themselves. Once they did that, however, others would often dismiss them as manly women. Successful women need to walk a tightrope between femininity and masculinity. In other words, they are expected to work like men and behave like women.
Fifth, women face a "psychological ceiling." Workplace challenges for women stem largely from self-confidence and motivation. Under the influence of traditional Chinese culture, for example, Chinese women tend to keep a low profile and put up with things they feel uncomfortable with. A lack of self-confidence also prevents them from moving up the ladder to executive positions.
Women should stand on their own
Women should say "No" to male superiority. Perhaps owing to their upbringing, women tend to put themselves in a "humble" position. They take it as their duty to take care of families, but this pent-up, unspoken grievance can easily lead to mental stress, which can accumulate into victim mentality. Furthermore, women easily slip into an "I-do-this-all-for-you" mentality. Thus, instead of biting the bullet, women must learn to care for themselves and make choices on their own. I am convinced women can hold up half the sky. Once they are in charge of their own destiny, they will not play the blame game, but will instead live a life which is more consistent with their values.
Active role management matters a great deal. Women should draw up key KPIs for each social role they play (as mothers, wives, employees, bosses, daughters and sisters/friends) and clarify the value and focus of each and the expectations of others. To ensure effective role management, they should spend limited time on key tasks, instead of remaining hands-on with all matters. In other words, women need to face up to their shortcomings and let themselves go in terms of trivialities. More importantly, they need to foster a sense of gratitude and see the best in others.
Finally, women should maintain grit and grace. In the she era, they must find the courage to break through their own "psychological ceiling" and face gender stereotypes squarely. Though gender biases still exist, the she era allows women to move into a larger arena. Still, they need to brave winds and waves with grit and grace in order to build a brighter future.
Jean Lee is a Professor of Management and the Michelin Chair in Leadership and Human Resources Management at CEIBS. For more on her teaching and research interests, please visit her faculty profile here.