Faculty & Research
---
Knowledge creation on China, from proven China experts.

Faculty & Research
---
Knowledge creation on China, from proven China experts.
Thursday, May 11, 2023
How is AI changing the way we work and do business?
By Hu Kejia
ChatGPT has recently sparked a global craze and brought AI generated content (AIGC) into the spotlight. While AIGC has made impressive progress in creating text, images and videos, what changes can we anticipate for the future? And, how will it affect the future of work and career paths?
Commercial applications and implications of AIGC
AI's evolution can be broadly divided into three stages: artificial narrow intelligence (ANI), artificial general intelligence (AGI), and artificial super intelligence (ASI). ANI is goal-oriented, designed to perform singular tasks like facial recognition and voice assist (e.g. Alexa and Siri). AGI attempts to mimic the human brain by learning from massive amounts of data to predict and generate human-like responses, as exemplified by ChatGPT. ASI has surpassed human intelligence in certain areas, such as fully automated driving technology, which is expected to operate vehicles more safely and make more informed judgements than humans.
What are the commercial applications of AIGC, and what value can it offer?
The evolution of AIGC involves four stages, each with increasing AI involvement. The first two stages rely mainly on human input for content creation; while at the third stage, there is greater AI-human collaboration, as shown by AI-writing software XieZuoMao which provides authors with ideas and outlines. At the final stage, content is completely generated by AI based on algorithms, as demonstrated by ChatGPT, which can generate content based on human instructions.
ChatGPT for text generation
A CEIBS team recently experimented with ChatGPT in a number of ways, using it for content generation, text summaries, and code assistance. We also leveraged Microsoft's Bing search engine, which is embedded in ChatGPT, to help sift through online information. In a recent advertising campaign, Bing showcased how ChatGPT could efficiently organise financial data from clothing store The Gap's website into a well-structured table and export it. Additionally, the latest version of Microsoft Teams allows ChatGPT to automatically generate detailed meeting minutes, including speech transcripts and task assignments for individual participants, further demonstrating its versatility.
We anticipate that AI-powered tools for text processing will soon become widely adopted. Already, many people have incorporated ChatGPT into their daily work and learned to make efficient and effective use of its capabilities.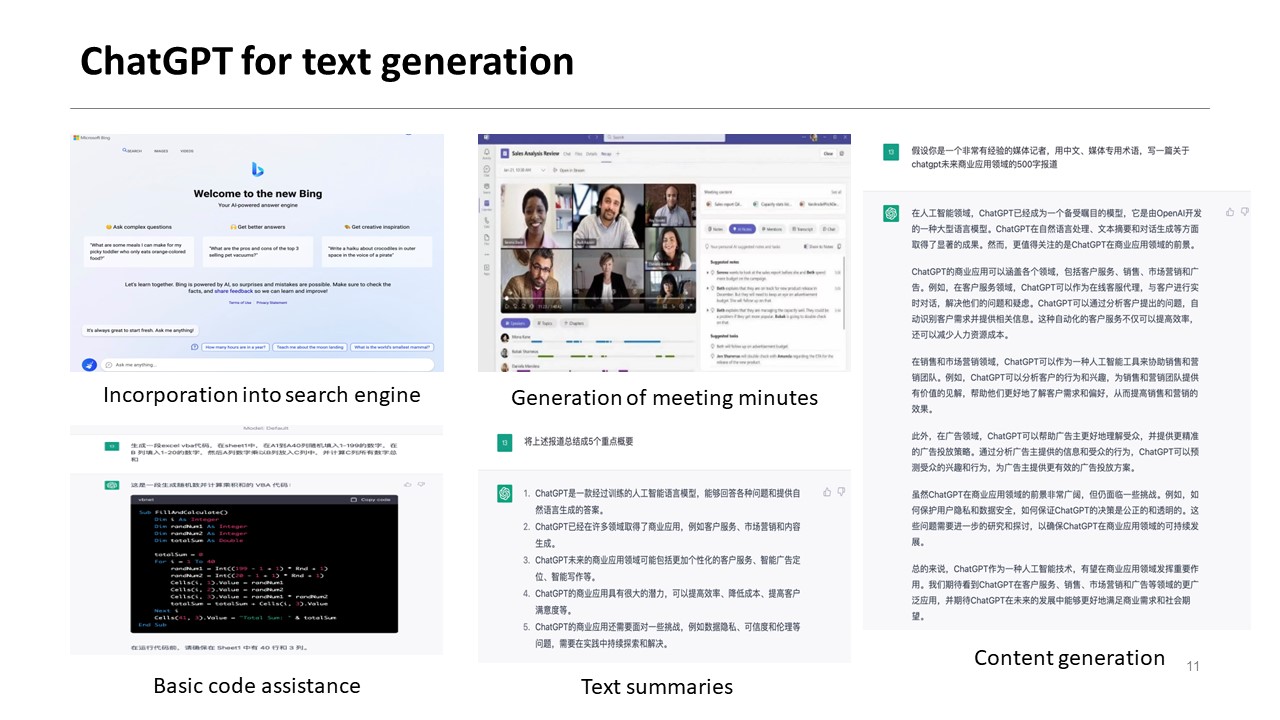 Source: Microsoft Bing and Microsoft Teams
Using Midjourney for image generation
I gave AI image-generator Midjourney a few keywords about a painting technique (Chinese ink painting), angle (wide-angle) and style of painters I wanted it to emulate. Midjourney then generated the four paintings pictured below. The recent launch of Midjourney version 5 has impressed many, as it has arguably surpassed the abilities of human painters. As AI drawing software becomes increasingly available, it is essential to reflect on how we can develop our artistic skills to better guide AI creations or to improve on first drafts generated by AI.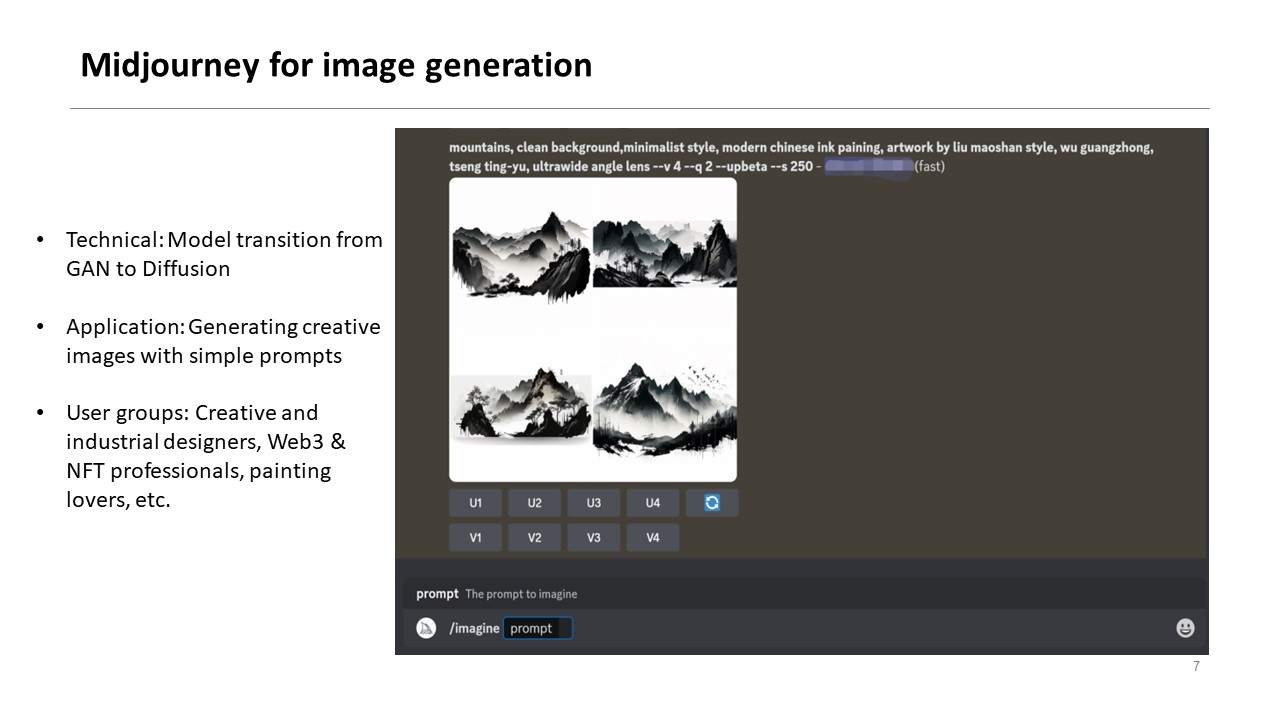 Although the use of AI in image creation has mostly been limited in cultural and media sectors, it is now making its way into other industries. For example, consultants who previously spent large amounts of time searching for appropriate images for their PowerPoint presentations can now simply ask Midjourney to generate these images without concerns about copyright issues.
However, the ownership of intellectual property rights for AI-generated works remains a contentious issue. Should the works be credited to the AI or to the user who provided the input? Moreover, when two people create very similar content using similar keywords from the same database, who should be recognized as the creator of that content? Recently, the US Copyright Office introduced a regulation clarifying that works created entirely by AI, such as ChatGPT and Midjourney, are ineligible for copyright protection.
D-ID for video generation
The character image in the picture below was generated by Midjourney based on the keywords provided and I subsequently uploaded to D-ID as my avatar. D-ID then employed a ChatGPT-generated speech script to create a video of my avatar speaking as a voiceover.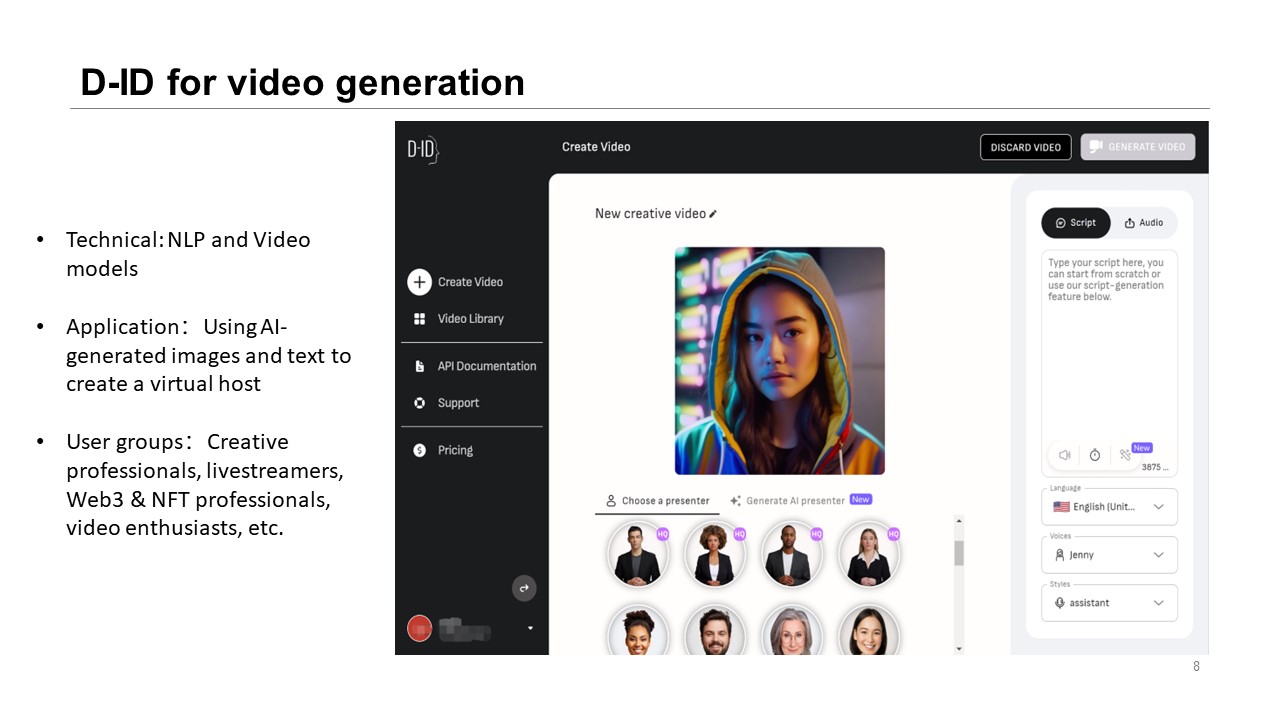 The integration of 3D and AI technologies has opened up new possibilities for video production. However, it has also posed potential risks, such as making fakery less expensive and more difficult to distinguish from authenticity. Will more fake news and fake videos created by imposters be widely spread on social media? This emerging issue calls for urgent attention not only from users, but also from legislatures and law enforcement agencies.
In addition to the technologies mentioned above, there are also promising Chinese options to explore. The Chinese AIGC industry map below shows a wide spectrum of applications covering text, audio, images, and video generation, as well as cross-modal content creation.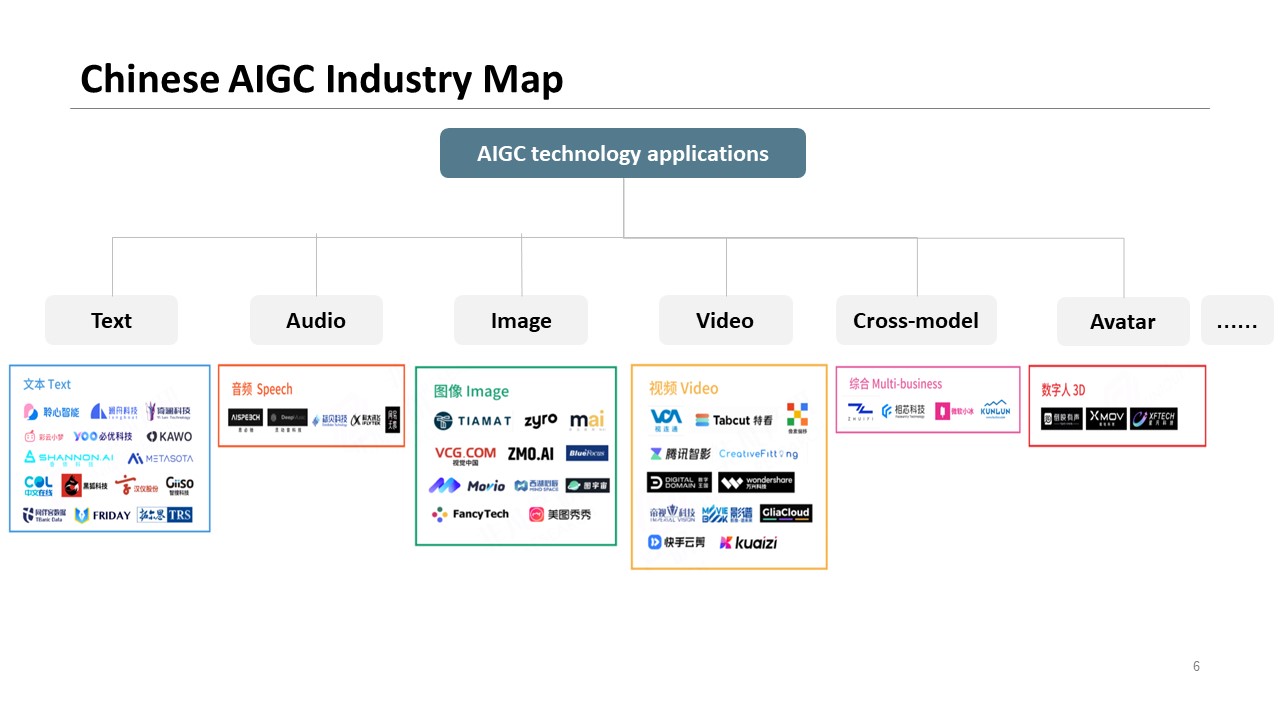 Source: Zhihu
Business transformation and opportunities brought by AI technology
Founded in 2015 by Elon Musk and Silicon Valley startup incubator Y Combinator President Sam Altman, OpenAI (the parent company of ChatGPT) intended to explore how to use AI for the benefit of all humanity. In 2019, Microsoft joined OpenAI as a partner, which set the stage for today's business landscape. ChatGPT-3 was released in 2020 and amassed over one million subscribers in just two years. However, the real breakthrough came at the end of 2022 with the launch of ChatGPT3.5. This model, with its advanced features and capabilities, attracted 100 million monthly active users in just two months.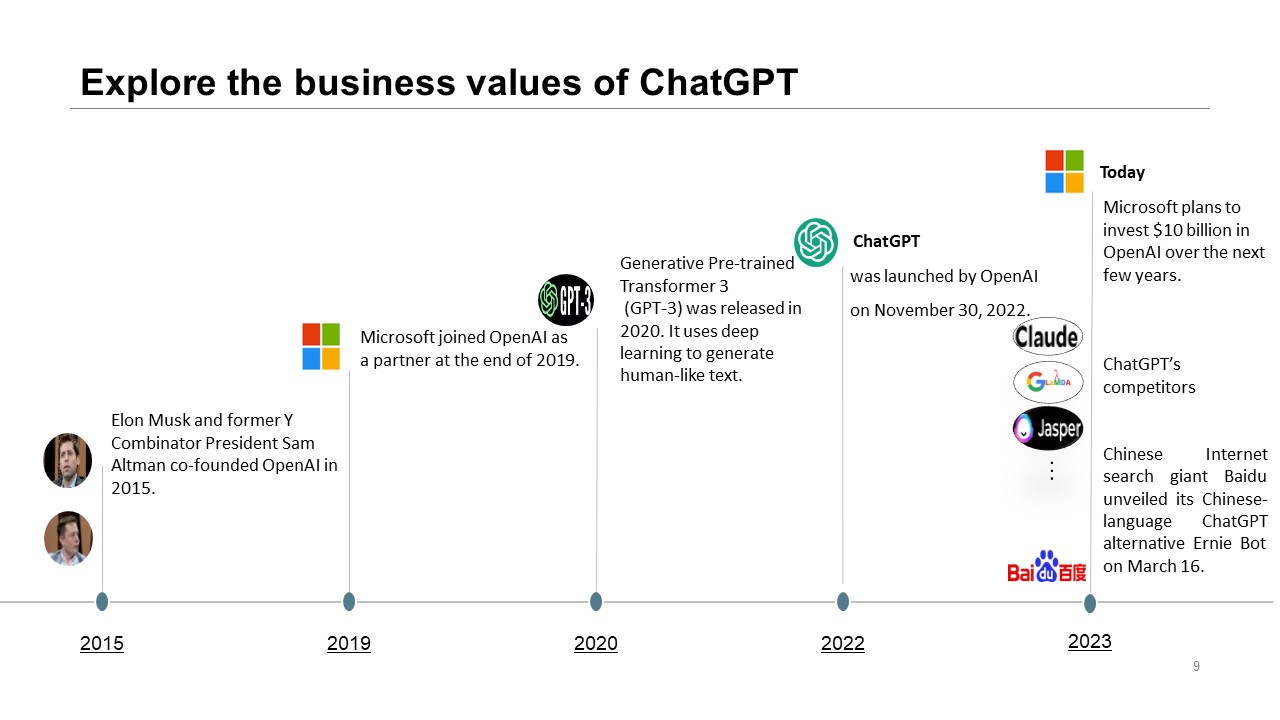 The rise of ChatGPT has prompted Microsoft to invest an additional $10 billion USD in OpenAI, as well as to integrate ChatGPT with Bing and infuse AI tools into its Office software suite. Other internet giants have also jumped into the AI race. For example, in February 2023, Google invested nearly $400 million USD in AI startup Anthropic and rolled out Bard, a chatbot based on the LaMDA model. Baidu also joined the fray with the launch of its Chinese-language ChatGPT alternative ERNIE Bot in mid-March. Shortly before that, OpenAI unveiled the highly anticipated ChatGPT-4, which can now process images during conversations.
How will AI technology impact the business strategies of major internet companies? To explore this question, let's take a quick look at the financial reports of four key players in the industry: Apple, Microsoft, Alphabet (the parent company of Google) and Amazon.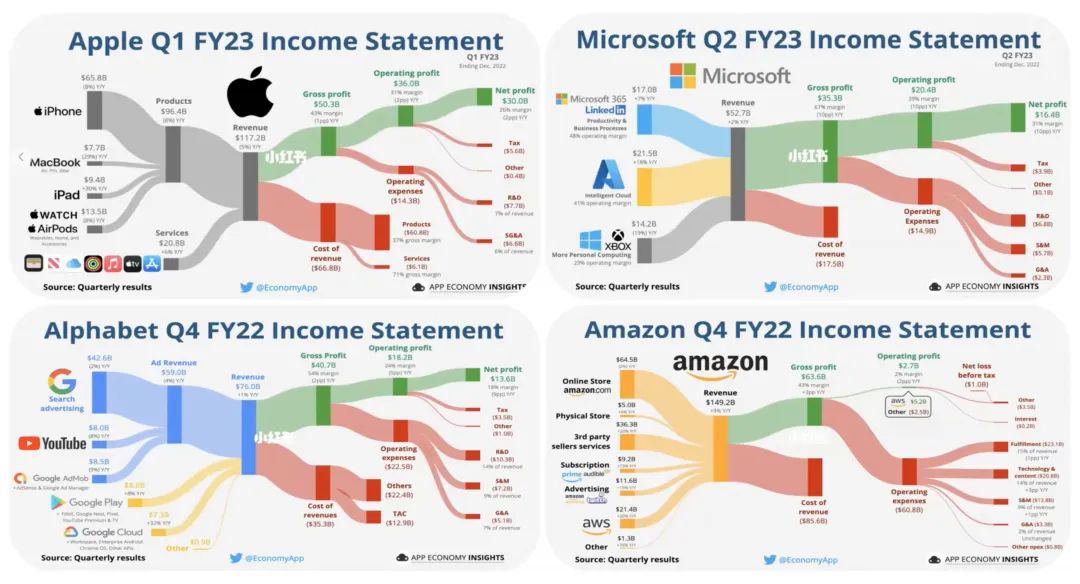 Source: Quarterly results
Apple, whose main business remains the iPhone and a range of electronics, is likely to make a push in AI by upgrading its virtual voice assistant Siri. Despite its long-standing dominance in the search engine market, Google's performance in advertising revenue may decrease due to Microsoft's Bing drawing substantial users away from it. What is worse, Google's recent demonstration of its ChatGPT competitor Bard produced incorrect results, causing its stock price to drop more than 7% the next day and wiping out roughly $105.6 billion USD in market value overnight. Although Amazon has a solid foundation to train large-scale language models with its Alexa speech recognition system and cloud computing advantages, it is unclear whether the company will fully explore this area. The market's ambiguous signals further complicate determining the company's intentions in this field. Microsoft has so far emerged as a clear winner, having seized new growth opportunities by integrating ChatGPT into its products and upgrading its search engine and other applications.
New game rules and industry models emerge with every technological transformation. These changes, coupled with the strategic moves of industry giants, can result in a reshuffling of the market. While the above examples are dominated by some of the large players, startups can focus on innovating AI models in niche fields like advertising, social media marketing, or cross-border e-commerce, as evidenced by the US and Israeli markets. Thus, small businesses can still seize opportunities to survive and thrive in this changing landscape.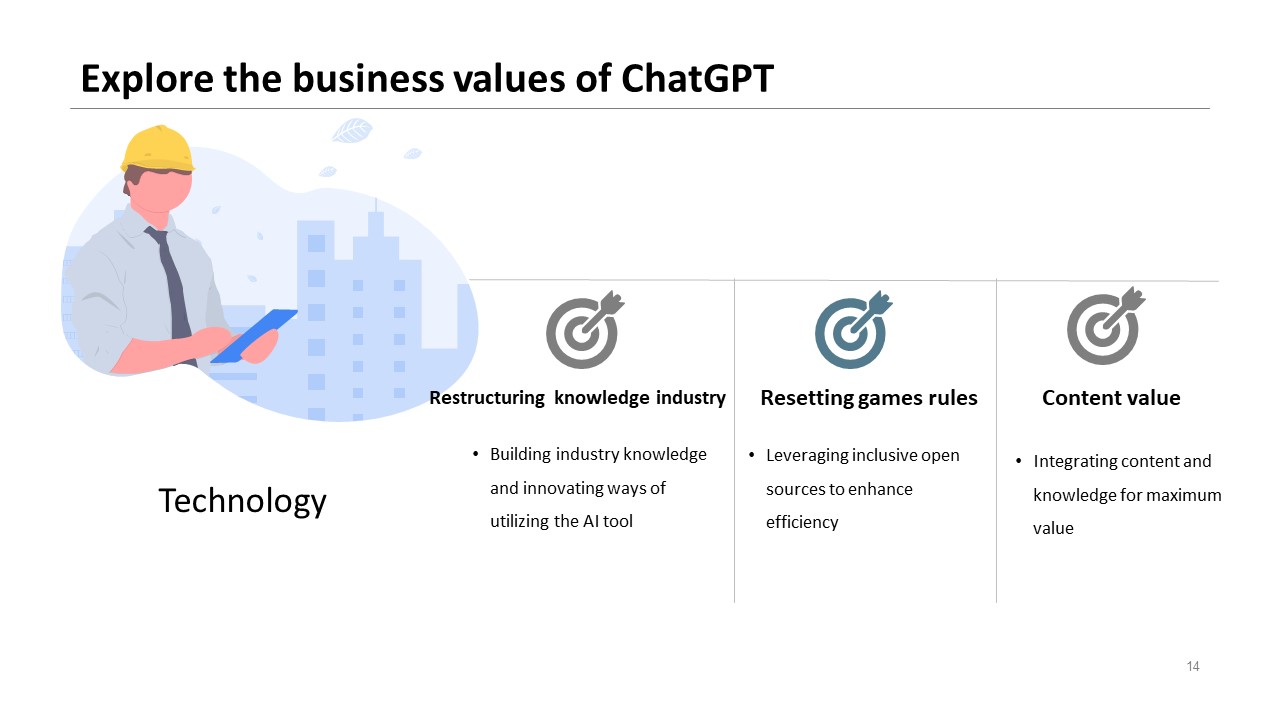 OpenAI recently announced it will now allow third-party developers to integrate ChatGPT and Whisper, its AI-powered speech-to-text model, into their apps and services via application programming interface (API). These moves present new opportunities for businesses, particularly those engaged in speech recognition, to leverage the capabilities of ChatGPT at a relatively low cost of about 18 RMB for every million words processed.
However, when implementing AI technology in real-world scenarios, it is also important to acknowledge and address the limitations of the underlying data. Relying solely on historical data for analysis could confine us only to what has already been created. In addition, data not only reflects the past, but also carries inherent biases and limitations. Therefore, we must be careful not to perpetuate past biases and exclusions in future models.
The AI-enabled transformation of how we work
How do you usually react to the rapid advancement of technology? Do you view it as irrelevant to your life or are you concerned that it may replace you? Will you resist its progress or embrace it and learn to harness its capabilities?
After defeating the world's top human Go player, AlphaGo was used as a training tool for the game. An interesting experiment showed that players who received AlphaGo training learned the game much faster and better than those who only had human coaches and solo practice.
Recently, there have been online inquiries about whether ChatGPT can act as an English tutor or help improve children's Chinese writing skills. People are starting to realize that AI won't necessarily replace humans, but that it can be a helpful tool for learning.
During a visit to Foxconn, I was struck by a comment made by its CTO: "We are shifting from replacement to argumentation."
Traditionally, it was believed that if someone wasn't performing well, they could be replaced with a machine. But now a new way of thinking has surfaced to help people improve their performance by leveraging algorithms and automation systems. This approach enables people to pinpoint their weaknesses and blind spots, and subsequently refine their abilities, particularly in areas where they are likely to make mistakes.
Therefore, it is necessary for us to adapt our mindset and adopt a more AI-assisted approach to working. During my recent interactions with ChatGPT, I have improved my critical thinking skills and enhanced working efficiency by assigning tedious, repetitive, and rule-based tasks to ChatGPT.
It relies on our judgment to determine whether ChatGPT is producing reliable content and delivering better results. As such, it is essential that we not only develop and hone our own critical thinking skills, but also prioritize training the younger generation in these skills.
I also encourage my research and teaching assistants, as well as my students, to explore ChatGPT's vast capabilities and become adept in utilizing them. If everyone uses ChatGPT to complete their assignments, it will be easy to identify who has truly mastered its features. Conversely, if several assignments appear to have similar phrasing, it will indicate ineffective use of this AI tool.
An effective AI application involves a co-creation process between humans and technology. The more ideas and content it is fed, the more personalized content it can generate. Even if ChatGPT becomes accessible to everyone, some people may still receive better content than others. That is why it is important not only to have strong critical thinking skills, but also to collaborate effectively with new AI technologies to further improve one's abilities.
Enhancing career competitiveness in the AI era
A 2017 McKinsey report explored the impact of automation and AI on employment, as well as their potential to boost productivity and economic growth. In this context, people must prioritise upskilling to stay relevant in the job market and avoid being quickly replaced by AI.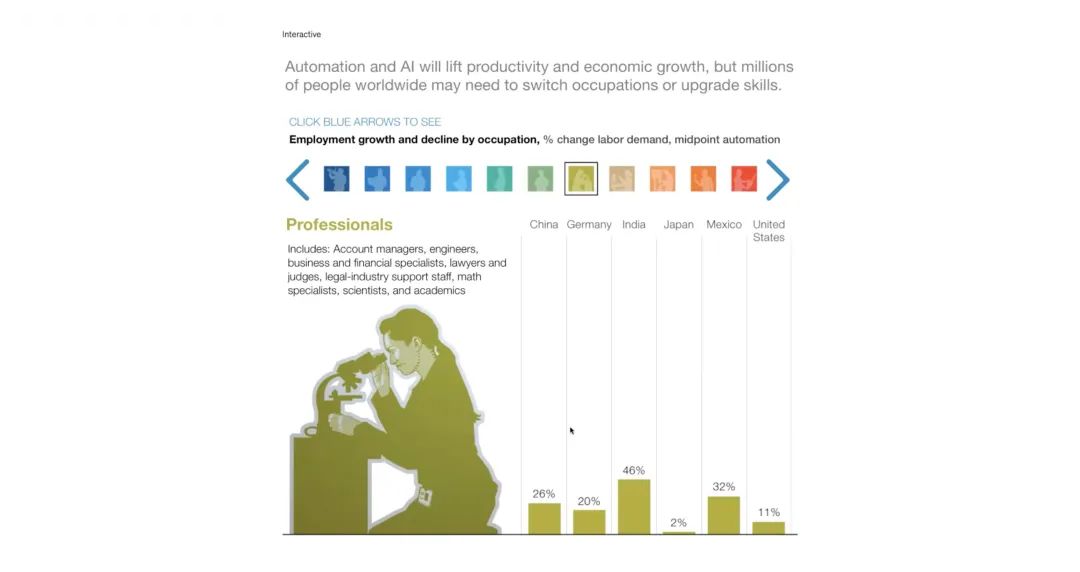 Source: McKinsey
Professionals such as business and financial specialists and engineers are considered to be at moderate risk of displacement. To remain competitive, we must focus on developing skills that are innovative, forward-thinking, and enable us to effectively leverage the potential of AI technologies.
Furthermore, we need to reassess our own career paths and those of the younger generation. Some professions that were highly regarded, such as simultaneous interpreters, are now at risk of being replaced by AI. For instance, NVIDIA's video conferencing software comes equipped with a simultaneous translation function. These technological advances will reshape market demand and our career paths. Therefore, it is crucial to consider these trends as we educate the younger generation. Encouraging creativity and critical thinking skills, exposing them to programming and computer languages, and educating them on the underlying logic and construction of relevant technologies will ensure they have a modern and innovative perspective and are well-prepared for the future.
Finally, let's take a look at the LinkedIn Economic Graph, a powerful tool accessible through the LinkedIn website. It uses data collected from the platform, including users' career paths and job market demands, to offer valuable analysis for different professions, and to identify the skills needed for career transitions or promotions. For example, if you're looking to be promoted from a data scientist to a director data scientist, the tool will analyse your skills and experience, pinpoint what you've already have, and identify the skills you need to acquire.
In addition, this tool offers a popularity index to gauge the market demand for a specific job. For instance, the popularity index for a director data scientist is significantly higher at 6.6, compared to a mere 1.8 for a data consultant. Interestingly, the popularity index for an AI expert is at its peak, indicating strong market demand. By leveraging these data, we can make informed decisions about career development.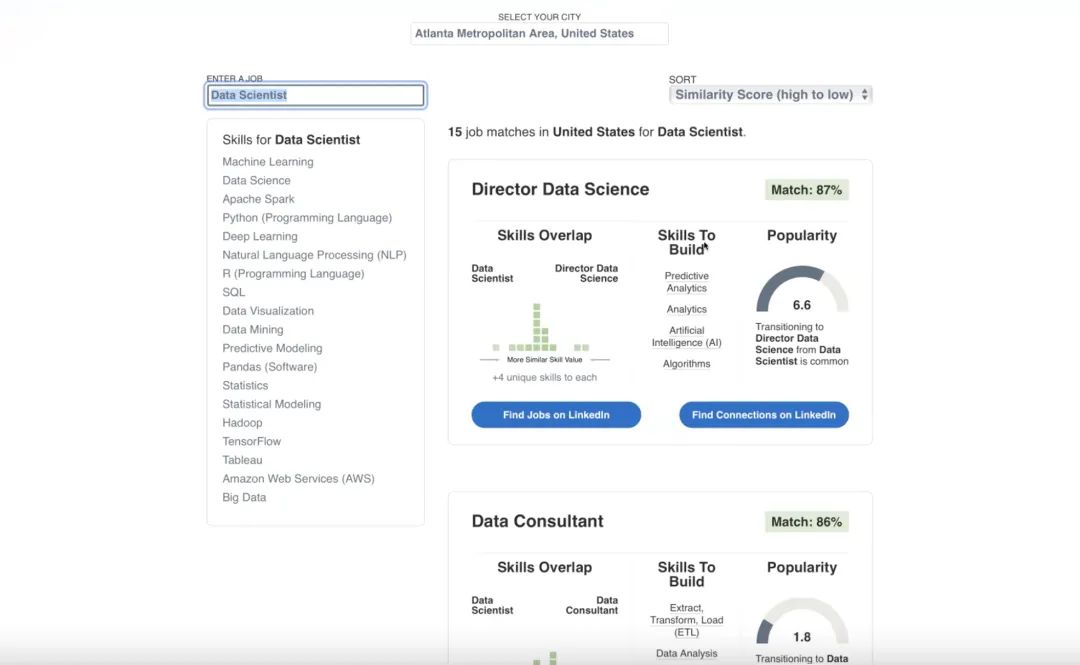 Source: LinkedIn
The turnover of professions has been constant for more than a century. As such, there is no need to panic in the face of AI technology. Instead, we can take comfort in the fact that humans have always persevered through technological advancements. While we have created machines to replace some human work, we still control them and use them to create new professions and skills so as to improve our lives.
Although we cannot match AI's ability to store vast amounts of data in our brains, becoming proficient in using this tool will give us a competitive edge in our professional development. To stay ahead in our careers, we should remain open-minded, continuously update our knowledge and skills, and effectively leverage AI for ongoing self-improvement.
Hu Kejia is an Associate Professor of Operations Management at CEIBS. For more on her teaching and research interests, please visit her faculty profile here.