Sunday, September 26, 2021
Global EMBA 2018 Class Signs off in Style
On September 25, the Global EMBA Class of 2018 finally undertook their long-awaited graduation ceremony at CEIBS Shanghai Campus. For both the graduates and the school, this was a uniquely special moment, one that marked the culmination of a learning journey that has involved even more twists, turns, trials and challenges than your average EMBA course! The ceremony was the first Global EMBA graduation to take place in a hybrid format, with attendees dialling in from more than 10 countries around the world to celebrate the momentous occasion.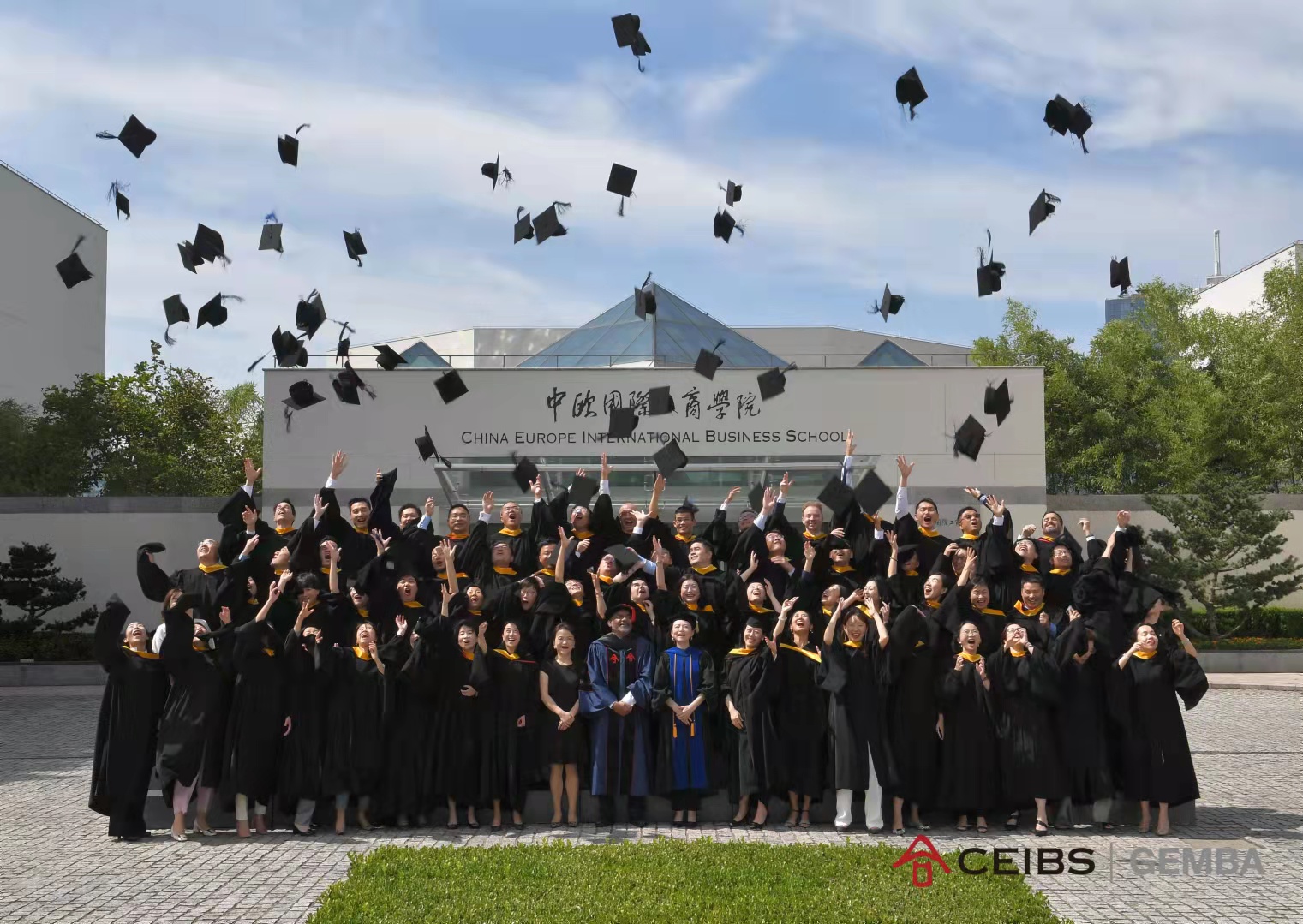 It has been almost two years since the COVID-19 pandemic began. Consequently, the Global EMBA 2018 cohort have had their CEIBS experience dramatically impacted by a constant ebb and flow of travel restrictions, lockdowns, remote learning and module alterations. Added to the pressure of adjusting their daily working practices to the reality of COVID, the class also had to be ready at a moment's notice to adapt to changing circumstances with their studies. This challenge was even greater for students based outside China, where the disruptions were more complicated. Together, these circumstances took an already rigorously challenging academic programme and added another layer of complexity to it.
Still, the greater the challenge, the more meaningful the achievement. This was a message that was woven into the different speeches and addresses given by faculty members and class representatives on the day.
In her opening speech, CEIBS President Wang Hong said:
"It is such a great pleasure today that not only do we have 75 students gathered with us here in Shanghai, but also 25 students from more than 10 countries and regions around the world are online with us. Tomorrow, you will become an important driver, participant and leader of the global economy. Let CEIBS forever be a supporting platform for your lifelong learning, a platform for your success and a support for you to overcome challenges. It is such a meaningful graduation ceremony. I believe that all friends and families must be happy for your achievements. We are proud of you and please take our warmest congratulations."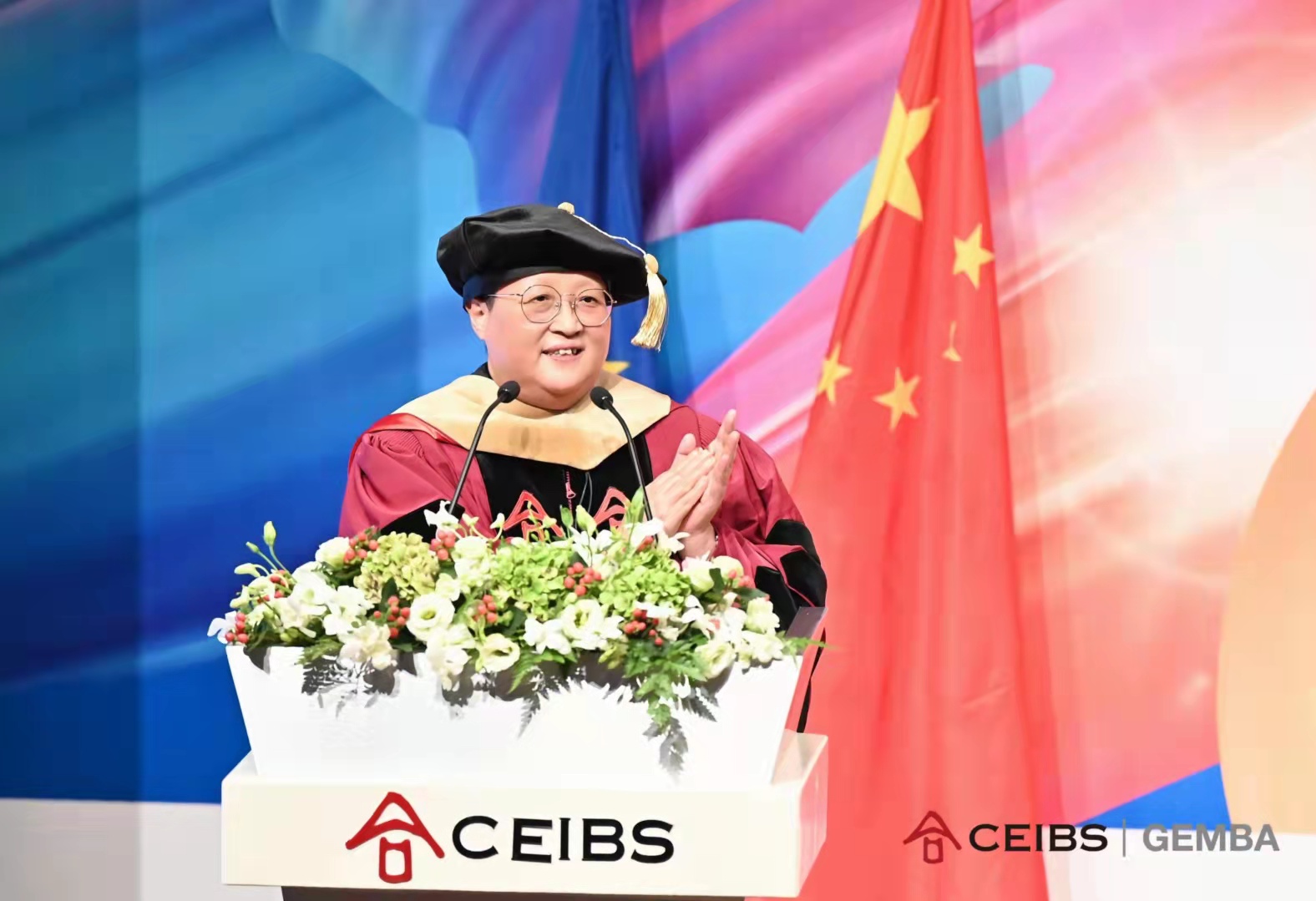 Associate Dean and Global EMBA Director Professor Bala Ramasamy strongly emphasised the pride that every graduate should feel about their conduct and their ultimate achievement of the Global EMBA qualification:
"Congratulations to every one of you in the GEMBA 18 class. GEMBA 18 has always been a special class, as you were the first group of students to encounter the programme's dual-track format. It was also special because of the added trials and tribulations that you have had to endure in order to reach your final step in the journey today in graduating. We often talk in GEMBA about the importance of developing leaders who are agile enough to navigate the increasingly uncertain global business environment, and GEMBA 18 has undoubtedly faced this in abundance. We are very proud to graduate you today, and we look forward to seeing your continued development as you take the next step in your respective journeys." 
Living and learning with the pandemic – Reviewing the Global EMBA 2018 journey
Next, graduates were taken on a quick highlight tour of their learning journey.
Unfortunately, with the pandemic far from over, some of the graduates and their supporters couldn't be in China to attend the ceremony in person. As CEIBS Global EMBA's first hybrid graduation ceremony, 25 graduates joined us virtually from 11 locations around the world, so they could still participate and enjoy the celebratory atmosphere of the day.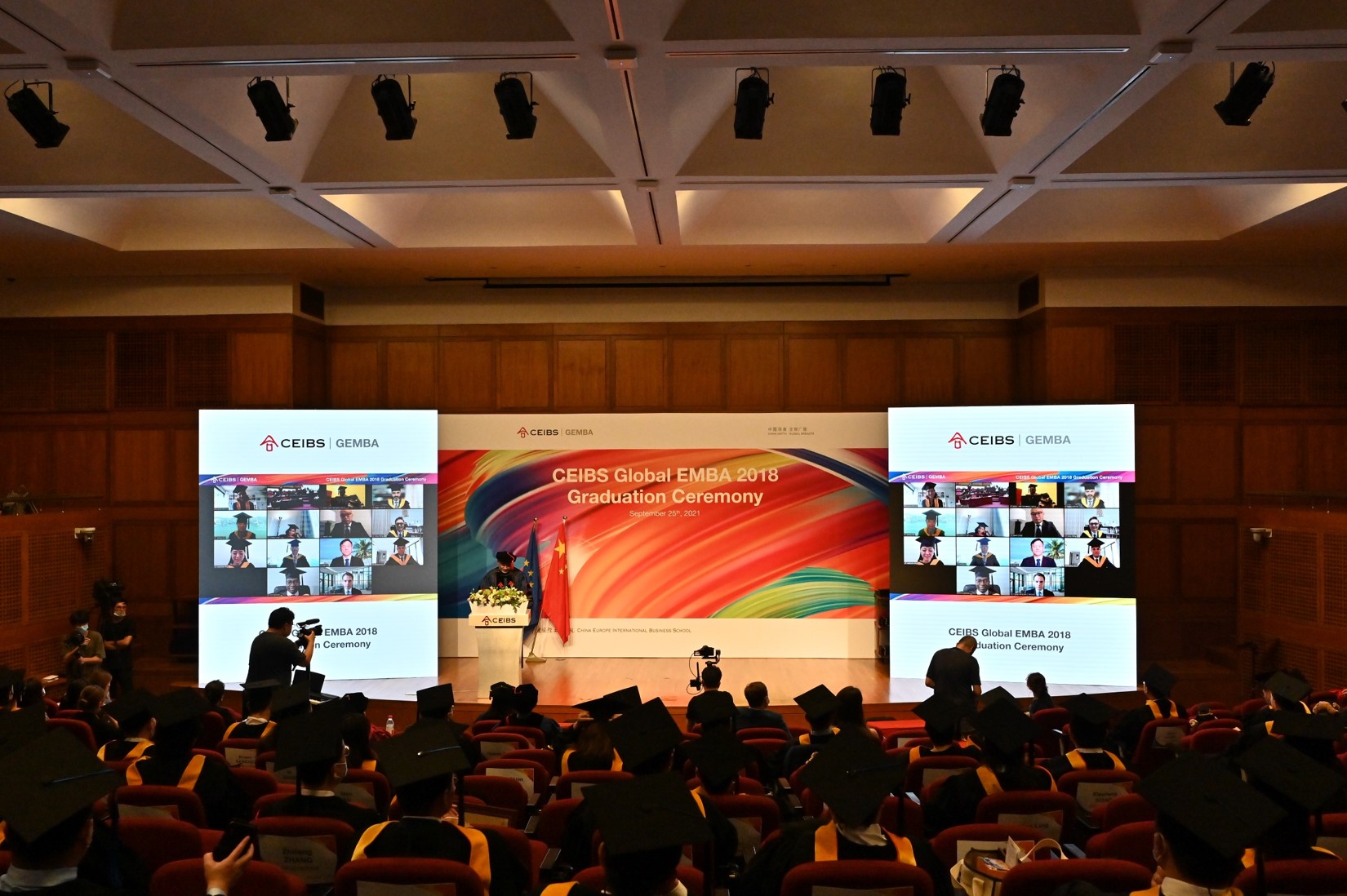 Graduates tell their story
It was the graduates' turn to briefly share their insights, emotions and personal experiences of the past two years.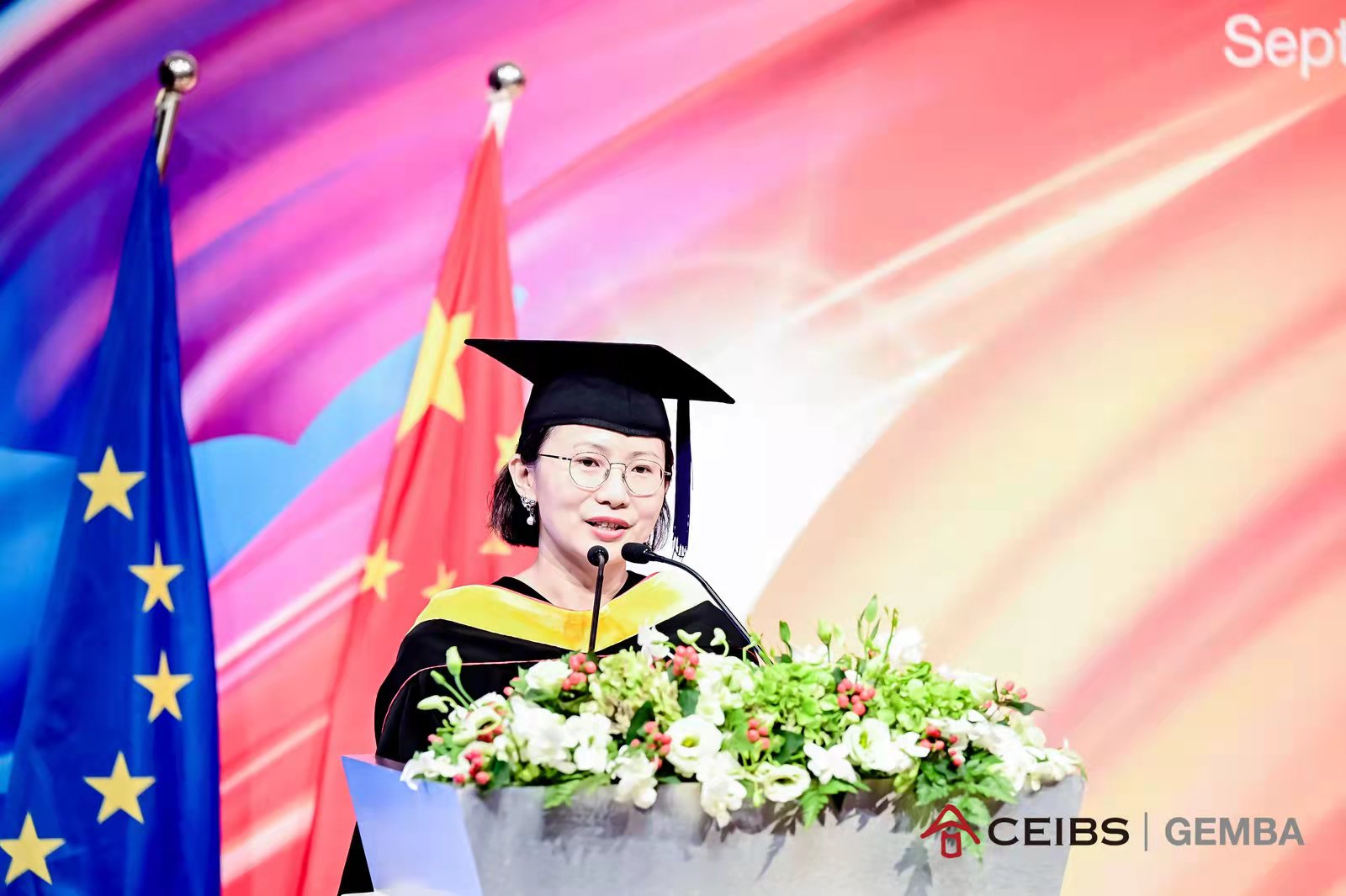 "Today, we are going to start a new chapter. Never forget why you started and your mission can be accomplished. In this moment, I'm more sure than ever that I know what leadership means: it is the responsibility to lead a team to overcome unexpected challenges, to find the sparkle in each individual and to not belittle anyone, to stay humble and open minded."
Jessie Zhang
China GM for Vehicle Group & eMobility
Eaton
"We are living today in a changing global world, at speed, with a lot of unknowns, with a lot of challenges. Having a global understanding of business, geopolitics and people is key for us to have an impact and act as leaders. Few people have the chance to understand the world with different lenses, the ability to understand differences amongst people, to analyse complex situations and to say we know that everything is not YES or NO and that frequently, 'It depends'. We have created this link, bridges amongst continents – let's use them." 
Charles-Henri Sneessens 
Head of global programmes, MALS Segment, North America
Capgemini Engineering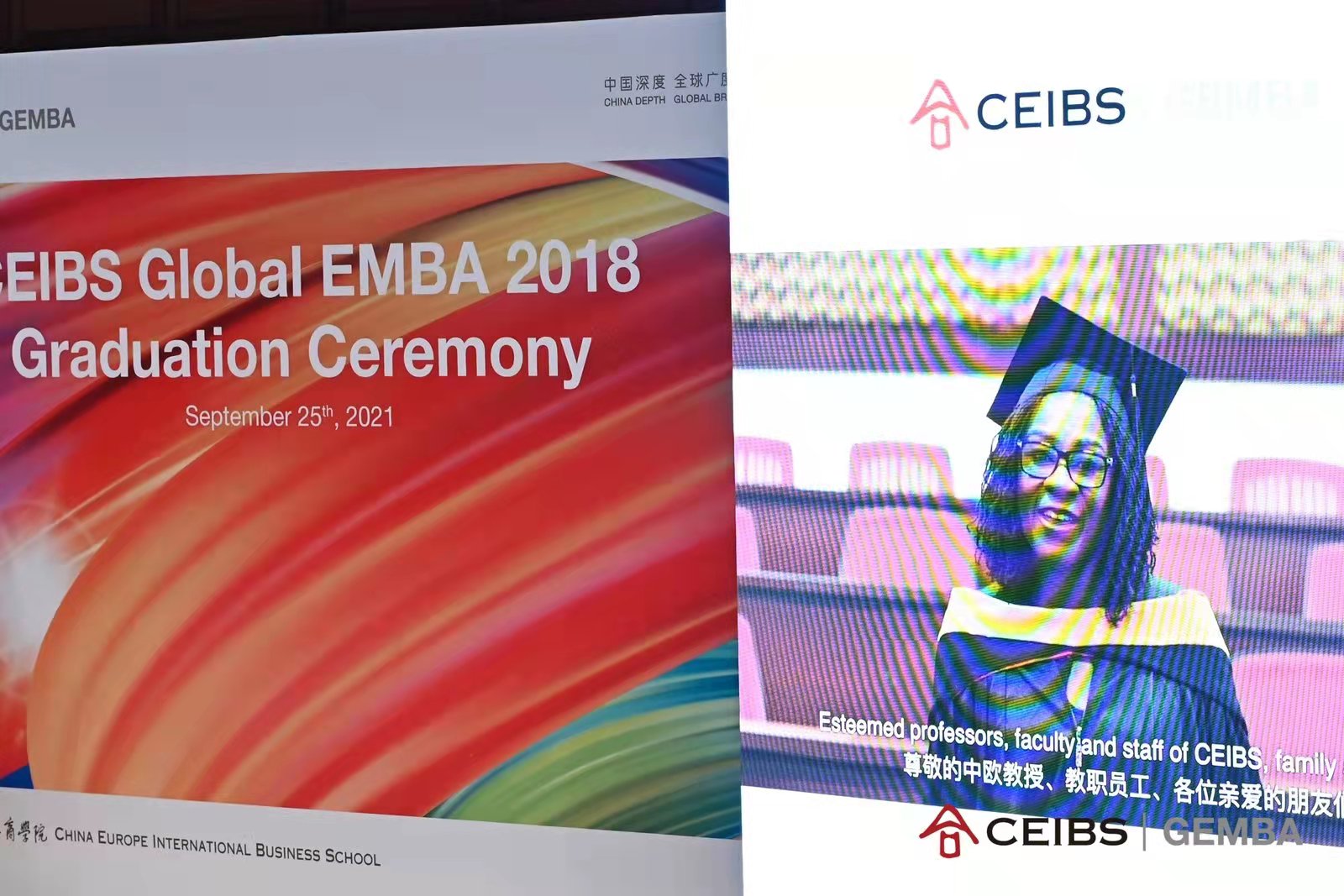 "Considering all of the adversity, the fact that the world has changed, all our learnings and our professional development and those of us who have gone on to new opportunities, be it to become entrepreneurs or take new jobs, or change jobs, it's been an amazing achievement for GEMBA 18."
Irene Asare
Founder, CarvinClay People Development; 
(Appointed) Human Resources Director, BBC News
The big moment arrives
Finally, the Global EMBA Class of 2018 were ready to receive their degrees and additional honours. The conferment itself followed a moving performance by the CEIBS Maple Choir alongside several Global EMBA 2018 representatives.
The ceremony also saw the awarding of two prestigious honours – the Nikos Tsikriktsis Award for Academic Excellence and the Outstanding Graduate Award. 
The Nikos Tsikriktsis Award for Academic Excellence was set up as a fitting memorial to the dearly missed Professor Nikos, who sadly passed away earlier this year. This award recognises his exceptional service and lasting impact on the Global EMBA programme. It will be awarded on an annual basis to the graduating student from each class with the highest GPA. The inaugural winners of this award were Xavier Zhu (Single Module Track) and Sophia Jiao (Double Module Track).
The Outstanding Graduate Award aims to recognise two graduates per class who have achieved a compelling and consistent record of outstanding performance during their studies at CEIBS, but who have also made significant non-academic contributions to the wider CEIBS community. This year's award winners were Jessie Zhang and Xavier Zhu from the Single Module Track class, and Jane Yan and Derek Chan from Double Module Track class.
Congratulations to all of the graduates
As the graduates and their professors have rightly said, learning is a lifelong journey, and as alumni, our new graduates still have plenty more discoveries to make. As we finish this particularly eventful chapter in CEIBS' history, we look forward to seeing the contributions that our latest additions will make to the alumni network, and in their respective industries.
We would like to extend our warmest congratulations to everyone in the Global EMBA classes who graduated on Saturday. Your completion of this programme, under the most trying of circumstances, is testament to your dedication, diligence and fortitude. We are sure that these qualities will continue to serve you well in your careers and lives.