Tuesday, March 08, 2022
Celebrating International Women's Day 2022
March 8, 2022. Shanghai – From fighting at the forefront of the pandemic to advancing gender equality, women around the world are making huge strides not only in their careers, but also in various fields and industries as a whole. At CEIBS, we are fortunate to have so many talented, strong, and inspiring female faculty, alumni and students in our community who are achieving great things in their personal and professional lives. In honour of International Women's Day, we speak with three CEIBS faculty about female leadership, the challenges they have faced, and the lessons they can share with others.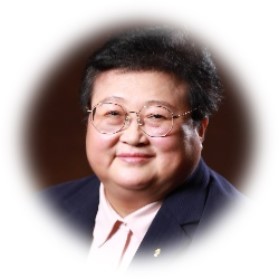 Wang Hong
CEIBS President
"Become yourself before being someone else."
As the first female president in CEIBS' history, what does the theme for this year's International Women's Day "Break the Bias" mean to you?
I was born in 1960s, at a time when China advocated that "women could hold up half of the sky" and called for gender equality. Thanks to an open and supportive environment, I had access to higher education and was able to pursue a PhD in business administration from Shanghai Jiao Tong University.
Having worked in the education industry for over 30 years, I'm aware of the challenges and obstacles that women face today, but I also realise that sometimes women are limited not by an invisible ceiling, but by themselves. I have met countless female leaders who are driven, intelligent, educated, capable and committed, and who have been recognised for their contributions to society. I hope that each and every woman can be free from bias, break gender stereotypes and become themselves before being someone else.
What are some of the things CEIBS has done to support female faculty and facilitate women leaders?
CEIBS is committed to empowering women with top-notch business education and more opportunities for career development. From 1994 to 2021, the number of female full-time faculty at CEIBS increased by 30%. Women make up more than 45%, 50% and 52% of our Global EMBA, MBA and FMBA 2021 cohorts, respectively. In 2007, we also launched our first women's leadership courses, which have to date welcomed more than 600 participants. As a world leading business school, we firmly believe that women's access to quality education will enable them to unleash their full potential and make a greater impact in their respective field.
What progress do you see being made in women's empowerment today?
Undoubtedly, women's rights and voices are better protected and heard compared with when I was growing up. The National Bureau of Statistics has revealed that 53.6% of students enrolled in universities in 2021 were women. Twenty five percent of Chinese entrepreneurs are women, and this is even higher in e-commerce industries where the number of female entrepreneurs stands over 50%. Thirteen CEIBS alumni were also featured in Forbes' China Top 100 Businesswomen List 2022. These numbers demonstrate that Chinese women have higher education levels and employment ratios, more self-confidence, and broader career pursuits.
What is the most important lesson you've learned in your career so far?
I always believe that women should be self-reliant and have their own passion and career. I have encountered numerous challenges throughout my career, but a sense of purpose is my motivation that drives me forward.
Jean Lee
Professor of Management
"Progress has been relatively slow when it comes to women getting into top management."
What do you think is the biggest challenge women face in their professional lives? How can they overcome this challenge?
Women have a lot of hurdles to cross at different stages throughout their career journey. At the initial stage in their 20s or 30s, the biggest challenge is about having confidence in yourself and overcoming gender bias and stereotypes of women. Then, after they start a family and have children, work-life balance would be an issue – or a "slowing down" period as I call it. In their mid-40s when they are held back due to more family and childcare responsibilities, they need to lean in, step out of their comfort zone and take on bigger challenges.
Where does progress on women's empowerment and gender equality stand today? And, what still needs to improve?
We've seen huge progress in women's participation in the workforce, especially in China, where more than 60% of women are in the workforce (based on 2019 statistics from the World Bank). The number of female entrepreneurs and investors is also increasing. More female students are enrolled in traditionally male-dominated disciplines at universities, such as engineering and technology programmes. However, progress has been relatively slow when it comes to women getting into top management, including CEO and Board of Directors positions.
What do you think is one difference between male and female leaders?
Compared with male leaders, who have stronger logical thinking ability and competitive mind-sets, their female counterparts tend to focus on the present and are more detail-oriented. A lack of strategic thinking and an absence of long-term goals have to some extent limited their career progression to top management. Therefore, female leaders need to go beyond their immediate interests, and become more far-sighted with a strategic mind-set.
Emily David
Associate Professor of Organisational Behaviour
"Don't see other women as your focal competition."
What do you think is the biggest challenge women face in their professional lives? How can they overcome this challenge?
Aside from systemic prejudice that still exists in many industries, I think the biggest universal challenge is the self-doubt and negative self-talk that nearly all women engage in. For some, it manifests itself as imposter syndrome that leaves us feeling inadequate and not asking for what we deserve. For others, it is guilt that we are not doing enough for our families. I think that more men (though not all) are free from these distracting thoughts. It can help to recognise that nearly everyone struggles with this no matter how outwardly successful they may look. It can also help to have a strong support system and mentors who will fight for you even when you are unsure about yourself.
Do you see any clear signs of improvement when it comes to women's empowerment today?
Loads, particularly here in China. I see many MNCs paying attention to diversity (particularly at the top) as a business priority, and even at CEIBS we have seen an increase in the representation of women in all our programmes.
What advice do you have for younger female professionals and leaders, and what can they do to make a difference?
Don't see other women as your focal competition. Don't be harder on the women you supervise than the men. Make allies and focus on letting your own results speak for themselves. In the end, networks and positive connections matter more than anything, and we can get so much more done collectively as a united front.