Case Development Shines as Beacon of Corporate and B-School Collaboration
Wednesday, May 22, 2019
Case Development Shines as Beacon of Corporate and B-School Collaboration
May 21, 2019. Shanghai – "A professor cannot visit every institution in the world, but our case can." Those were the words delivered by CEIBS President (European) Professor Dipak Jain today during a special ceremony authorising two new cases developed by CEIBS with the support of the CNIC Co. Ltd. The event was attended by more than twenty CEIBS colleagues and fifty executives from CNIC – a state-owned investment company established to facilitate the internationalisation of Chinese enterprises – as well as their subsidiary companies and corporate partners.
"These cases will not be only used here at CEIBS, but will become part of our international brand reputation," Prof. Jain said. At the same time, he emphasised that support from corporations like CNIC is essential to creating the right knowledge based on practices in the corporate world. Moreover, he pointed out that, with CEIBS playing an important role as an academic institution capable of disseminating such knowledge to the broader business community, these types of collaborations are win-win arrangements.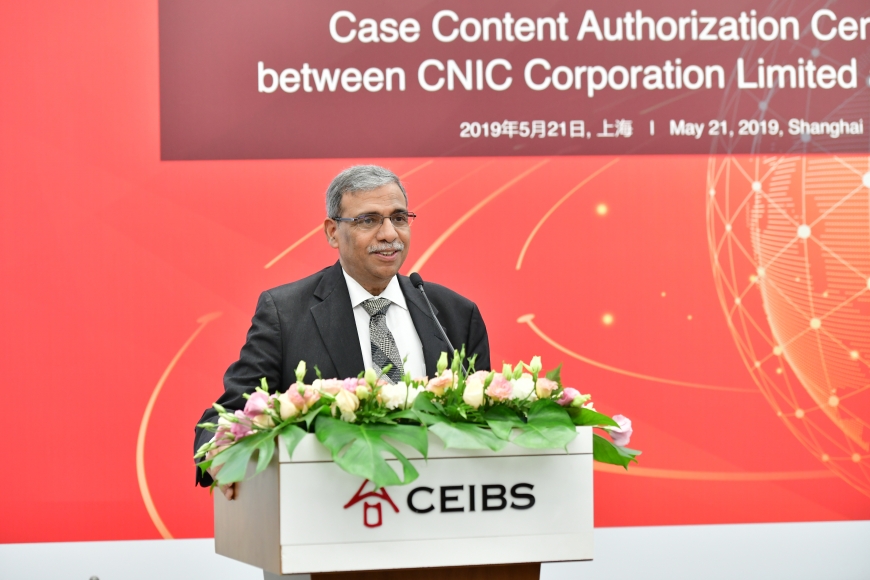 This point was reinforced by CNIC Chairman Mr. Zhou Yubo, who stated that, "Through collaborating with CEIBS professors and case writers, CNIC has the opportunity to re-examine the processes of earlier projects and learn from them." Thus, the case development process is beneficial for both sides.
The event was hosted by CEIBS Associate Professor of Finance Zhang Hua, who is also co-Chair of the CEIBS Center for Globalization of Chinese Companies. In his closing address, he said that Chinese companies going global is a very complicated process that provides a good opportunity to write cross-disciplinary cases that encompass strategy, finance, accounting, marketing, human resources, and many other areas. The two cases formally authorized today – "CNIC, the Facilitator in Global M&A (A)(B)" and "Resource Mix for Value Creations, Commodities Trader Mercuria's Exploration" – are good examples not only for students to learn best practices, but also for professors to gain a fresh perspective on globalising Chinese companies.
CEIBS and CNIC have also collaborated in many other areas, including the 4th Europe Forum in Munich and the Excellence Exchange Programme. The two institutions will continue to collaborate closely as the genes of both match each other naturally.
The event was organised by the CEIBS Case Center, which is also home to a globally unique China-focused case library of more than 1,200 cases. For more information, please visit www.chinacases.org