The Second Batch of 2018 CEIBS Case Master Development Camp Held Successfully
Tuesday, December 4, 2018
The Second Batch of 2018 CEIBS Case Master Development Camp Held Successfully
December 12, 2018. Shanghai – The Second Batch of 2018 CEIBS Case Master Development Camp was held at CEIBS' Shanghai campus on December 3-4, with two classes running in Chinese. 142 faculty members from more than 100 schools and universities in mainland China and Taiwan participated in the event where they were completely immersed in original China-focused case teaching. They also shared experiences and methods regarding case teaching and development.
CEIBS Case Center Director Professor Chen Shimin opened the workshop with a welcome speech in which he introduced the development of the CEIBS Case Center. As Prof. Chen put it, the Center has played an active role in supporting CEIBS' case development efforts. Commissioned by the Shanghai Municipal Government and Shanghai Municipal Education Commission, the Center has collaborated with 13 business schools in Shanghai to build the Shanghai MBA Case Development and Sharing Platform and to establish and promote the Global Platform of China Cases (ChinaCases.Org). In his address, Prof. Chen highlighted the three missions of the Case Master Development Camp: 1) to provide a sharing platform for case development and teaching, and to promote communication among university faculty; 2) to enhance university faculty's interest and competence in case development and teaching, especially in developing China-focused cases; and, 3) to promote the Global Platform of China Cases (ChinaCases.Org) and the Global Contest for the Best China-Focused Cases, so as to facilitate a wider adoption of the case teaching method and continuously improve the case development quality.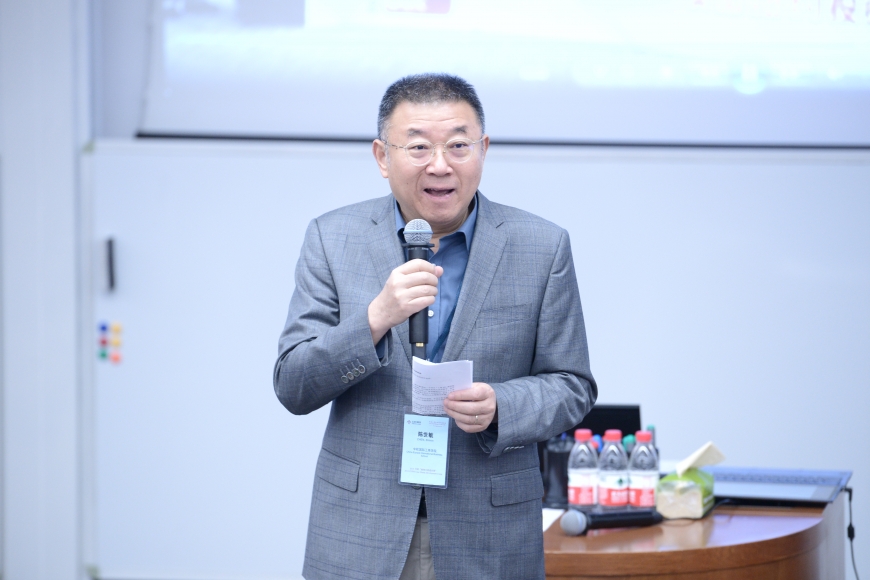 Over the course of the two-day event, CEIBS faculty members, including Professor Emeritus Liang Neng, Professor of Marketing Zhou Dongsheng, Professor of Entrepreneurial Management Practice Gong Yan, and Associate Professor of International Business and Strategy Shameen Prashantham, shared a wealth of experience about how to teach and develop cases in courses such as strategy, marketing, entrepreneurship, and management.
Using the "Robin Hood" mini-case and the Cao Jie case series, Prof. Liang demonstrated the process of business strategy formulation and implementation and different dimensions of strategic management. With a television-series-like teaching approach, Prof. Liang guided participants through well-knit case plots, reproducing real management scenarios, evoking political thinking on humanity, and vividly depicting the wisdom and resourcefulness of Cao Jie as a top executive hired directly from outside an organisation.
 
In his presentation, Prof. Zhou illustrated the pain points in the healthcare industry with a case study of Hopenoah, a cross-border medical service provider. Following a class discussion on business pricing strategy, Prof. Zhou further explained game theory in marketing. A surprise came with an on-site video call to Mr. Wang Gang, the case's "protagonist", in Japan. Mr. Wang shared the initiation and market performance of the "global budget" service solution, answered questions from participants, and helped them gain a deeper understanding of strategic decisions.
With a case entitled "An Online Fresh Food Supplier on the Lean Startup Path", Prof. Gong introduced a theoretical paradigm for businesses to develop through a process of "hypothesis to verification", and demonstrated how a business "starts from imperfection and finally gets close to perfection". The session turned out to be a perfect combination of cutting-edge theories and practices. Prof. Gong quoted numerous sources and shared his insights into lean start-up methodology with many vivid stories.
Prof. Prashantham used the case Testin to expound upon the ways start-ups can locate strategic partners. He pointed out that it was important as part of this process to build an "ecology system" to achieve a balance between business growth and profitability. He also shared his ideas on how case studies could bridge the gap between teaching and research and other roles they could play. 
Of note, Prof. Prashantham's session was supported by highly professional simultaneous interpretation and marked the first time the camp has provided Chinese participants with the opportunity to interact with a foreign professor. Moreover, with a diversified faulty team, the camp was designed to impress its participants with varied case teaching methods.
 
From left to right: Prof. Liang Neng, Prof. Zhou Dongsheng, Prof. Gong Yan, and Prof. Shameen Prashantham 
During the two-day event, CEIBS faculty's professional dedication, academic rigor in explaining complex concepts in simple words, and "student-centred" mind-set left participants with a deep impression, as evidenced by the following comments:
"CEIBS professors are great masters in both research and teaching. Their dedication and professionalism impressed me a lot."
"Everything was perfect. The workshop showcased the school's dedication to 'China Depth, Global Breadth'."
The CEIBS Case Master Development Camp is held twice a year to promote case teaching and development. The first batch of 2019 will be opened for registration soon.