Wednesday, June 03, 2020
CEIBS Webinar Series: Way Forward: Leadership Learnings from SMEs vs MNCs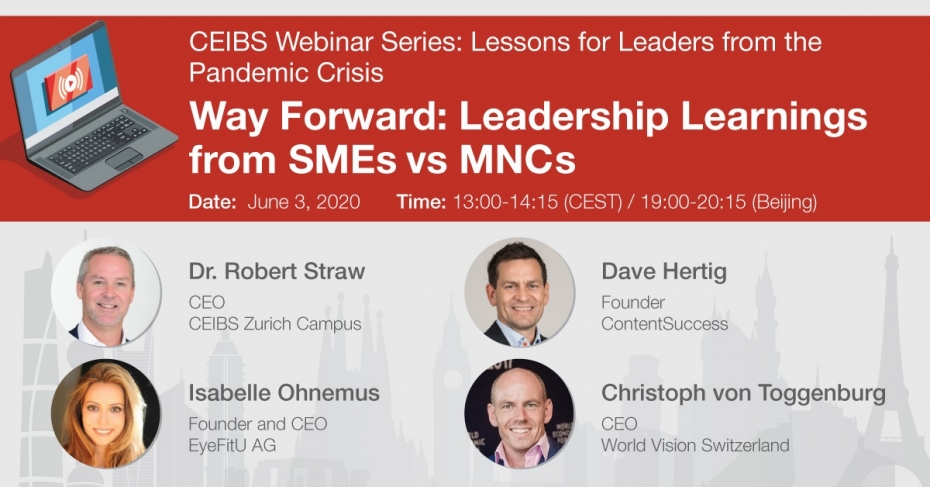 Please join us on June 3, 2020, for this special webinar on Way Forward: Leadership Learnings from SMEs vs MNCs.
About the webinar
In times of uncertainty, people look to leaders for guidance, hope and clarity. In an unprecedented crisis, how do leaders balance being a stable foundation for their employees with their own business anguish and concern? How do leadership techniques differ when managing a localised SMEs compared to global MNCs? We will reflect on these questions and more during this webinar with real life learnings from CEOs.
Our speakers
Dr. Robert Straw, CEO, CEIBS Zurich Campus
Before joining CEIBS, Robert was Head of Talent Management, Leadership and Organisational Development Europe at Oerlikon AG. Robert has also been Professor of Finance and regularly teaches on the topics of leadership and financial leadership at corporate universities and university executive programmes.
Dave Hertig, Founder, ContentSuccess
Dave finds joy in helping progressive CEOs of SMEs win great clients. During the lockdown, he interviewed 25 CEOs for his Linkedin series #WayForward. Before launching his start-up, Dave was a business writer at the two largest Swiss publishing houses (Ringier, Tamedia) and Editor-in-chief of Audi Magazine Switzerland.
Isabelle Ohnemus, Founder and CEO, EyeFitU AG
Formerly a broker in investment banking, Isabelle launched EyeFitU – a Size-as-a-Service AI software company – in 2012. Isabelle now leads an international team striving to offer consumers a better shopping experience and retailers more control and encourages a more sustainable approach to shopping. Isabelle has also served as chairwoman and VP committee member of the Swiss Red Cross.
Christoph von Toggenburg, CEO, World Vision Switzerland
Christoph is the CEO of World Vision Switzerland and a Global Leadership Fellow at the World Economic Forum. He worked for ten years in conflicts in Asia, Africa, the Middle East and South America and has received numerous awards for his humanitarian efforts. He holds three Master's degrees and speaks 5 languages.
Event details
Date: June 3, 2020
Time:  11:00am-12:15pm GMT (Accra) / 12:00-1:15pm GMT+1 (London) / 1:00-2:15pm CEST (Zurich) / 7:00-8:15pm CST (Beijing)
Venue: Online
Language: English
Contact: Please contact Hannah Saxby at h.saxby@ceibs.ch with any enquiries.