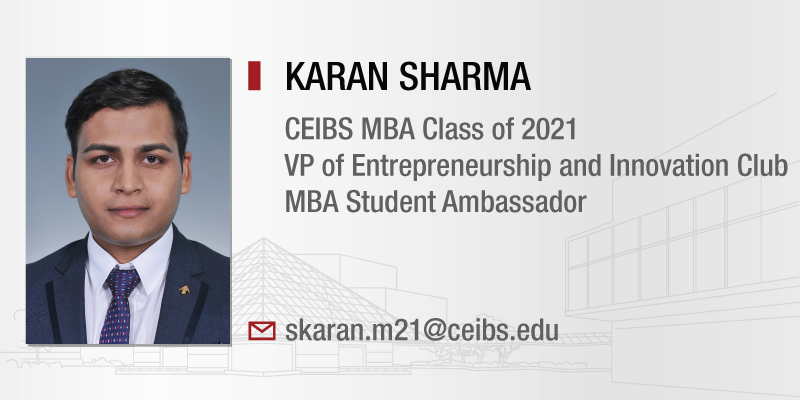 Nowadays, many of us have become drones or sleepwalkers, doing the same, monotonous things over and over again. Living a life like this, I would have ample regrets. I'm a person who lives life by design, not by default. I want to be the one arriving at my grave and saying, "Phew, that was an interesting journey''.
As Eleanor Roosevelt said, "The purpose of life is to live it, to taste experiences to the utmost, to reach out eagerly and without fear for newer and richer experiences". So, while I'm around, I have taken the opportunity to soak it all in and will continue to do so in the future.
That being said, let me introduce myself. I'm Karan Sharma, an MBA candidate at CEIBS in Shanghai.
As it started
I completed my Bachelors of Commerce (Hons) from India's premier commerce college, Shri Ram College of Commerce, Delhi University in 2013. Throughout my life, I have had the privilege of choosing my direction, which has made it possible for me to maximise my potential and, simultaneously, experience ecstasy. During my college days, apart from doing well in studies (being in the top 10 percentile in the university) I always involved myself in extracurricular activities as they provided a perfect simulated environment to reveal the unchartered you, helped develop critical life-skills and provided a lovely opportunity to soak it all in.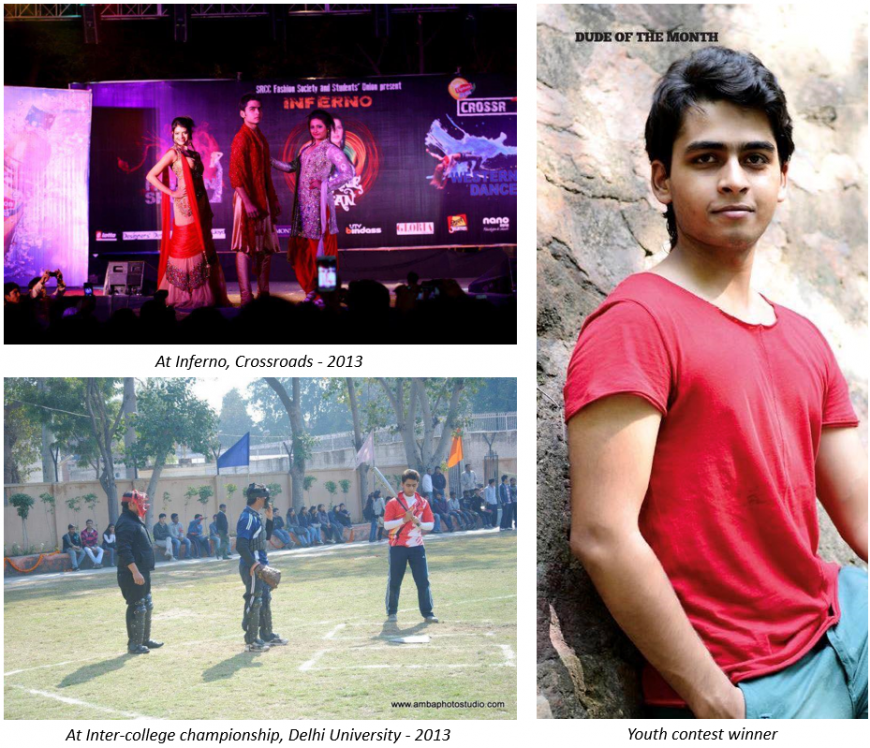 As it went by
After completing my undergrad, I got an opportunity to work at one of the 'Big Four' accounting firms – namely PricewaterhouseCoopers – and quickly realised that in the consulting environment, change is the only constant. In my role there, I worked with clients to fix their value chains through several process reviews and also contributed to business development initiatives.
Due to my growing interest in the EdTech sector and the need to be adept at successfully managing interpersonal relationships and team dynamics, as well as motivating and guiding people towards strategizing and executing agreed upon plans, I transitioned to a Strategic Business Development Manager role at an early stage start-up. The start-up served as a unique knowledge network committed to improving learning outcomes across the globe through an exciting model of academia-industry interaction researched at Judge Business School, University of Cambridge. There, I headed global institutional partnerships and industry expert on-boardings and also formulated business strategies related to marketing, expert supply, product enhancement and improvement. Subsequently, I switched to another EdTech venture where I managed expert on-boardings, handled client relationships and worked on the launch of a new product. My entire professional journey till now has been a phenomenal training ground for me. The experiences I went through, the learnings I accumulated, the mentors I came across, the memories and friendships I forged will be close to my heart forever and all have been soaked in entirely.

With India's famous Angel Investor, Mr. Hetal Sonpal - 2019
Decision to go for an MBA
After working for five years, I decided to go for an MBA to gain an in-depth understanding of various business concepts and scenarios which could help me propel my professional career. After many extended sessions with my mentor, I made up my mind to do it in Shanghai – a decision which, I believe, was my first bold step towards a truly global career.
Shanghai appealed to me for a number of reasons. First, over the last two decades, Shanghai has seen double-digit growth nearly every year, making it one of the world's most dynamic metropolises and home to many of the world's biggest corporations. Lately, the Chinese government has focused on transitioning the economy from labour-intensive manufacturing to an innovation-driven paradigm and is pumping funds into education and research projects. It is aggressively pushing for reforms in education by revamping the gaokao (university entrance exam) system and stressing focus on STEM content and Massive Open Online Courses (MOOCs). In light of these initiatives and with a heavy cultural emphasis on continuous learning coupled with a consumer base of more than 1.4 billion people, the education industry in China is set for an explosion that has made both venture capitalists and tech entrepreneurs sit up and take notice. With this in mind, I looked forward to attending the numerous local events focused on entrepreneurship such as the Start-up Leadership Programme and Start-up Grind, and getting in touch with renowned entrepreneurs such as Arnold Fu, Founder & CEO of Hujiang, to get the desired exposure and enrich myself with the perspectives of leaders in my field. Also, Shanghai would put me at the epi-centre of Asian business and was only 2.5 hours away from the world's top start-up hub in Beijing.
Why CEIBS
After talking to a few alumni and reading online about CEIBS, I realised that the CEIBS MBA programme perfectly fitted my aspirations. Its unique pedagogy emphasising the Real Situation Learning MethodTM and innovative curriculum focusing on areas such as entrepreneurship and digital business would be invaluable for my career. The opportunity to learn about the nuances of entrepreneurship from business education stalwarts such as Professor Shameen Prashantham would help me overcome gaps in my business repertoire. Innovation-focused initiatives such as the CEIBS eLab and the Entrepreneurship and Innovation Club have helped many CEIBS graduates start disruptive ventures in the past, such as CureApp and Falafel Games. I felt certain that my stint at CEIBS would help me conceptualise a venture that would be a perfect fit for the market's needs. In whole, it would bring me up to speed with ideas and provide me with a radical framework of outlook and perspective in line with my endeavour.
In addition, CEIBS's strategic location in Shanghai would provide me with an ideal launching pad into China, put me in close proximity with the evolving EdTech landscape and help me absorb the cultural nuances, local idiosyncrasies, develop in-depth understanding of Chinese and Asian business in a truly global context.

From CEIBS Coffee Chat, Bengaluru - 2019
Life at CEIBS
'Complementary' is the quality that best describes my MBA classmates. Coming from diverse cultural and educational backgrounds, everyone brings their own uniqueness and dynamic to the cohort. Whether it is any group assignment, class discussion, festive celebration, city exploration or party, together we make a perfect right-angled group where each individual completes, embraces and enhances the others.

From CEIBS overseas module, Tokyo - 2019
Demystifying tomorrow
My career until now has helped me enhance my functional, management, teamwork and leadership skills, but before I start work on my own venture, I need to develop an in-depth understanding of the global education ecosystem and be hands-on with skills related to strategic planning, operations, finance, and marketing. Moreover, as modern technology is evolving at a breath-taking pace and ruling almost every aspect of our lives and education sector is no exception to this, I need to keep abreast with the trends in the sector.
Therefore, as I mentioned earlier, I look forward to making the most of my MBA at CEIBS and, riding high on my passion for this sector and with the help my professors, batch mates and alumni, materialise my goals.
In the end I would just say one thing: YOLO – You Only Live Once. So chase your dreams and in the process soak it all in as it comes. Life is a journey which deserves to be cherished. Cheers!