My name is Nat Sorada Kengrungruengchai. I am from Thailand. This is the story of my life at CEIBS as the only Thai student in the MBA Class of 2020.
Life before CEIBS
I was born and raised in Bangkok, the capital of Thailand. I am third-generation overseas Chinese and I have studied in Thailand for most of my life. After working as a consultant in real estate for a year, I decided to go back to my family's business. I worked there for almost three years and then realised that I needed a change. I decided to do an MBA and started researching schools and rankings. I looked at the Financial Times rankings and was amazed by CEIBS because it was the top-ranked business school in Asia. After that, I was determined to come to China to pursue my MBA, believing that living in Shanghai would be challenging and would change my entire perception of China.
Representing my family business in Vietnam.
Arriving in Shanghai
I still remember arriving in Shanghai on July 5, 2018 with zero knowledge of Chinese language. The Chinese pre-course class started a week after I arrived. I was the first girl to check in to the dorm, but a couple of days later my German neighbour also arrived. The pre-course classes were amazing as we all had a lot of fun and gradually improved our Chinese. We not only learned the language, but also about Chinese culture. It was great being able to meet our classmates before the first term started, before all the schoolwork hit us, and hit us hard.
MBA classes started in August. We were separated into three sections for the first two terms where we took core courses and worked on projects in assigned groups of 5 people. It was tough but fun as we had to work with strangers with broad backgrounds from different countries. Our hands were full with assignments in terms 1 and term 2, but it got better in term 3 when I got to choose the electives I was passionate about pursuing.
I must say that my favourite classes were related to organisational behaviour and human resources management. Having a background in family business, these classes were most valuable to develop my soft skills and improve my understanding of how to manage an organisation as a whole. I learned a lot from all the case studies and real-life experience that our classmates shared throughout the course. So far, the essential lesson for me is that I learn and grow the most whenever I keep my mind open and step out of my comfort zone.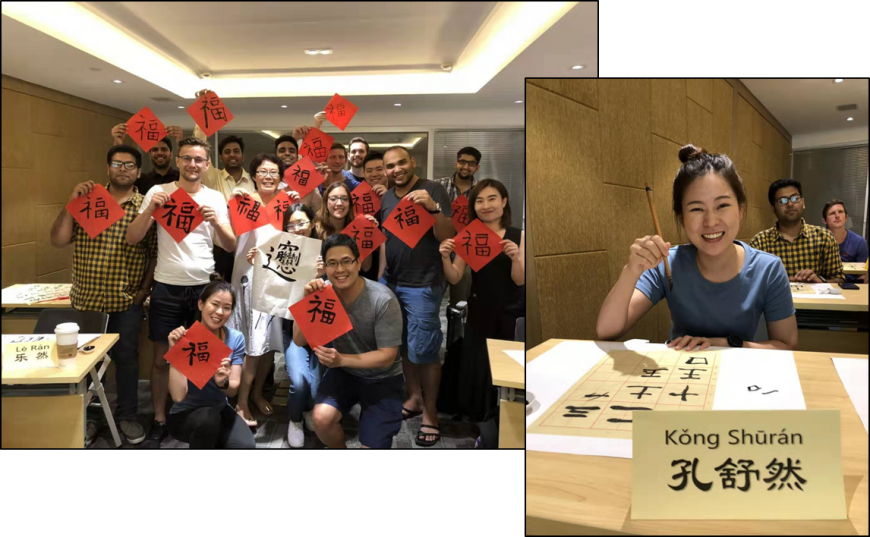 Together with new friends at the Chinese Pre-Course.
Joining international activities, travelling, and embracing Shanghai
Several activities were held by the school or the students during the year. For example, I still remember the surprise birthday party that my friends threw for me in the eLab; Shanghai Night, hosted by the Student Committee where we got to dress up in traditional Chinese qipao; Halloween Night, held by the International Club; the Chinese New Year party; and the Japanese Night, held by our Japanese batch mates. I am still looking forward to the upcoming Korean Night, Indian Night, and Taiwanese Night. Moreover, my friends and I also attended numerous international activities in Shanghai such as Oktoberfest and the German Carnival.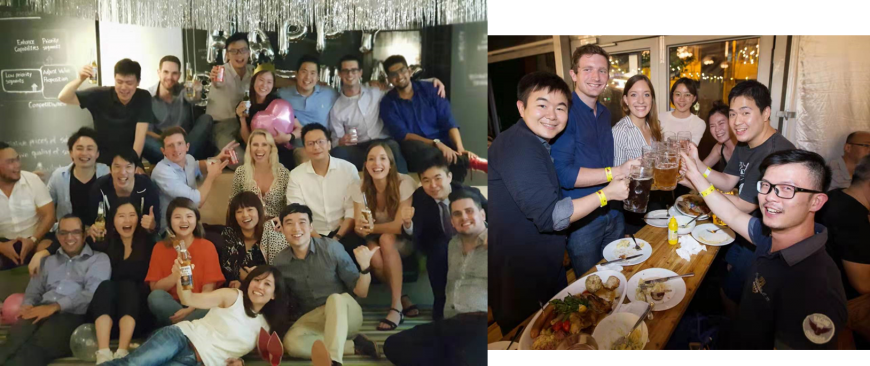 My surprise birthday party and celebrating my first Oktoberfest.
However, for me, the activities do not end only in Shanghai, as my friends and I have travelled to several countries together. I hosted some of my classmates in Thailand in October 2018. We enjoyed our time in Bangkok and went all the way to the Full Moon Party at Ko Pha-ngan. During the Chinese New Year holiday, my friends and I also went to Cambodia to explore the country together. Some of us also spent one of our weekends travelling to Harbin to see the Ice Festival in February.
Extreme temperatures – Ko Pha-ngan to Harbin.  
Managing the student lounge
One of my favourite places on campus is the student lounge, a place where CEIBS students can hang out 24/7 and enjoy beers and snacks. The student lounge team consists of four members: Jaqueline Hanrath, the CFO; Tonia Jin and Ken Yong, the COOs; and I, the CEO. We are a self-managed team responsible for organising food & beverages, purchasing games or board games, hosting parties, and arranging activities. The lounge offers several games such as billiards, a PS4 and an Xbox, and board games. What astonished me the most is how the people in school love playing poker so much.
The Student Lounge Team: Tonia Jin, Ken Yong, Me and Jaqueline Hanrath
I believe that aside from studying, there are plenty of activities that could widen my view about China and life. My goal here is not only to get an MBA degree from CEIBS, but also to learn and embrace the culture. I ended up learning more about other cultures aside from Chinese and most importantly I got to learn more about myself. Lastly, I would say that the best thing that has happened to me so far in my MBA life is that I have met many good friends that I never thought I would find in China.