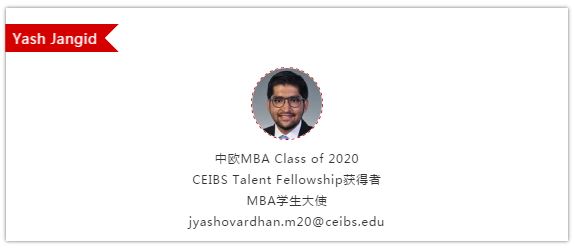 Ni Hao! 你好!
My name is Yash, a proud Indian born in Mumbai. Now doing my MBA at CEIBS, I'd like to share my story. Growing up, my family travelled a lot. Living and going to school in places such as Oman and Kenya instilled in me the qualities of a citizen of the world and leading diverse groups is something that probably started back then. Over time, I have developed a mind-set to appreciate, show empathy towards, and bring to the fore friends from different races, cultures, and sexes – something I believe is paramount to making an impact that will transcend generations.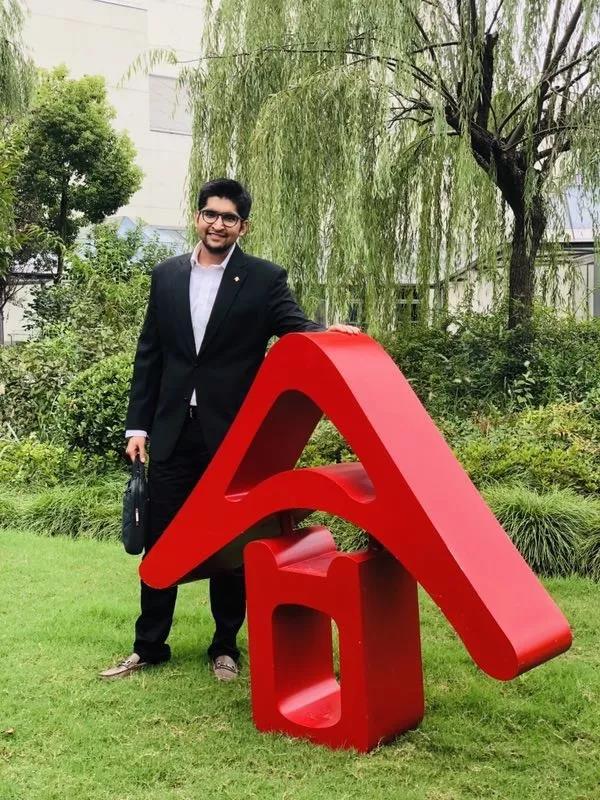 From working in a corporate environment to pitching at the New York Stock Exchange 
I'm an entrepreneur at heart who aspires to make a social impact. My entrepreneurship journey started in college, where I founded two companies – or two successful failures, as I call them – one of which I represented at the Kairos Global Summit held at the New York Stock Exchange. Between this and my current venture I worked with Bharti Airtel, the 3rd largest telecom operator in the world, for 2 years to gain relevant knowledge and the skill-set required to run a business. Exploring a tourist destination one summer triggered in me the urge to solve the many perennial problems tourists face around the globe. Irritants like cost, language, and confusing transportation systems make travel experiences unpleasant, and I became determined to change this.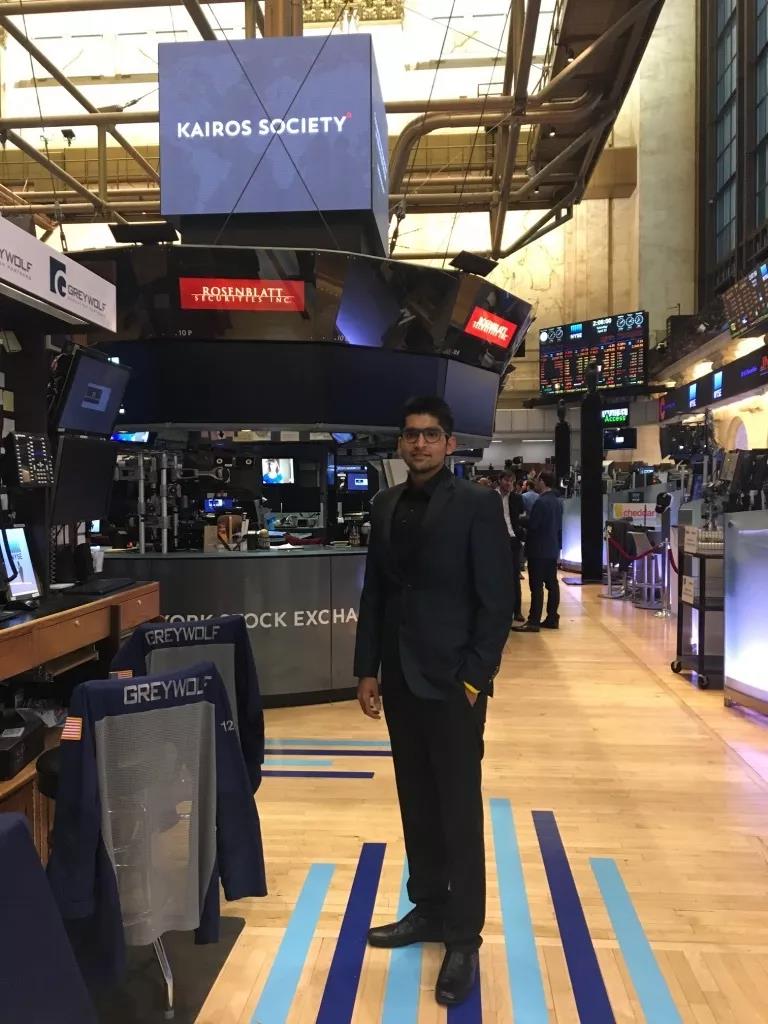 With this vision, I helped co-found a new company and four years later I was back at the Kairos Global Summit in New York again, this time with pre-seed funding of $100,000 (USD) and a goal of covering 300+ tourist sites across 30+ countries over the following five years.
Q: Why CEIBS? A: China Depth and Global Breadth
To say why I chose CEIBS is quite simple. I chose CEIBS because of the 'C' in CEIBS. China is the world's largest spender on international tourism, ranks second in the world for travel and tourism's contribution to GDP, and first in the world for travel and tourism's contribution to employment. According to the UN World Tourism Organization, 100 million Chinese will pack their bags to travel abroad in the next few years. There's no other country with such a high market share in the world, and the best way to understand your potential customers is by experiencing their life-cycle first hand. This fits into the long term objective and makes China our next go-to destination. According to CNN, China tourism could be the biggest phenomenon to hit the global travel industry since the invention of the commercial flight, and the thought of realising my vision right here, after obtaining formal training in business management from one of the best business schools in the world gives me the opportunity of a lifetime.
To realise this long term vision, it is extremely important for me to get an inside perspective of Chinese culture, the economy, and way of life. Working in a structured organisation in this geographical area will further strengthen my understanding. CEIBS' vision to become the best b-school linking Eastern and Western principles in teaching, research, and business practice provides me with a gateway to all of that.
The diversity of an MBA class comprising of multiple nationalities, with a combined work experience of a 100 decades across various industries, enables us to learn from, as well as give back to our peers.
How is the CEIBS community different?
A great example of how CEIBS enables you to grow would be when the school's Assistant Director of Marketing Mrs. Nanyin Fay and I had a discussion about my recent trip to Huzhou. The school sent me and three other MBA student ambassadors on a sponsored trip to Huzhou. There, the Municipal People's Government and Department of Foreign Affairs of Zhejiang hosted us together with diplomats from all over the world. It was a once in a lifetime experience. We also had the honour to have dinner with Mr. Zhang Haiming, Secretary General Huzhou, the China Chamber of International Commerce, and the Huzhou Chamber of Commerce. This is the power of being a part of the CEIBS community. We were welcomed with open arms and shown around the city. This opens up tremendous opportunities to invest or do business in Huzhou. Mrs. Fay's hometown is Huzhou, and given that I have a start-up in the tourism space, the school has already opened the door for me to consider Huzhou as one of the potential markets.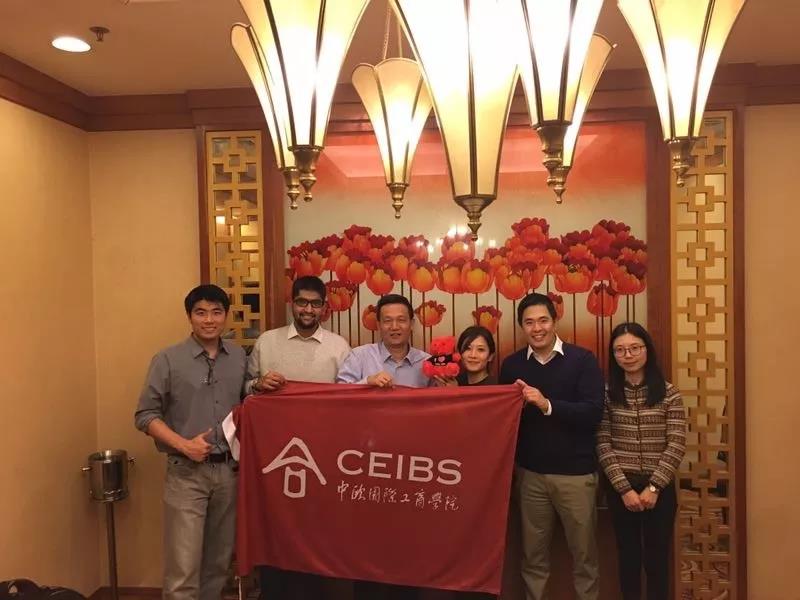 There is more
The CEIBS International Alumni Chapter (CAIC) and the CEIBS Alumni office also gave a few of us the opportunity to attend the first China International Import Expo (CIIE) – the largest import expo in the world. Members of CEIBS' leadership team and faculty were among the thought leaders from the global economy who gathered in Shanghai during the inaugural CIIE to discuss China's role and influence in rebalancing the world economy.
Giving Back to the Society
I have also started a non-profit publishing enterprise with the mission to promote multilingual education in tribal communities. Imagine the reaction of a five-year-old native Marathi speaker if he/she were suddenly enrolled in a school with Bengali as the medium of instruction? How would he/she fare with textbooks that are designed for Bengali speakers who already know over 100 words at that stage?
This problem is acute in tribal areas where students are forced to learn in the primary language of the state, thus disadvantaging them at the first step they take towards getting a formal education. Education for children from these communities is almost foreign as it lacks the cultural context and language which they use in their daily lives.
We seek to improve the quality of education imparted to children from these communities by providing them with books that are written in their language and that simultaneously capture the cultural context in which they have grown.
In this way, we aspire to do our bit to support education, enabling communities to ground their studies within their own cultures.
Playing Hard
With some time on the side, I enjoy a lot of extracurricular activities. I'm a certified piano player from the Royal Schools of Music, London. Over the years I have lost some of my touch and I look forward to pursuing it again. I also enjoy horse riding and often go riding in Shanghai.
I enjoy hiking too, and got a chance to hike with our classmates in Hangzhou. I'm also a certified ice-skater. The irony is that I learned how to ice-skate in the desert in Muscat, Oman.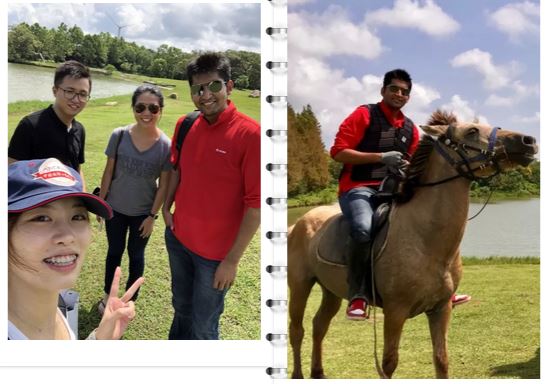 Looking forward
I look forward to my journey ahead. In a short span of two terms, my friends and classmates already feel like family, and as I write this article during a vacation in New Delhi, I can't wait to get back and enjoy the rest of my MBA journey with the best cohort one could possibly ask for.
Namaste and Wish You Good Luck!