Faculty & Research
---
Knowledge creation on China, from proven China experts.

Faculty & Research
---
Knowledge creation on China, from proven China experts.

Faculty & Research
---
Knowledge creation on China, from proven China experts.
Monday, October 20, 2014
The Genetics of Investment Biases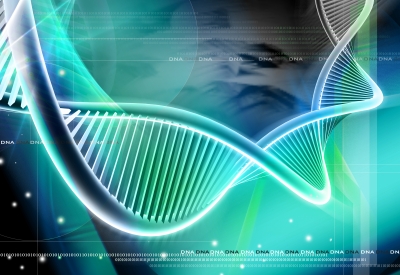 Why do some investors have a well-diversified portfolio while others invest solely in company stocks from their home country? Are investment biases primarily learned from others or are they genetic? Does having work experience in finance have any affect?
In an effort to better understand why investors exhibit investment biases, and the degree to which they are genetic or can be influenced by external factors such as education and upbringing, CEIBS Zhongkun Group Chair Professor of Finance Henrik Cronqvist and Associate Professor Stephan Siegel of the Michael G. Foster School of Business at the University of Washington have conducted a research study. Using data from the world's largest twin registry, the Swedish Twin Registry, matched with detailed data on the twins' investment behaviours they looked at the following investment biases: Diversification, Turnover, Performance Chasing, Home Bias (favoring home-country stocks), Skewness Preference (preferring 'lottery' or more volatile stocks), and Disposition Effect (reluctance to sell 'losers'). The chart below illustrates one of the key findings of the study and shows that twins in an identical pair display much more similar investment biases compared to twins in a fraternal pair. This finding suggests that investment biases are partly genetic.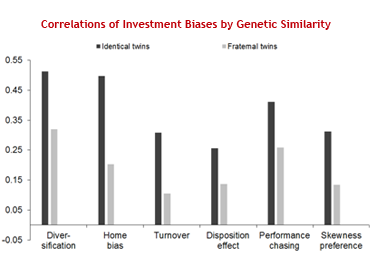 Among the other findings:
- Some individuals have genes related to familiarity, overconfidence or sensation-seeking and these genes may manifest themselves in the investment behaviour of these individuals;
- Genetic factors seem to be particularly influential in determining diversification and home bias, and account for around 45% of unexplained variation in these investment behaviours;
- About 55% of the unexplained variation is due to environmental factors;
- Work experience in the area of finance reduces the impact of genetic predispositions towards investment biases;
- Gender affects investment biases.
The results of the study appear in the paper "The Genetics of Investment Biases" which was recently published in the Journal of Financial Economics.
Colour image courtesy of dream design at FreeDigitalPhotos.net