A Letter to CEIBS Global EMBA Alumni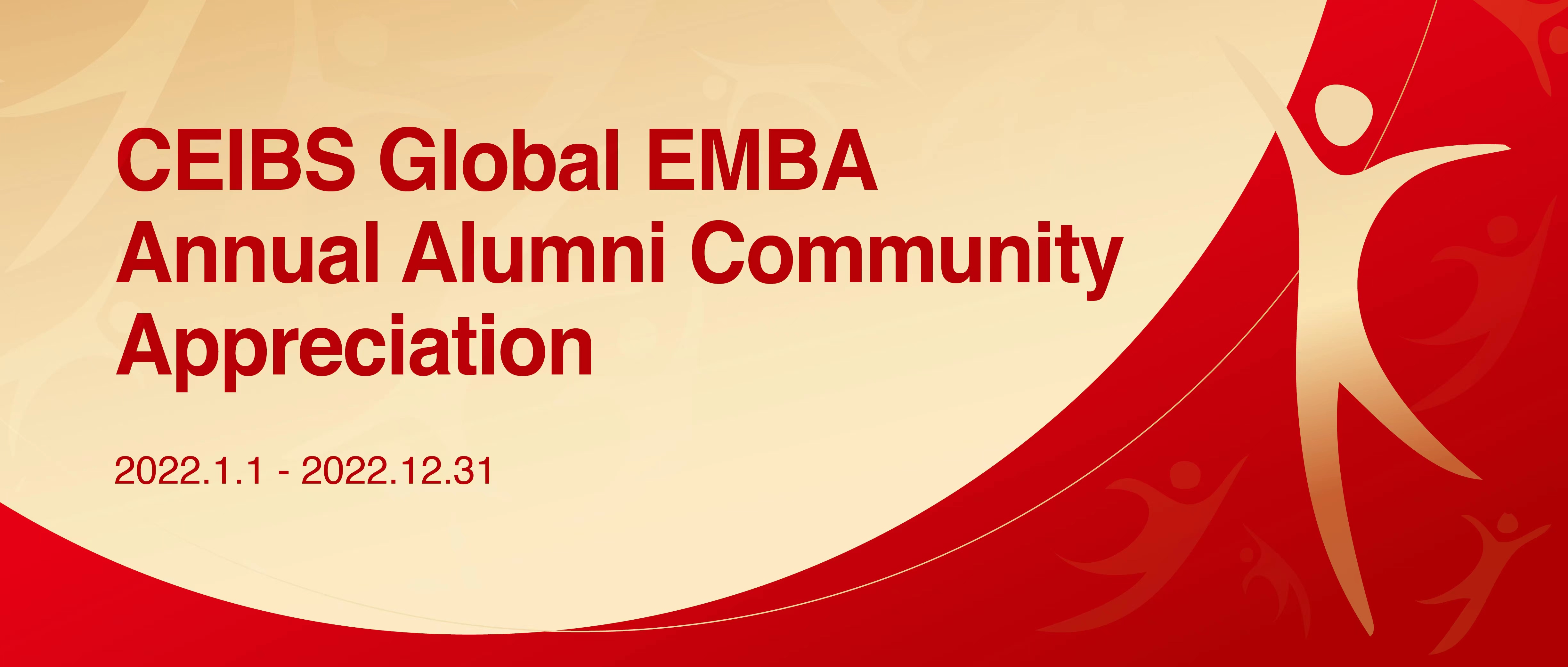 Dear Global EMBA alumni,
Happy Year of the Rabbit!
A new year is always the perfect time for reflection of the year just past, along with plenty of excitement and anticipation for the year to come. It's a special time at CEIBS, as the fresh start to the year brings a certain clarity of mindset – students, staff and alumni can plan ahead, determine their personal, professional and learning goals, and commit themselves to a new phase in their lives.
Before the next step in the journey can be taken, we would like to take a moment to acknowledge the outstanding accomplishments made, and support given, by the GEMBA alumni community during the past year.
2022 was yet another challenging year for everyone across the CEIBS family. COVID-19 still loomed large, presenting a constant threat of disruption to practically every aspect of our shared learning journey. Fortunately, recent changes in regulations and circumstances mean that we can look forward to a much more settled and straightforward 2023!
Despite the difficulties of last year, we still managed to retain the #2 spot in the Financial Times' Global EMBA ranking list for a third consecutive year. This should be viewed as a source of intense pride for everyone involved in across GEMBA. It is a globally recognised endorsement of the excellence of this programme, and, more particularly, the students and alumni who employ its teachings to the best possible effect. No less significantly, we also welcomed another intake of exceptional Global EMBA students, despite the uncertainty and difficulty involved in committing to such an internationally focused EMBA programme. The GEMBA 2022 class has the highest seniority to date, collectively offering the highest yearly averages of professional and managerial experience in the programme's history. We're excited to see what they can do.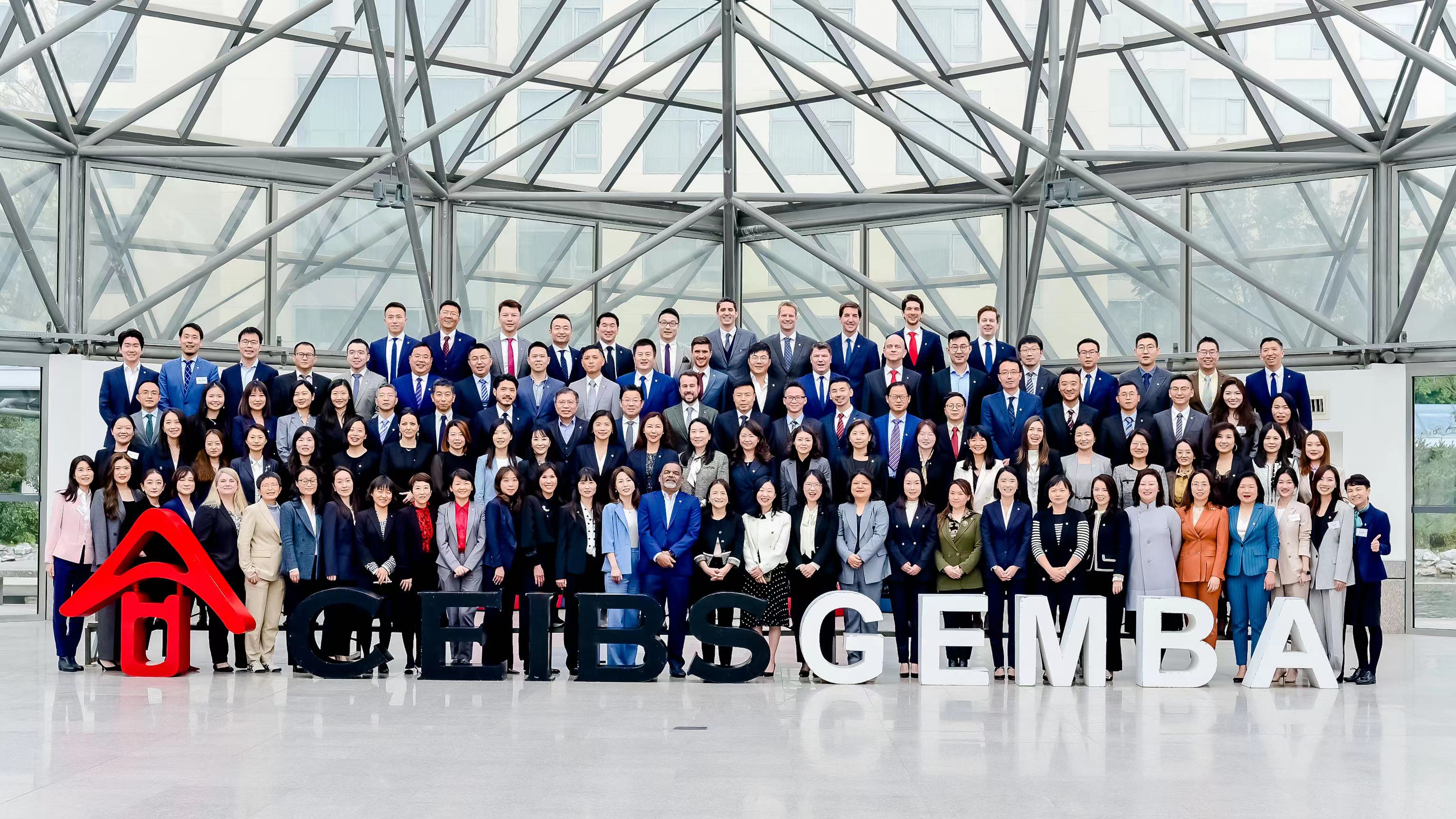 As always, our achievements and milestones are only made possible by your unfailing commitment and support. As alumni, you are essential in shaping and guaranteeing the quality of future GEMBA classes. You are invaluable ambassadors, recommenders, points of reference and general guides to all things GEMBA. You give prospective applicants a fuller picture of what life at CEIBS is really like, inspiring those who are best suited to join it.
Similarly, you are invaluable supporters of our latest innovations and new learning opportunities. 2022 saw the GEMBA Plus initial modules, and the latest China Deep Dive courses, met with great enthusiasm and approval from the alumni community. You instantly recognised the value of what we are trying to do in terms of offering exceptional post-graduate learning opportunities and events. It's this kind of response that helps turn good ideas into lasting, workable innovations.
Once again, as alumni you have collectively been a pillar of support for the GEMBA programme in a testing, turbulent time. We could not do this without you, and we wouldn't want to. Thank you so much for everything that you do.
CEIBS Global EMBA Programme
February 14th, 2023
Roll OF HONOR
The Global EMBA  "Ambassador Excellence Award" is given each year to an alumnus/alumna who goes above and beyond the call of duty while representing CEIBS and the GEMBA programme. Recipients of this award show tireless efforts in liaising with prospective GEMBA candidates and familiarising them with everything the programme has to offer. They also recommend students of the current GEMBA 2022 class and represent the GEMBA programme in numerous other capacities.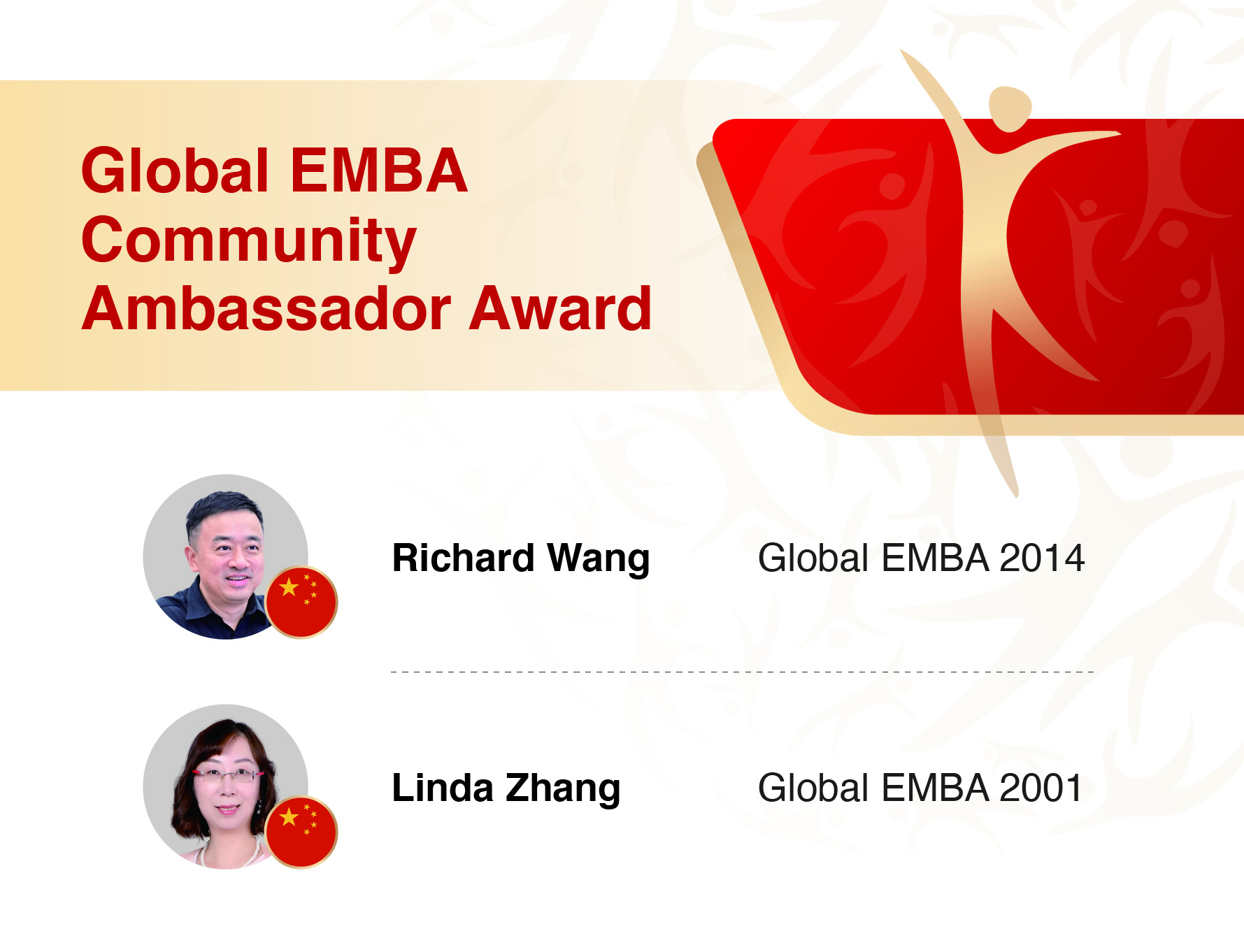 The ongoing success of the GEMBA programme is driven in large part by the depth of its community spirit. Accordingly, the Global EMBA "Community Ambassador Award" (new for 2023) recognises alumni who go above and beyond to support their fellow alums, current students and the wider GEMBA community. Winners of this award are those who selflessly provide their time, resources and expertise to improve everything from GEMBA events to Capstone Oral Defence panels and student recruitment/recommendation efforts.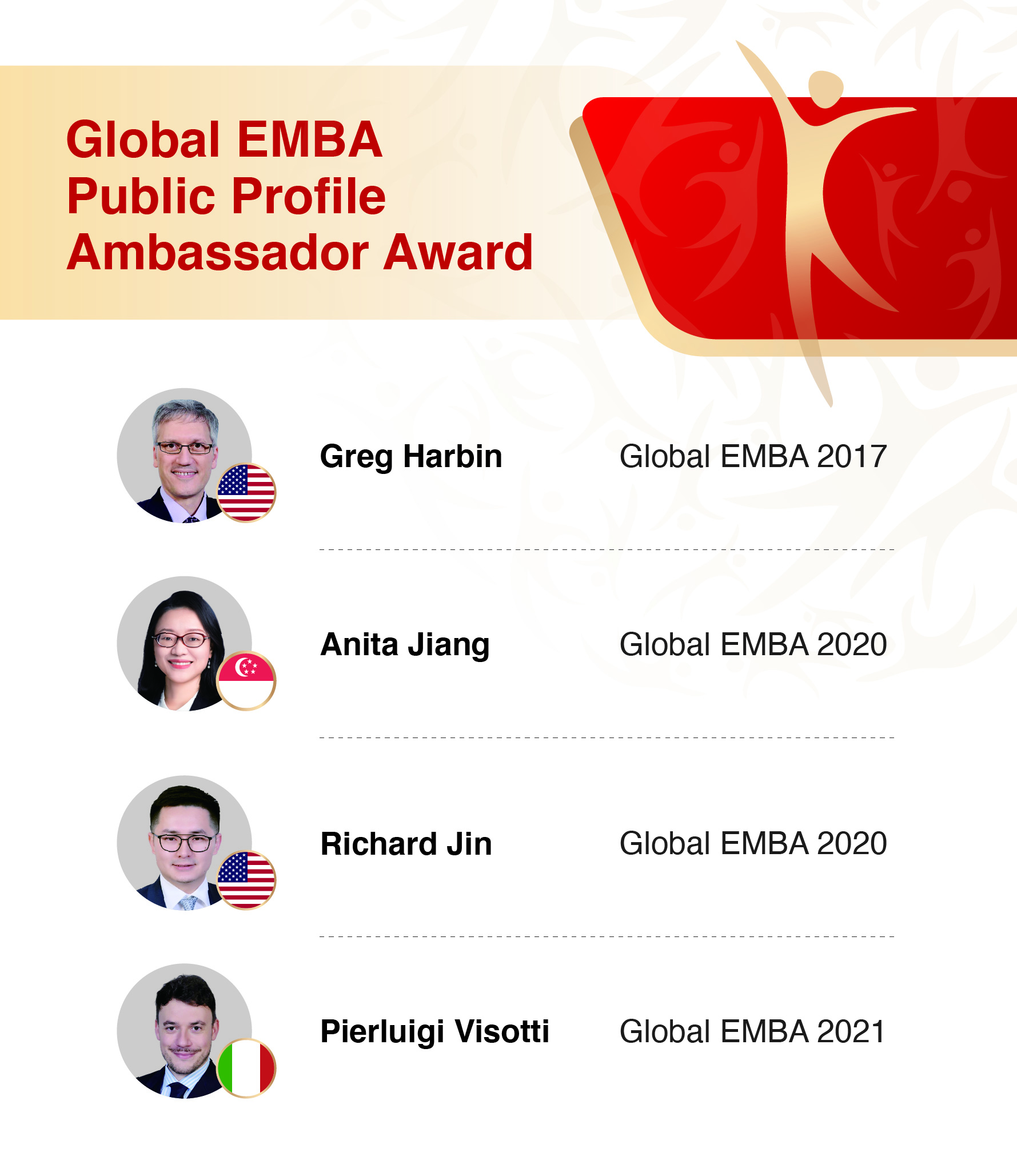 The Global EMBA "Public Profile Ambassador Award" is dedicated to recognising alumni who strengthen the clarity and appeal of the programme's public-facing communications, and the wider brand of GEMBA itself. Given the rapidly evolving business environment in which all CEIBS students and alumni operate, this is essential for keeping the GEMBA offering as relevant and impactive as possible. Winners of this award are recognised for their tireless efforts on various Class Committee Teams, featuring in published CEIBS articles and featurettes, liaising with business organisations for company visits, and providing additional resources for boosting wider awareness of the programme.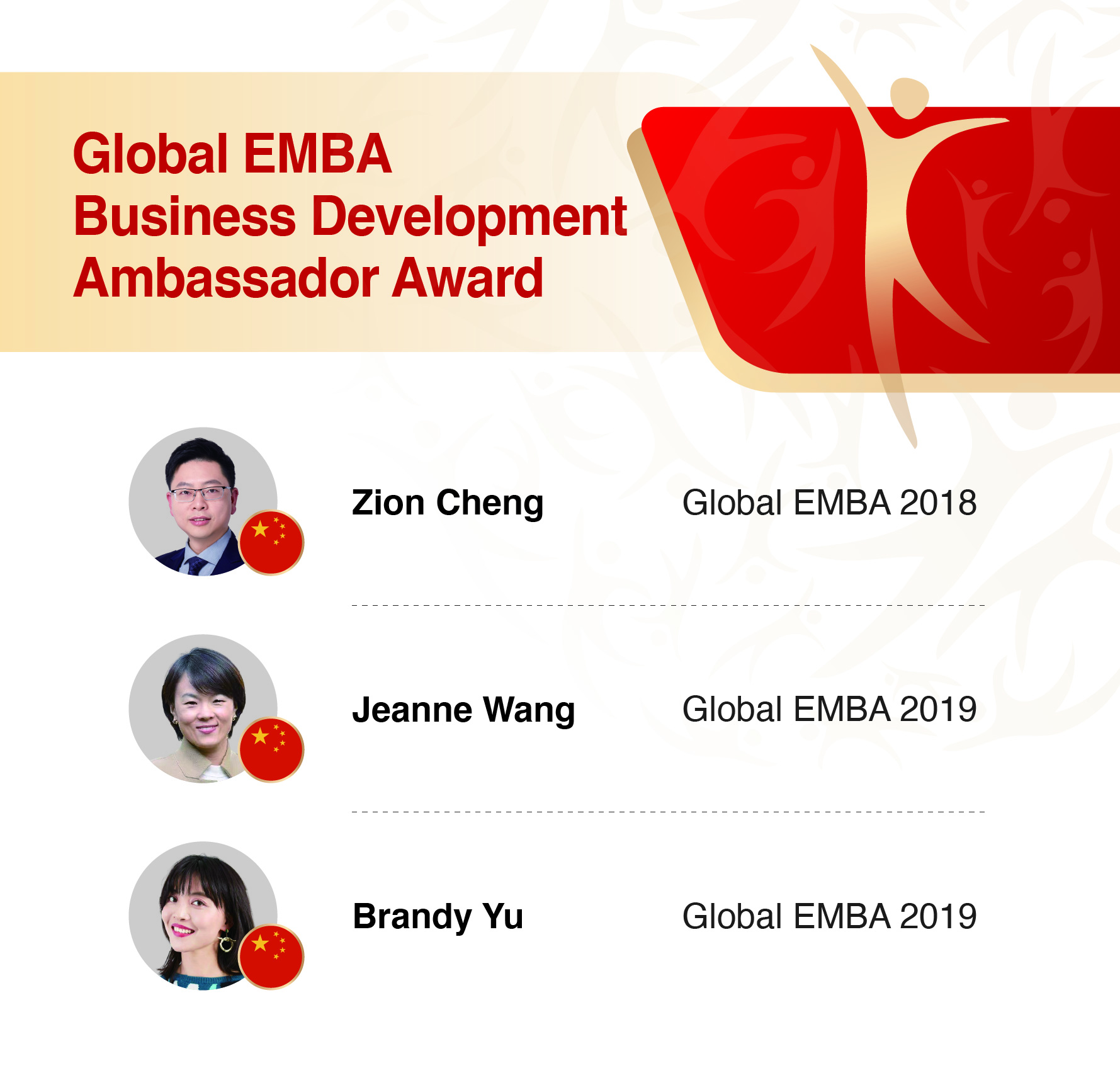 The Global EMBA "Business Development Ambassador Award" is given in recognition of alumni who help shape the future of the programme's interactions with real-world business organisations, keeping it as relevant and true to real-life business conditions as possible. Winners of this award stand out due to their active engagement of students and fellow alumni in unlocking the value of company visits, open days and direct connections to all manner of companies and business-related organisations.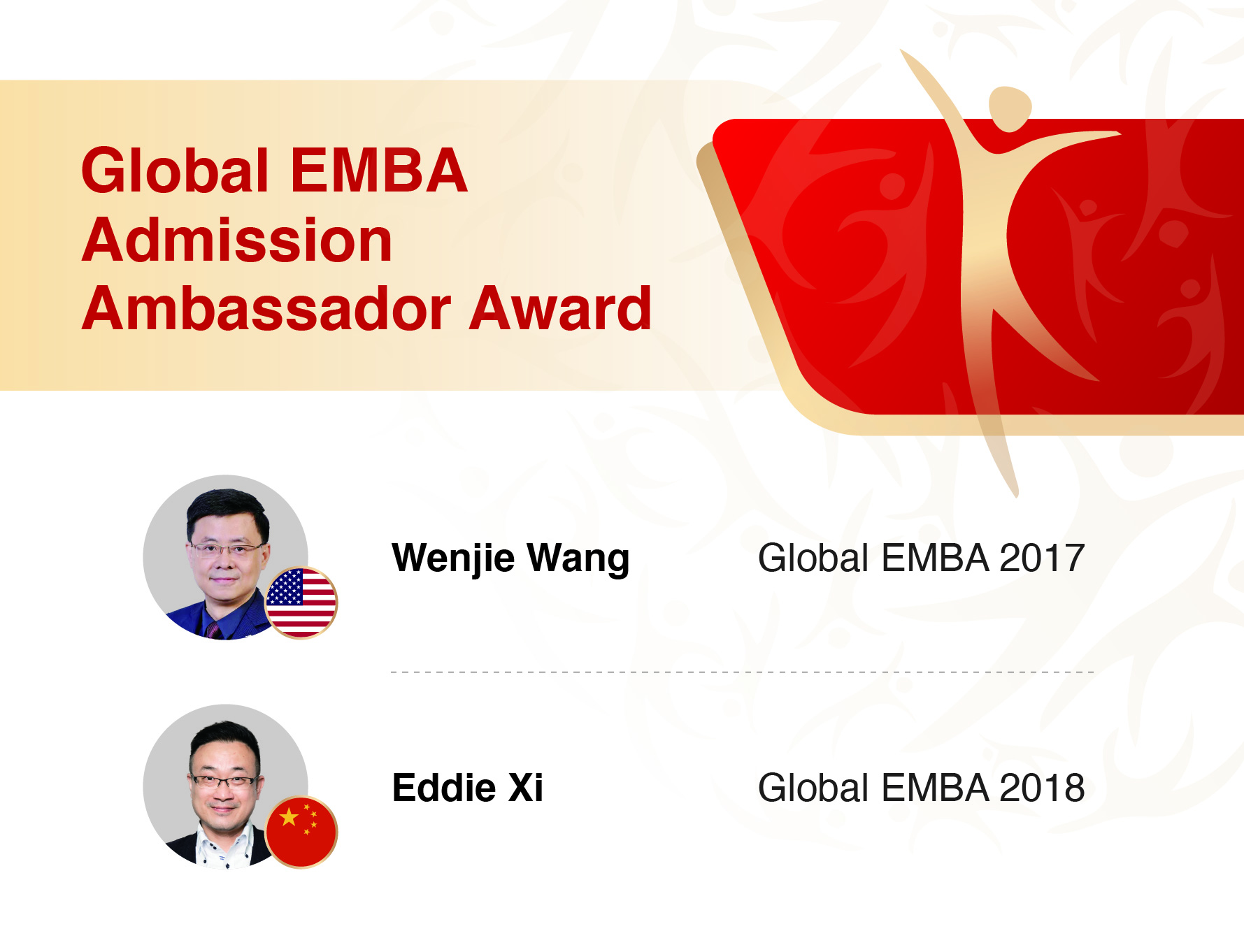 The Global EMBA "Admission Ambassador Award" is designed to recognise the invaluable efforts of alumni who contribute their time and expertise to support the GEMBA admissions process. This is a crucial function of the programme, as it ensures the calibre of admitted students remains competitively high. Winners of this award diligently support our admissions efforts by routinely recommending candidates, assisting with candidate interviews, and joining campus visit days to share their insights and experiences with potential applicants.
The idea of "One-Hour Volunteer Service", proposed by CEIBS Global EMBA 2021 cohort, has gained a lot of traction among students. Given the challenging job market for graduates, the 2021 cohort partnered with Yiyou Youth Center and Junior Achievement (JA) respectively to implement three projects, namely the one-on-one online career counseling, the recording of 15 industry museum videos, and the launch of a 7-day vocational training camp for 100 youths. These projects are designed to provide graduates with industry insights and career advice. Through the combined efforts of the team members, graduates have gone through a cumulative total of more than 120 hours of career coaching, with a clear vision of their career path, and the recorded industry videos have been made available to institutions of higher learning across China, including Shanghai Normal University's School of Finance and Business at the undergraduate level, Zhejiang University's Learning Platform, Qingdao City University, South China Agricultural University, Southwestern University of Finance and Economics, and Sichuan Agricultural University, to support their vocational education.

Besides the award winners above, we would also like to extend our appreciation to the following alumni for their contributions to the Global EMBA community during the year of 2022. (in alphabetical order) 

* Please note that any alum who wins any of the listed GEMBA Alumni Recognition Awards is not eligible to win another award (from any category) for another three years. Hence, any winners from the past three academic years were not eligible to win an award this year.