Click Here to Read More Alumni Stories
Every decade in life is valuable. Looking back at the past decade, some have gained knowledge and wisdom, some have gained friends and partners, some have started a new career, and some have found more fun in life. Every step of change is filled with effort, tears, and joy. Looking back at those, you have discovered a new meaning of life — transformation and enhancement.


10-year reunion at CEIBS Shanghai Campus
In the first weekend of August, CEIBS Shanghai campus welcomed back Global EMBA Class of 2008 for its 10-year reunion. In 2008, the darkest moment of the global financial crisis, 60 top managers in different fields chose to come to CEIBS for further study. They wished to equip themselves with a positive mind to overcome uncertainty in the future.

Group study during the Opening Module in 2008
After graduation, a lot of alumni left Shanghai and went back to their countries and cities, to continue their different careers. But they kept close contact with each other. This time, many alumni came from afar to join the reunion event. Some of them flew in from US, Italy, and Singapore. They came back to the familiar mother school, met with friends and professors, and picked up the good memories from CEIBS. Over the weekend, they enjoyed American football, parties, and shared among the classmates their life and work. The engaging activities and experience will certainly carry them forward to future endeavors.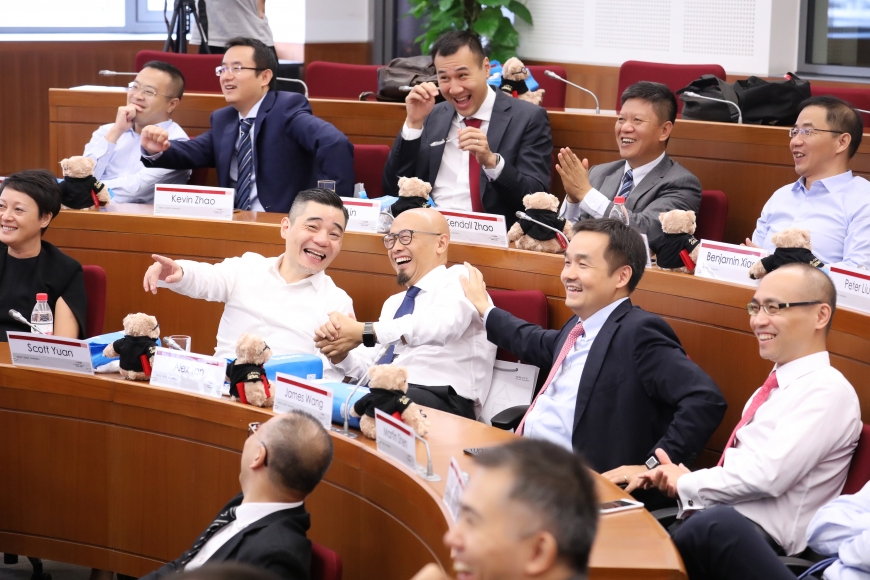 We are honored to have six 2008 Global EMBA alumni representatives share with us their life and career from the last decade.
Upgraded Thinking:From Business-oriented to People-oriented
Scott Yuan
Brand General Manager, Estee Lauder (Shanghai) Commercial Co., Ltd
"Studying at CEIBS is quite a correct decision for me. It is a worthy investment regardless of recognition and future career."
Scott Yuan has a clear and determined career plan which aims at achieving the position of general manager. However, Scott unavoidably became confused about his future half way through his career. Meanwhile, he started to realize the gap between the knowledge he's gained and his final goal. That's why Scott decided to come back to school for further study. He expected to gain more knowledge about business management during his study journey at CEIBS.
The in-depth two-year programme greatly lived up to Scott's expectation. Apart from learning about business administration systematically, what Scott has gained the most was his broadened horizon. Upon completion of the program, he was able to oversee the whole picture of enterprise management. "Before studying at CEIBS, I was focusing on business with an extremely result-oriented mind. Now, I put more attention to the whole organization and individuals within. I think CEIBS's HR and leadership courses helped me a lot on this." 
Today, Scott has realized his career goal. Looking back at the choice of studying at CEIBS, he said this is a correct decision in his life.
Enjoy Changes, Embrace Life in Uncertainty

Sharon Liu
Senior Partner, Casteks Metal Science (Jiangsu) Co., Ltd.
"If I really need to say something to myself ten years ago, I want to say, 'Don't be afraid, just go ahead.' That's also what myself in the future would like to tell myself today."
"In the past ten years, my career and life has faced series of changes and challenges. One year after I was admitted to CEIBS, I left the company which I had served for ten years. Four years after graduation, I gave up my professional career and joined a startup. And then one year later, I became a freelancer, and started working out. Until two years ago, I left Shanghai to Suzhou to start a new business. How I can keep a brave heart in the face of challenges from these changes owes to the strength CEIBS gives to me ."
At the very beginning, Sharon was in charge of marketing, training and HR in a foreign company. After finishing a psychology course, she hoped to think outside the box with an HR mindset, to learn more about business in a more systematic way. That's why she chose CEIBS Global EMBA. "The two-year programme at CEIBS has helped me a lot for realizing my study goal as well as broadening my horizons." Sharon was very grateful to have received inspirations and motivations from classmates and professors, which led her to start a new career and life direction.
Sharon's career transformation has something to do with her CEIBS classmates. Encouraged by classmates, Sharon joined an entrepreneur program. "One step was taken, and never look back." At the beginning of transformation, although she had setbacks due to lack of experience, Sharon was still fascinated by uncertainty after leaving the company she was working for.
In Sharon's view, professional managers requrie a platform with perfect systems and regulations to complete their tasks. However, new startups are much more challenging, management for startups requires a brand new method. "My business blueprint was critizied as worthless by an entrepreneur think tank. Well-written contracts were seen as garbage. We worked hard with suppliers and paid a lot of money, but they returned us with low quality products. You can imagine how frustrated we were when we talked to the clients. Our team was once tricked, fooled, and provoked a lawsuit. We had learned a lot of lessons in practice even though they were not pleasant." Said Sharon. In her opinion, her thinking started to become more comprehensive, bolder, and more inclusive along the way. In a word, starting a new business is a journey to unlearn your innate mindset and previous working routines. It's also a glamourous journey to face reality, reconstruct and manage yourself.
A Lifetime Change Caused by Love

Benjamin Zhang
Principal of Origin (Xinyuan) Children's House
 "I'm grateful to professors and classmates at CEIBS for helping me find my mission and keep the will to go ahead."
"Life is short. Live. Love. Learn. Leave a legacy…" Benjamin Zhang always recalls the words he learned from a video in Prof. Xin Rong's class. "These words touched my heart deeply." At that time, Benjamin was in a period of life which he sought for real passion and listened to his inner voice. Meanwhile, he became a new father and started his research on preschool education projects. Early in 2010, upon Benjamin's investigation on Hangzhou Xinyuan (a potential investment target, which later changed to Origin Education Children's House), the peer learning scenes of children in Montessori classrooms had completely motivated his heartfelt passion for education.
"Looking back at the moment, I think it is CEIBS that made the important change on my career and life. Such a change made me greatly determined. You can simply understand that I have found my 'mission'. I became devoted to developing education and culture for the rest of my life." Several months later, Benjamin decided to quit the position of PE Investment Director and gave up on his high income to join Origin Education Children's House as CFO. Later on he became CEO and principal. At the same time, Benjamin also admitted his daughter to his institute for receiving formal Montessori education.
For the past eight years, under Benjamin's leadership, Origin Education has successively launched different platforms such as Children's House, Parent's Class and Xinyuan Institute. At the same time, Origin Education also tried to mix Montessori education with traditional Chinese culture. In  Benjamin's inner heart, he's always been dreaming of promoting the normalization of Montessori education, and exploring different possibilities to realize it.
Gaining Confidence from Intercultural Management

James Wang
Worldwide Director, Global Sourcing, Asia Division, Colgate-Palmolive
"This decision from ten-year-ago was one of the most important ones in my life."
James Wang was sent to New York office by Colgate in 2006 and 2007. Living in New York for a year deepened his interest in intercultural management. That was the tenth year he had worked for Colgate in the field of supply chain, and also the moment he was eager to jump out of his comfort zone. He hoped to learn more about enterprise operation and get more access to professionals in different industries. In such circumstances, James applied to the CEIBS Global EMBA programme.
"During the two-year journey at CEIBS, my understanding of intercultural management has deepened. Learning about how to communicate with people in different cultural background and how to operate in a company gave me more confidence." All James's effort has paid off. A good chance fell on James before he completed the programme—he received an offer from Colgate headquarters to manage factories in the US.
"If I wasn't able to study at CEIBS, maybe I would hesitate when facing the offer, whether to accept it or not." James took all the challenges and opportunities he encountered: he headed for Colgate US factory from Yangzhou factory in 2010, stepping on the track of intercultural management. Three years ago, James was assigned to the Hong Kong office to supervise global sourcing in the Asia Pacific region. When he came back to Asia with management experience in the US, his perception on intercultural management has scaled new heights.
Business Transformation With the Advantage of Policy and Career Development

Alex Zhang
CEO, Match Point Sports Culture Development (Shanghai) Co., Ltd.
"Never forget why you started, and try harder. Apply what I've learned at CEIBS to work and life."
Alex Zhang has actively participated in alumni affairs since he graduated from CEIBS. He contributed to establishing CEIBS Alumni Association Qingpu Chapter. From Alex's point of view, besides systematic business knowledge, what he gained the most in CEIBS was the ties with classmates and alumni. He still clearly remembers that the group discussion topic of his dissertation was exactly the business challenges of RODER Zelt-und Veranstaltungs Service which he was in at that time. His classmates offered a lot of valuable advice during the discussion.
However, the market Roder shared was too small for further development, even though it was the champion enterprise of tent subdivision. Alex didn't give up, instead, he kept exploring the possibility of enterprise innovation growth. The State Council released a policy in 2014 which incentivised the sports industry. Alex grasped this opportunity to drive Roder's transformation from producing tents to providing assembled stadiums. The company name was later changed to Roder Construction Technology Ltd (Shanghai).
Then Alex established Match Point Sports Culture Development (Shanghai) Co., Ltd. for venue operation and sports training. The first rugby hall of Match Point was established in March, 2018, providing three-in-one services including sports, activity and learning. Alex applied what he learned at CEIBS to venue operation, with talent training and team building a big focus.
Alex sees his current career as a pair of wings: on the one hand, assembled construction systems will soon go abroad, into Japan, and hopefully to the US, Middle East, and Africa market in the future; on the other hand, venue operation will soon develop into pluralistic sport parks.
To Equip with Stronger Courage

Gladys Zhang
Managing  Director, AMBER STONE COMPANY LTD
"Put down your aggressive heart for winning all, just go ahead bravely. Look at the journey rather than the result, to seed regardless of harvest, then you can achieve what you want."
"Having missed Vietnam, Myanmar should be my last chance." Gladys Zhang started to run her factory in Myanmar in 2016. In fact, as a textile professional, Gladys started her research in Southeast Asia early in 2008. She wanted to establish a factory in Vietnam back then, but she wasn't determined enough to make the decision. However, the advantage of establishing a factory in Vietnam disappeared soon. That's why when seeing the opportunity of Myanmar, Gladys told herself to grasp the last chance.
"Many times, what you finally achieve is not a plan you proposed in advance but certain chances may make it come true." Ten years ago, Gladys came to CEIBS for further study. Before the application deadline, she made a call to the CEIBS admission office. That moment was just soon after giving birth to her baby. She didn't even know whether she was able to pass the entrance exam. "I should say 'thank you' to my courage back then. If you don't push yourself, you never know when is the best time to take action."
Greater challenges came after pushing herself. At the beginning of her admission to CEIBS, Gladys felt depressed under the pressure of work, life and study. She also felt inferior when facing other excellent classmates. As Gladys remembered clearly, she cried in the classroom when she found out her low performance in Professional DynaMetric Programs.
However, Gladys is not a person who is easily frustrated. She gradually realized, everyone should be the best of whatever you are rather than compare your weakness with others' strength. And this is also the base of peer learning and self-exposure. In this way, Gladys found the balance between work and life by learning and practicing.