CEIBS Alumni
---
Join the largest, most influential b-school network in China: over 25,000 business leaders, and growing.
Zurich Campus Welcomes MBAs for Overseas Module
Volume 2, 2019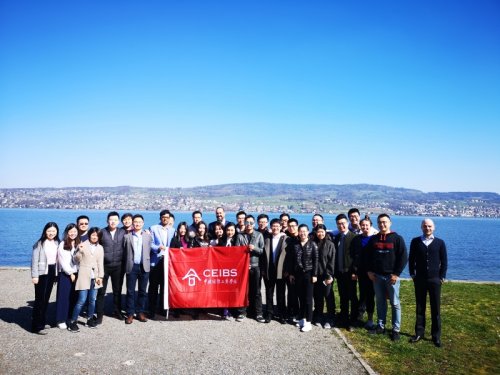 In March, CEIBS Zurich campus welcomed MBA Class of 2020 students on their Manufacturing Excellence overseas module. This is the first year the MBA study trip has been organized as part of the CEIBS Zurich Excellence Exchange Programme (EEP).
EEPs are week-long overseas study modules typically designed for senior executives of various industries from China. Led by a CEIBS faculty member, they are a combination of academic theory, workshops, case studies, company visits and idea exchange. Programmes can either be specifically designed for a company-exclusive executive education course or participants may choose from one of five themes offered as part of CEIBS EMBA, and now MBA, overseas modules.
The themes covered are Industrial Excellence, Innovation and Entrepreneurship, Branding and Design, Service Excellence, Family Business and Smart Healthcare.
Led by Associate Professor of Management Sebastian Schuh, the MBA class began the week in Stuttgart, Germany, home of Industry 4.0 and Hidden Champions. This was followed by three days in and around Zurich. The group learned about smart logistics at Bossard, intrapreneurship with Google, disruptive automotive technologies at Audi and robotic advancements with Stäubli. These were just a few of the items on their agenda.  
No study trip would be complete without integrating into the local culture. The students took a deep dive into Swiss culture with a trip to the Swiss National Museum, gaining an understanding of how Switzerland has branded itself in quality and craftsmanship. They were welcomed by the local CEIBS alumni at an evening apéro and of course they sampled the local cuisine by enjoying the Major's Sword, a sausage served on a sword, at renowned Swiss restaurant Zeughauskellar.
Each year CEIBS Zurich Campus hosts more than 10 EEPs and the number is rapidly increasing. Among the other EEPs planned for 2019 are Service Excellence in June with Prof Katherine Xin, Innovative Switzerland in September with Prof Zhang Yu and Branding Excellence in November with Prof Jane Wang.