CEIBS Alumni
---
Join the largest, most influential b-school network in China: over 25,000 business leaders, and growing.
Working for a Sustainable Future
Volume 2, 2019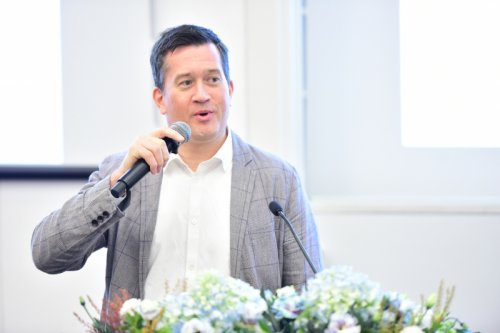 By Michael Thede

Originally from Denmark, social entrepreneur and mentor Nikolaj Moesgaard left his homeland roughly 20 years ago in search of new opportunities. After moving first to the UK and then to the US, he finally arrived in China in 2006. In 2011, he got his first taste of CEIBS, completing an executive course on leadership and change management, and knew immediately that he wanted to come back for more. He enrolled in the 20-month CEIBS GEMBA programme in 2015.
"After 20 years of a corporate career, I'd come here to get an academic brush up, but it was so much more than that," Nikolaj recalls during an interview with TheLINK at the school's Shanghai campus. "Once you're here — engaging with your classmates, being around people from all industries, functional roles, and many different countries — it opens up so much knowledge and makes for a really great experience. Most of all, it reignited my curiosity to learn and grow."
This attitude of learning has led Nikolaj to develop his passion for the United Nations Sustainability Development Goals (SDGs). Expanding on the Millennium Developments Goals (MDGs) put forth by the UN in 2000, the SDGs are comprised of 17 goals — ranging from the elimination of poverty and hunger and reducing inequality to taking action on climate change and ensuring access to clean water and affordable clean energy — all aimed at creating a better future.
"Coming from Denmark — a little country in the north of Europe, very green, surrounded by water — I grew up in nature and have a big appreciation for the environment," Nikolaj says. "I have seen, traveling around the world, how in some places people are not able to, or don't care to, take care of our planet. So, I think the UN, with their framework of the SDGs, are making things clearer for people to understand what should be done and why."
Nikolaj believes China is making good progress towards achieving the SDGs. He points to the fact that China is today number one globally when it comes to wind and solar energy, and that the country has made major strides in mapping out and understanding the importance of the SDGs.
"I think China is in a very good place, actually. When you look at the stories in the Western media, unfortunately, sometimes you see some horror stories," he admits. "But when you're living here, and especially when you are involved in sustainability, you see a lot of commitment from the very top levels of government, from industries as well as from individuals and young people that actually care. They want to have clean air, they want to have pure water, and all these things matter."
One way Nikolaj is helping support the SDGs is through his role as an advisor with the IFU, a Danish sovereign wealth fund that provides risk capital and advice to companies wanting to engage in business related to energy efficiency, clean energy, farming, and other industries. In 2018, the IFU launched an RMB5 billion fund earmarked for the sole purpose of investing in projects that make an impact on the SDGs. 
"Even before the SDGs, or the Millennium Goals from the UN that came before, were decided upon and made public, the IFU were actually supporting projects in emerging markets," he notes. "From a sustainability mind-set and the green agendas we have in Denmark, even though we're a small country, some of the things we have done can be applied in other parts of the world. And we have been very happy to share those."
At the same time, Nikolaj also serves as an awareness partner for UNLEASH, a not-for-profit initiative seeking to create the world's largest innovation lab for SDGs through diversity, entrepreneurship, and partnerships. Originating in 2017, the organization gathers young people from around the world for a one-week programme to work on new solutions for global issues.
"Basically, the idea was, how do you get young people with an interest in SDGs together, support them, and catapult some of the ideas they have to make an impact," Nikolaj explains. "And the programme gives them the opportunity to collaborate and work through some of their ideas and to present their projects to very strong panels of industry people."
As he points out, UNLEASH is unique as a talent development initiative in the scale of its ambition and extent of its global reach alone. And, with UNLEASH Lab 2019 set to take place in Shenzhen later this year, Nikolaj says there is a lot to look forward to.
"The event has strong support from the Chinese government and from the local government in Shenzhen. There will be 1,000 participants and I think the target is to have 150 of them from China," he says. "In addition, there will be consulting companies, mentors, and investors there to support and help structure and ignite all of these ideas."
Nikolaj has also been active within the CEIBS community where, among other things, he was recently appointed as the Sustainability Officer for the CEIBS Alumni International Chapter (CAIC). In the role, he says he hopes to engage with the school, other alumni groups, and current students to help establish and promote a practical sustainability agenda.
"This is something which is extremely important, because a top business school like CEIBS will educate the leaders of the future, people who will have significant influence on economic, social, and environmental decisions," he states. "If these leaders truly understand the importance and urgency of conducting business in a responsible and sustainable manner, it will spread through their organizations and then we will really see the impact."
As part of his mandate with the CAIC, Nikolaj has already helped establish a sustainability task force and he says it is something in which he believes there is already a great deal of interest. The group hopes to leverage this interest to generate initiatives, host different events, arrange company visits, and invite experts to speak in an effort to raise awareness of the UN SDGs within the broader school community.
"If everybody at CEIBS — including students, faculty, and alumni — know what the SDGs are about and why they matter, then I really think we will have achieved something," he says. "A lot will come from people caring, wanting to be involved, and contributing in their own way. With increased awareness comes increased action and hopefully we can create a ripple effect — it would be great."