CEIBS Alumni
---
Join the largest, most influential b-school network in China: over 25,000 business leaders, and growing.
Lean Venture: Selected Cases on Entrepreneurial Practices
Volume 2, 2019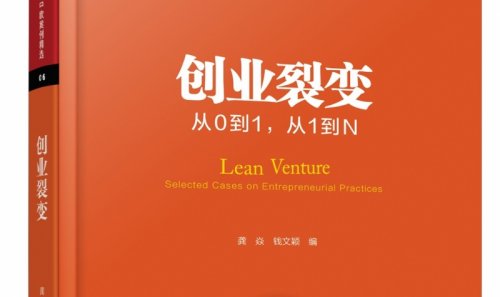 Are some people just born entrepreneurs or is it a skill that has to be learnt? When is the best time to start a business? How does one go about choosing the right project, one that is more likely to succeed than others? What is the best way to build an efficient team and optimize resources within that team?
Chances are, these are some of the questions that will keep you up at night when you're thinking of starting a business. After all, today's world is one of volatility, uncertainty, complexity and ambiguity (VUCA), one where VUCA has become a buzzword. It is difficult to keep pace with the dazzling rate of industry changes and rapid emergence of new business models; today's proven success might become tomorrow's fiasco. These external factors make entrepreneurship increasingly more unpredictable. The question is, is there a universal logic behind entrepreneurship, a roadmap that can be clearly followed?
Lean Venture, a collaboration between CEIBS Professor of Management Practice Gong Yan and the CEIBS Case Center, tackles this question by drawing on past experiences and finding commonalities through case studies of startups. To reveal the underlying logic behind entrepreneurship, the book, the latest addition to the CEIBS Case Collection Series, examines the two hottest industries for entrepreneurs in China today — car sharing and fresh food grocery — and picks eight representative startups for analysis. The cases also include comments from company executives.
By analysing and observing these eight startups, the book divides the entrepreneurship process into three stages.
The first stage is the exploration of business models, or the "zero to one" stage. Cases of startups that succeeded in this stage include electric car sharing platform EVCARD, online grocer FreshFresh and tech startup eMeet. The second stage, called "one to N," refers to the stage when a business model evolves and scales, with examples including fruit retail brand Xianfeng Fruit and fresh food e-commerce platform. The final stage, "N to N+1", refers to the stage when a mature company shifts to a new business model, such as the stories of Daimler, car rental platform eHi and Chinese heat pump supplier PHNIX.
The book points out that different capabilities are required of a startup at different stages. At the "zero to one" stage, a company needs the ability to quickly recover from its mistakes and adjust. At the "one to N" stage, companies need to scale up and standardise. At the "N to N+1" stage, the ability to crossover, transform and start new entrepreneurial ventures within the company is needed. 
Many startups had problems because they didn't have a clear understanding of what stages they were in, and so they took the wrong approaches. For example, if a startup still at the "zero to one" stage tries to do things required of "one to N" stage companies, it won't grow fast. If a company at the "one to N" stage tries to follow the pattern of a "zero to one" stage company, it will be stuck in trial and error and unable to transform from a startup to a profitable enterprise. And if a company at the "one to N" stage doesn't focus on scaling up its business model, but on shifting to new business models, as is required of an "N to N+1" company, it will suffer from low efficiency.  
The story of EVCARD is a good example of "doing the right thing at the right time". As an electric car sharing startup, it was established at the early stage of China's new energy vehicle industry, which means there were then no predecessors in China from which it could learn. By benchmarking against Autolib, an electric car sharing service inaugurated in Paris, France, EVCARD initiated the idea of car-sharing-by-the-hour in China, and started feasibility trials in a limited number of locations using the lean startup approach. After repeated adjustments, it finalised its operations and fee model, and then expanded its network and upgraded its management. In just a few years, EVCARD carved out its own niche in the market and completed its "zero to one" exploration. By the end of 2017, EVCARD had entered 60 cities with a fleet of 27,000 vehicles, making it a leader in China's electric car rental industry.
After analysing a number of startups, the book points out three main aspects of the underlying logic behind entrepreneurship.
First, value innovation is a combination of the pursuit of lower cost, higher efficiency and better user experience.
Second, rather than betting on perfect plans or perfect execution, startups should take a trial and error approach and find the right direction by learning from failures.
Third, in many cases, it is not profitability, but a company's profit model, its place in the business ecosystem and its redefinition of value that helps it increase its valuation.
Many who launch startups go to great lengths to challenge themselves on their entrepreneurial journey, which is full of uncertainty. Lean Venture is a great guide that will help relieve their confusion and anxiety along the way.