CEIBS Alumni
---
Join the largest, most influential b-school network in China: over 25,000 business leaders, and growing.
CEIBS President Li Mingjun: Our Quarter Century
Volume 2, 2019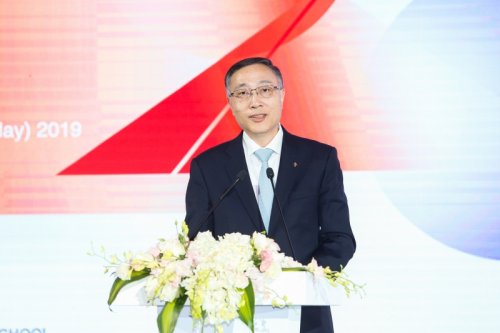 "I am delighted to join you here at the Launch Ceremony for CEIBS' 25th Anniversary Celebration. Throughout the rest of this year, we will be hosting a series of inspiring forums across Asia, the US, and Europe. These will offer our global staff and alumni a platform to spark discussion, share insights, celebrate CEIBS' hard-won achievements, and help us prepare for the long road ahead.
The year 2019 marks the 70th anniversary of the founding of the People's Republic of China and the 25th anniversary of CEIBS. The year got off to a great start with news that both of our flagship MBA and EMBA programmes climbed to #5 in the Financial Times' global ranking, a feat never before achieved by an Asian business school. Some have remarked about the serendipity of this dual top-five ranking. After all, five times five equals 25! Whether coincidence or not, such an achievement would not have been possible without the confidence we place in the path we have chosen.
In recent decades, China's growing global influence and integration into the global economy have tilted the focus of global management education toward China. It is within this context that CEIBS, together with the support of the Chinese government and the European Union, has developed a range of world-class business programmes rooted in China, but with a global scope. Our top-five global ranking gives us every reason to believe that CEIBS will continue to play an important role in the future. Today, I would like to begin by reflecting on the path we travelled to get to this point so that we might preserve our fine traditions.
Over the past quarter of a century, CEIBS has delivered on its long-term mission and vision with unwavering commitment. The management education cooperation project between China and the European Union began in 1984, and since its inception in Shanghai in 1994, CEIBS has viewed China's integration into the global economy as inevitable, believing that this process can benefit people around the world. Generations of CEIBS leaders, faculty, and staff have held true to this vision, steering the school to success beyond their wildest dreams. In the 1980s and 1990s, we turned out China's first cohort of entrepreneurs and executives familiar with modern Western management theories and practices. Over the decades, we've cultivated a world-class team that offers China depth and global breadth; developed an excellent repository of China business case studies; and pioneered our patented Real Situation Learning Method, which marries theory with practice. Our courses are taught on campuses across Asia, Europe, and Africa, enabling Chinese companies to go global, while helping the rest of the world to better understand China. We also boast the largest and most influential alumni network among Chinese business schools. CEIBS owes much of its success to the leadership's strategic vision and commitment to innovation.
Over the past quarter of a century, CEIBS has brought China and the rest of the world closer together, while refining its own brand. Our school's history is replete with stirring anecdotes about past leaders, who are united by their keen sense of responsibility and duty, their innovation and dedication. Six European members of the CEIBS leadership have received the prestigious Magnolia Silver Award for major contributions to Shanghai, while many members of our foreign faculty and staff have rendered invaluable service to the school. We are prouder still of the close integration between our five campuses on three continents, and our supportive network of over 22,000 alumni dispersed across the globe. Our school emblem is based on the shape of the Chinese character 合 (Hé, which means "mutual understanding"), because we embrace the values of "collaboration on the basis of mutual respect for common development". Going forward, it is our responsibility to write an exciting new chapter in the story of the CEIBS brand.
Over the past quarter of a century, we have constantly honed the school's operations to ensure its long-term success. By benchmarking ourselves against other world-class business schools, we have successively launched MBA, EMBA, Executive Education, Finance MBA, Hospitality EMBA, and Entrepreneurial Leadership Camp programmes. While pursuing our own development, CEIBS has also contributed to China's economy and national talent strategy, promoted the Belt and Road Initiative, and spurred innovation and entrepreneurship. CEIBS also fosters economic and cultural exchange between China and the rest of the world, hosting forums in important European cities every year, inviting Chinese diplomats to expound on China's strategies, and providing networking opportunities for Chinese and foreign entrepreneurs. We may now be bigger and our administration more complex, but we still apply the same rigorous academic standards and quality requirements to our courses. Our goal is to build a genuine learning platform that delivers lifelong learning to the world's business elite.
Over the past 25 years, CEIBS has built a close-knit community of alumni, students, faculty and staff. Most of our early graduates are now retired, and a growing number of students are now children of our alumni. Therefore, we take it upon ourselves to offer a community where older members feel at home, where friends can trust one another, and where we can nurture the next generation. By creating such a community, we can ensure that the CEIBS spirit is passed on from generation to generation.
What is the CEIBS spirit?
Firstly, CEIBS community members have global vision, and are dedicated to their country. The CEIBS community is incredibly diverse. The school maintains exchange programmes with 37 renowned business schools around the world, while overseas students account for nearly 40% of the intake in both the MBA and GEMBA programmes. CEIBS brings together a world-class line-up of faculty from 16 different geographies, including former ICBC Chairman Jiang Jianqing, Shanghai Municipal Government counselor Sheng Songcheng, former Italian Prime Minister Romano Prodi, former French Prime Ministers Jean-Pierre Raffarin and Dominique de Villepin, former WTO head Pascal Lamy, and eminent professors chosen from the annual "Most Cited Chinese Researchers" list. At the same time, CEIBS believes that people should learn from each other on an equal footing. As a traditional Chinese saying goes, "No distinction should be made between the noble and the humble or the young and the old. Where lies the truth, there is a teacher." CEIBS Professor Wu Jinglian once said, "CEIBS is credited with propelling China's economic development and improving management practices in Chinese companies." What CEIBS upholds and practices speaks volumes about the school's determination to advance China's national rejuvenation.
Secondly, the CEIBS community strives for excellence and believes in learning by doing. Our goal is not only to outdo competitors, but also to outdo ourselves. Nietzsche once wrote, "He who has a 'why' to live can bear almost any 'how'." An organization or an individual with a clear mission can move forward against all odds. I hope that each of you can find meaning in your lives and achieve worldly success, while making the world a better place in the process.
Finally, the CEIBS community is virtuous and fully assumes its responsibilities. There is an ancient Chinese saying that goes, "A man of virtue should care for all people and all things." While creating knowledge and value for the world, we also need to sow seeds of faith and virtue. We have made business ethics a compulsory course since the inauguration of our MBA and EMBA classes. Generation after generation, we have seen it as our social responsibility to contribute to people's well-being. There is an ancient Chinese saying that, "It is no use keeping oneself morally impeccable without a sense of responsibility to help others." We do not seek to cultivate egotists. Instead, it is our aim to educate individuals who will instigate change; thinkers who return to education after experiencing the working world; leaders who are caring and grounded in life; and creators who are willing to spend a lifetime in pursuit of the essence of entrepreneurship.
CEIBS will do everything within its means to achieve its mission and live up to the expectations of this new era. I am certain that our lofty ideals, our solemn promises, our unremitting efforts, and our captivating stories will be written into the history of CEIBS. Dear alumni and friends, in the years to come, let us work together to elevate CEIBS — a name and brand dear to us all — to an even higher level!"