Swiss President Ends State Visit to China with Stop at CEIBS
Saturday, April 9, 2016
Swiss President Ends State Visit to China with Stop at CEIBS
~ Discusses Swiss innovation and new opportunities for cross-border investment
April 9, 2016. Shanghai – President of the Swiss Federation Mr. Johann N. Schneider-Ammann ended his three-day official visit to China with a keynote speech at the Sino-Swiss Innovation forum hosted by China Europe International Business School this evening. A day earlier in Beijing, the Chinese and Swiss leadership had signed an innovative strategic partnership. Today's forum explored the new opportunities for innovation and cross-border investment available for China and Switzerland in an increasingly globalised and digitised world. The forum was attended by about 300 participants from government, academia and the business world.
H.E. Schneider-Ammann spoke of the "ingredients" that had earned Switzerland a reputation of being "one of the most innovative countries in the world" – its vibrant private sector, funding agencies such as the Swiss National Science Foundation and the Commission for Technology and Innovation, the Swiss educational system and the country's "world class research institutions". China, he said, "is innovative" with a new generation of entrepreneurs emerging. "These young people are turning their back on a stable life in order to materialise their ideas and make their dreams come true, despite financial sacrifices," he said. "This spirit, combined with the experience that Chinese companies have accumulated, means that innovators are working to build the technology giants of tomorrow."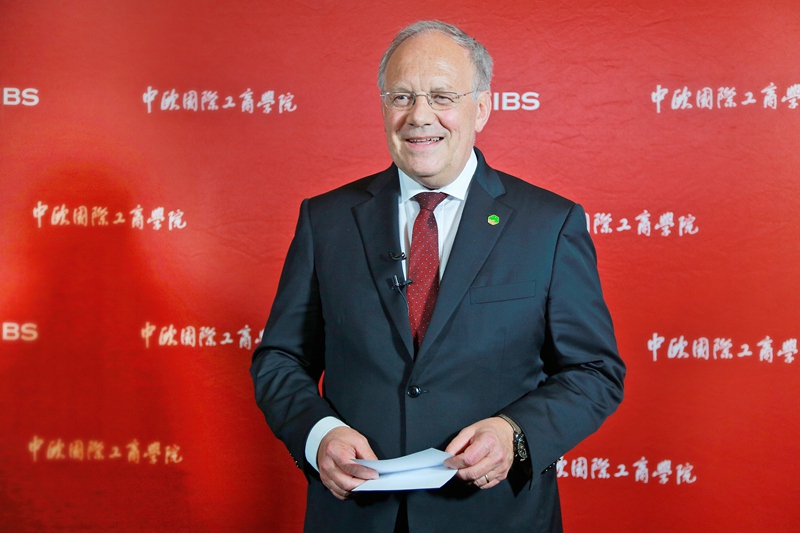 President of the Swiss Federation Mr. Johann N. Schneider-Ammann during a briefing with the local media after the forum.
With innovation being so important to both countries, H.E. Schneider-Ammann said, it was time to develop "innovative strategic partnerships together". He added that CEIBS, with its "world-class expertise in education," has a role to play in promoting ties between the two countries.
"I am pleased that [CEIBS] now has a European campus in Switzerland thanks to the acquisition of the Lorange Institute," said His Excellency. "This gives us a strong base for cooperation in innovation management and we look forward to welcoming more CEIBS students and alumni to discover the Swiss innovation economy."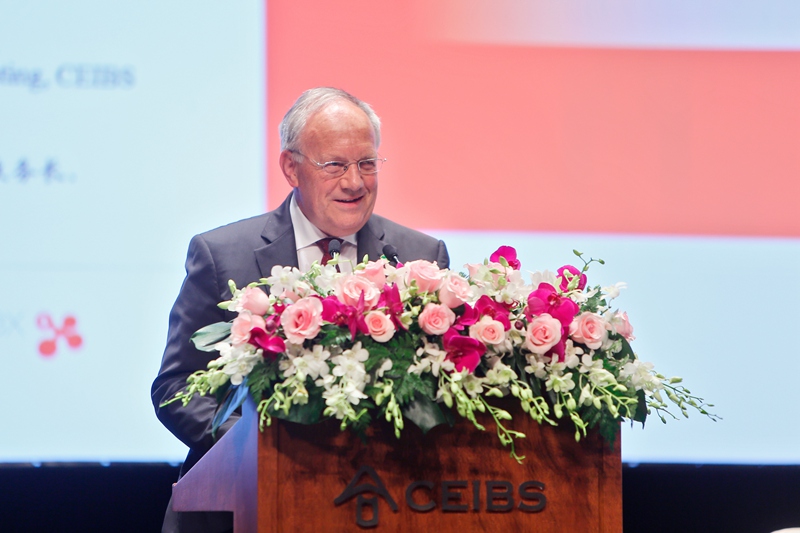 His Excellency. Johann N. Schneider-Ammann delivering the keynote speech.
CEIBS bought the Lorange Institute of Business last October, becoming the first Chinese business school to acquire another major educational institution overseas. From the Institute's location along the shores of Lake Zurich, CEIBS will be a bridge between Chinese and European executives as they learn from and about each other, and their respective business worlds. One study project, which explored the issue of Smart Manufacturing, has already been completed in Switzerland and Germany since the acquisition. CEIBS' global alumni network includes 33 Swiss alumni so far, with three Swiss students currently doing their MBA and EMBA at the school.
As the school's President Li Mingjun noted during tonight's event, "CEIBS is truly committed to becoming a bridge for cultural and economic exchange between China and Switzerland."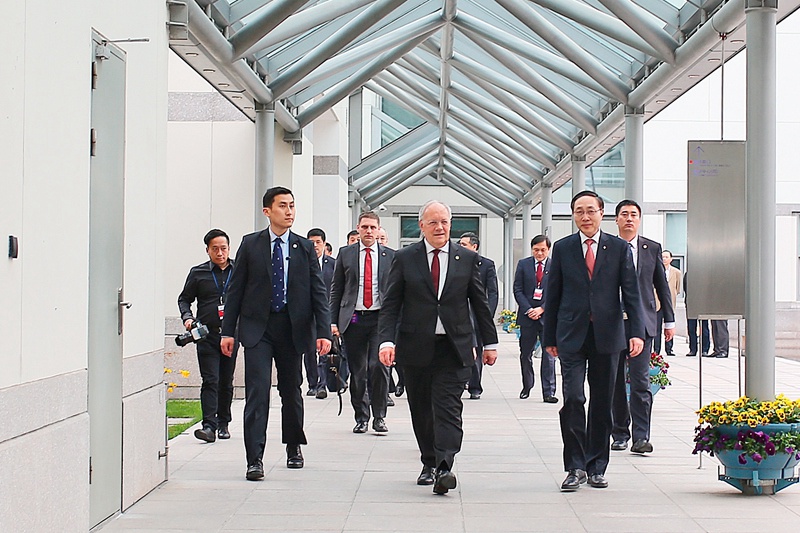 CEIBS President Professor Li Mingjun (front row right), His Excellency Johann N. Schneider-Ammann, CEIBS Vice President and Dean Professor Ding Yuan (right rear) and other members of the delegation. 
In addition to being an opportunity for H.E. Schneider-Ammann to interact with the Swiss community in Shanghai, tonight's networking session after the forum brought together business executives from both countries. "Switzerland and other European countries have become an increasingly attractive destination for Chinese companies going global in pursuit of innovation. Among them, many are owned or run by CEIBS alumni and students," said CEIBS' President Li. "The Sino-Swiss Innovation Forum is a good platform to bring together business companies from the two countries. It will also play an important role in building Shanghai into a global science and technology innovation centre."
The forum saw a panel discussion among two members of the Swiss delegation and two members of the Chinese business community: Ms. Marie-Gabrielle Ineichen-Fleisch, State Secretary, State Secretariat for Economic Affairs; Mr. Mauro Dell'Ambrogio, State Secretary for Education, Research and Innovation; Mr. Tony Qiu, General Manager, JD Worldwide; and Mr. Oliver Dong, Vice President, Chief Human Resources Officer, Jiangsu Jinsheng Group.
A recurring theme among the Swiss panellists was the role that the state plays in providing the framework of conditions that companies need in order to be innovative. As State Secretary for Education Mauro Dell'Ambrogio stressed, it is not Switzerland, the country, which is innovative, but its companies. State Secretary Marie-Gabrielle Ineichen-Fleisch spoke of three key factors that help Switzerland retain its competitive edge: the country's educational system is a combination of academia and vocational skills acquired through apprenticeships; there is an understanding that innovation – not price and quantity – is what gives them an edge; and the recognition that because their market is so small they have to export abroad which is why trade agreements, such as the FTA with China, are so important.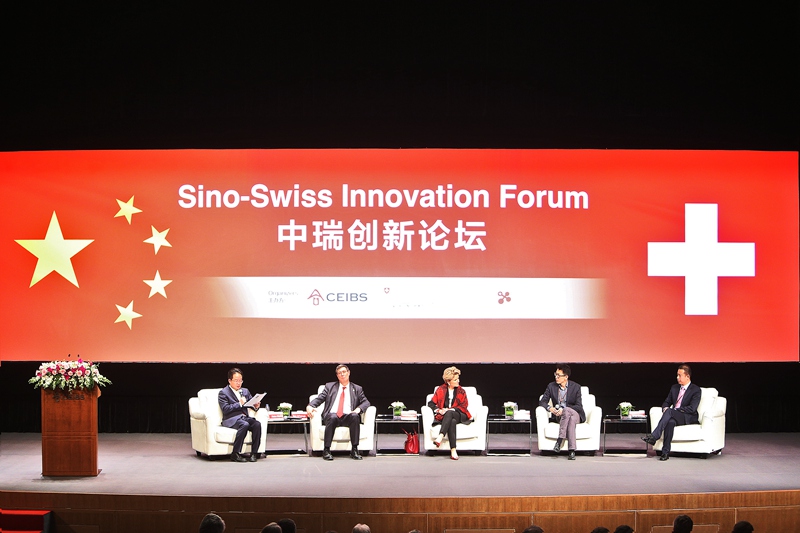 The Sino-Swiss Innovation Forum.
JD Worldwide's Tony Qiu had impressive data at his fingertips when he discussed the hot topic of cross-border commerce. Since JD worldwide was established last year to facilitate the e-commerce giant's global expansion that has given it a presence in 40 countries, they have seen growth of 12,000 percent, he said, 600 percent of which was from the overseas market. There has also been a 1,600 percent growth in the retail of Swiss brands on the JD platform. The impressive performance of Swiss products, said Qiu, was partially due to the strength of the country's brand, but it was also due to the advantages brought by cross-border e-commerce. Innovation and e-commerce he said, are shaping, "the economy, people's consumption and purchasing behaviour in a very positive way". He noted that last year, online shopping accounted for 13-14 percent of China's retail activity and he expects the number will climb to 23 percent by 2020. The rapid growth, he added, was not just a result of China's large market, but because of the innovations in the e-commerce sector such as JD's 211 system that gets packages to customers within hours of their orders. According to his data, turnover in the US e-commerce market reached USD$400 billion last year, a 16 percent increase over the previous year. Meanwhile in China, last year's turnover was USD520 billion, a 35 percent increase.
Jinsheng Group's Oliver Dong spoke about his company's successful acquisitions of German and Swiss companies, and their post-acquisition strategy. Jinsheng focuses on the high-end machinery industry. Three years after acquiring one Swiss firm, said Dong, they own more than 2,000 patents. This is because they invest 5% of its sales turnover on innovation and have a large R&D team. Jinsheng's latest focus is on a yarn project in China's Xinjiang region, one of the projects under the Chinese government's One Belt One Road initiative. That will see the company investing in 10 million spindles, a move that Dong predicts will "totally change the fibre industry"
The panel was moderated by Professor Chen Weiru, CEIBS Associate Professor of Strategy who is also Programme Director of the school's Business Innovation & Transformation Programme. CEIBS Vice President and Dean Ding Yuan was the MC for the entire evening's event. Vice President and Co-Dean Professor Zhang Weijiong, along with other members of the CEIBS faculty, staff, alumni network and current students also attended the event.  
The forum closed with a presentation by Mr. Daniel Kueng, CEO of Switzerland Global Enterprise, who discussed potential challenges and opportunities ahead for both Switzerland and China.