In order to provide you with the resources for continued growth in your career, the Global EMBA curriculum starts off by building a strong analytical foundation, followed by the latest developments in the functional areas of organisational behaviour, operations management, marketing, behavioural finance, and economics. The programme also covers financial reporting, change management, strategic management, management accounting, corporate finance and a strategy simulation. You will also work on a nine-month-long project in a team of five to apply your classroom learning to a real strategic issue faced by an organisation, providing a hands-on, integrated experience. In addition to this knowledge acquisition, you will experience a leadership and coaching module during the two global modules at partner schools in the US and Europe. The programme concludes with a reflection by participants on their careers and personal goals.
 Louise Vogler, Canada
  Chief Credit Officer, Africa
  Standard Chartered Bank
  Global EMBA 2010
"My experience at CEIBS was a transformational one from a personal and professional leadership perspective. GEMBA not only delivers world-class business education, but is helping shape the global business leaders of tomorrow."
Core Courses
There are 12 core courses, including two Global Modules to Europe and Dubai, totalling 42 credit units. Most core courses are delivered in 4 consecutive days (from Thursday to Sunday) every month in Shanghai, while Global Modules are longer (five to six days depending on travel). The company project totals 6 credit units and the electives constitute 18 credits. In order to graduate, you must have a total of 60 credits.  
Leadership Journey
Financial Reporting
Economic Analysis
Organisational Behaviour
Marketing Management
European Module (Operations Management & Industry 4.0)
Corporate Finance
Strategic Management
Entrepreneurship
Strategic Managerial Accounting & Chinese Economy
Strategy Simulation
Exit Module & Graduation (Dubai)
Electives
To accommodate your specific needs and interests, the Global EMBA programme offers a number of electives both in and out of China, including General Management, Accounting & Finance, Advanced Marketing, and Global Management. Elective courses are offered in Shanghai, Beijing, Shenzhen, Zurich, Israel, India, Indonesia/Singapore, Brazil, and Ghana. Most of the China-based electives are taught bilingually, giving you the opportunity to study and interact with Chinese students. Participants in the global electives will be joined by EMBA participants from IESE Business School, further expanding your network. Participants will typically take between 4-6 electives to complete the required credits. All Global EMBA participants must complete at least two electives outside of China.
List of Electives
Global Electives
Group Project
The Group Project is an integral part of the curriculum, and it is vital to your success in the GEMBA programme. In this project you will apply management theories and framework learned in the classroom to real-world business issues.
You will work in a small group to complete a project over a one-year period. This project will include attending an introductory lecture, topic selection, outlining your proposal, writing and revising your report, and giving an oral defence. Each group will be assigned a professor who will supervise the project and guide you and your team throughout the entire process.
Leadership Journey
The purpose of the Leadership Journey is to help you grow personally and professionally as a global leader. A critical component of the Global EMBA programme is an opportunity to provide an inflection point regarding your standing as a leader. We will conduct a comprehensive and professional 360 degree feedback instrument. You will receive an in-depth report of your colleagues', supervisors' and subordinates' assessment of your strengths and weaknesses as a potential leader. You will then work with a coach to develop a personal plan of action to engage in a follow-up assessment.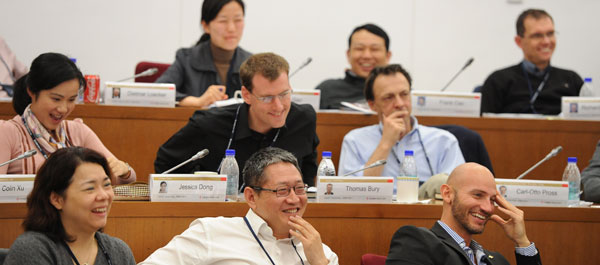 Zhang Suyang
Partner
IDG Capital Partners
Global EMBA 1998
After nearly two decades of growth, CEIBS has been widely recognised for its world-class faculty team with profound knowledge and rich experience, most talented staff with high professional commitment, and tens of thousands of alumni from various industries and backgrounds. They are the key to the school's enduring success.