Tuesday, January 25, 2022
Meet MBA Faculty – Singapore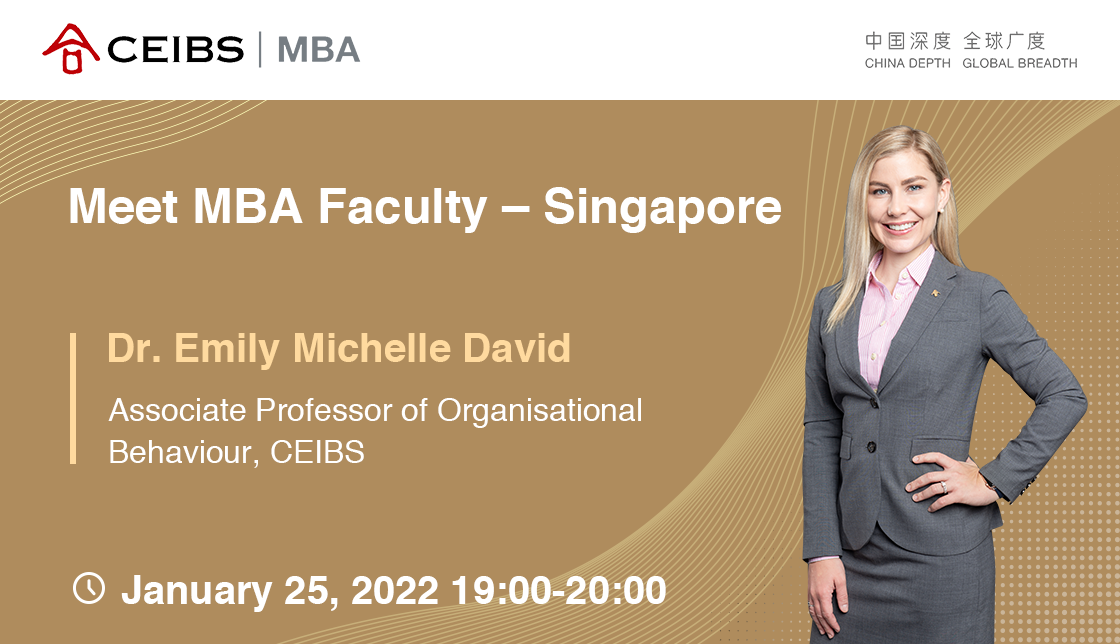 We invite you to join CEIBS Professor of Organizational Behavior Dr. Emily David and MBA alumni for a coffee chat in Singapore.
Typically reserved for current MBA students, this is the first time we are taking the office hours experience on the road! This is your chance to chat one-on-one with Prof. David about what you can learn about organizational behaviour in China at CEIBS and on the full-time MBA programme.
Also joining Prof. David will be local MBA alumni. Attendees can expect to learn more about the impact that a CEIBS 'China Depth, Global Breadth'-fueled curriculum had on their careers.
Our speakers
Dr. Emily Michelle David is an Associate Professor of Organizational Behavior at CEIBS.
Who should attend?
Young professionals considering CEIBS MBA programme.
Event details
Date & Time: January 25, 2022 19:00-20:00
Venue: TBC
Language: English
Contact: Please email James Kent kjames@ceibs.edu for any enquiries.
COVID-19 Disclaimer
In light of the pandemic, we reserve the right to cancel or modify the event. MBA Admissions colleagues will be in touch in advance regarding any changes to the arrangement.
Please click here to register!
About CEIBS MBA
Ranked #7 in the world by the Financial Times in 2021, CEIBS' MBA programme offers a truly global perspective. Based in Shanghai – China's biggest economic hub – our programme is designed to take you out of your comfort zone and straight into the new economy, allowing you to experience first-hand the world's most dynamic city and its opportunities.