Tuesday, July 7, 2015
Women Leadership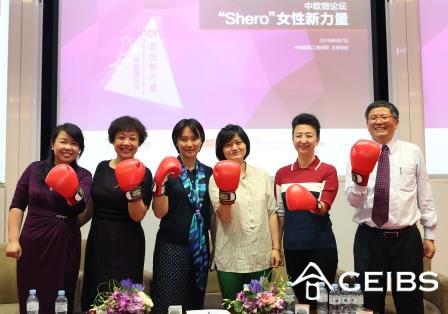 June 7, 2015. Beijing – Women should trust their instincts if they want to improve their leadership, advised CEIBS Associate Professor of Management Han Jian in a keynote lecture she gave at the "Shero: New Power of Women" forum today on the CEIBS Beijing Campus.
Ms. Qiao Jian (EMBA2004), author of the new book The Lenovo Way, also gave a keynote lecture in which she spoke about the importance that diversity plays in the success of a multinational company. Ms. Qiao Jian is Senior Vice President of Lenovo.
The forum began with a welcome address by CEIBS Associate Dean and Essilor Chair of Accounting Professor Xu Dingbo. It also featured a panel discussion that included Co-founder of yunxuetang.cn Ms. Ding Jie (EMBA 2004), Founder of huxiu.com Ms. Li Min (EMBA 2010) and Ms. Cheng Hong (EMBA 2008), Secretary-General of the China Entrepreneur Club.