Faculty & Research
---
Knowledge creation on China, from proven China experts.

Faculty & Research
---
Knowledge creation on China, from proven China experts.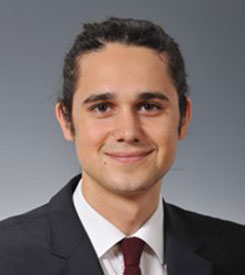 Founder / Canary Travel
MBA 2017
EDUCATIONAL BACKGROUND:
Lawyer from Universidad Carlos III, Madrid
SHORT BIO:
Experience: Financial Analyst at Procter & Gamble in London, UK
Mission: Bringing Chinese tourist unique, value-adding cultural travel options in Spain
Our Solution: Canary is a platform to provide end to end design & support for life-changing travel. This includes, flights & visa advice, lodging & food booking and experiences & language support coordination.
Business Plan: Commission based model on tourist's spend on destination establishments but no advisory fee.
1. Opportunity: Lack of travel options that combine UNIQUE deep CULTURAL EXPOSURE with structure, support, language aid and tailored services.
2. Solution: Tour organizing from China in Chinese: understand customer desires, design tailored travel offering, flight booking, sleep (from 5 stars hotel to a local fisherman's house), unique activities (visiting San Mao's spots, diving courses, fishing, sailing, volcano trek, participation in local festivals, wine tasting, surfing, meditation…), doing football, bullfight and flamenco stop in Madrid, Barcelona and Bilbao with local guide or not. Potential for real estate investment advisory for acquisitions.
3. Competition: No current competition in Canary Islands and mainland Spain + Island tours.
Competitive advantage lies in local knowledge of Canary Islands tourism industry (lived there for 18 years, family business is a boutique hotel), connections with Chinese community in Canary Islands, the local government and strong Chinese supporting shareholder.
Versus other tourism destinations, Canary Islands offers the greatest geographic diversity in the World, it is safe (no crime and no dangerous animals), it has stable temperature all year, San Mao interest and is a combination of Spain, Africa and Latin America. Combining with Madrid, Barcelona and Bilbao, clients are able to experience all aspects of Spanish / Latin culture, explore a wide range of Michellin star restaurants, see difference sub – cultures and languages and be exposed to investment opportunities across industries and Spanish regions.
4. Goals: We entered our tourism and travel business idea in the "design" phase. We were clear that there is an upcoming Chinese tourist which is tired of the all inclusive mass holiday packages and is looking for culture, experience and local living.
At start, we were convinced that founder of the venture's home town, Canary Islands, was a great product offering for the Chinese tourist. We started organized a trial trip in Chinese New Year holidays with a Chinese CEIBS MBA classmate to understand more about what young professionals expect and enjoy most of a Canary Island tailor made trip and to get their insights on how to make the product offering a success.
The feedback has been added into the product offering and is being built into the business model.This month's Goal: designing a trip to Madrid + Barcelona + Bilbao + Canary Islands and trial with Chinese tourist.
5. Team: Founder is Spanish but has strong support from Chinese colleague. Legal/ commercial/tourism knowledge with real estate knowledge. Share ethics and hunger to grow. Mutual trust. Clear Roles & Responsibilities. Second minimum viable product to be test on summer CEIBS MBA 2017 trip to Spain. Focus groups & feedback on site will enbale refining the idea.Current conversations with EMBA alumni co-founder of Exoon Culture & Consulting